The most interesting intersection in the world…well, in Toronto, at least.
Queen & Parliament in Moss Park is the talk of Toronto!
In our opinion, Queen and Parliament is one of the the most interesting intersections in Toronto. It's everything this city is about. It's steeped in history, it's a bit rough around the edges, it gives back, and it's moving forward at the same time. What's not to love?
This week we wanted to highlight some of the history of the area (an unmarked grave site for one!), as well as some cool things happening right now that you might not know about.
When the Marty Millionaire furniture store (339 Queen St E) was sold we didn't know what to expect. Then we were elated to read this press release from October 2015. Of course I wrote about it then. 
We were very excited that Triaxis and Kohn were selected to take on an extensive renovation which brought the vision of Henry Simpsons's original Chicago School building back to the forefront. Have you seen it recently? Amazing!
The folks at Me to We currently use the space as their global office, and have really breathed some life into the corner. One of our favourite details of the renovation was the uncovering of the entrance to a bowling alley on the building's second floor. Depending on who you ask, the alley was called either Home Bowling Club or Toronto's Riverside neighborhood Bowl and closed sometime in the 1960s.
Hardknocks Boxing club (358a Queen St E)
The history of Hardknocks is younger, and more salacious than the Hardknocks boxing club. You see, they've taken over a large space on the north side of Queen which used to house the sex club, Wicked.
The only swinging happening there now is the swinging of fists. Hardknocks offers boxing fitness classes, as well as sparring with professional  super-featherweight Mario Perez for those more well versed in the sport. Recently they've hosted events with Bernard Hopkins, Lennox Lewis and Creed himself, Michael B Jordan. Pretty cool! 
St. Paul's Catholic School
What's so special about a catholic school? Located at 80 Sackville St, and has a large fenced in playground facing Queen Street. You might think, why hasn't the school expanded, or sold off some of that land? Well, your answer lies in what's underneath the playground.  A burial ground from the 1800s – Per the Toronto Star,
"That cemetery is the final resting place for thousands of Catholics, mostly Irish immigrants, who died during cholera and typhus outbreaks in the mid-1850s, according to Ron Williamson, chief archeologist at ASI Heritage, an archeological consulting firm based in Toronto." link 
Developing the site is possible, but only if the land owners locate the descendants of the dead, and ask for permission, which seems quite impossible. It looks like it's stay Toronto's spookiest playground for at least the short term. 🙂
Kim's Convenience (252 Queen St. E)
Yes, it's a real place! The hit CBC show, based on an award winning play by Ins Choi uses it for exterior shots, and re-created the interior on a soundstage.  But, it hasn't always been Kim's. It used to be Mimi Variety, the sign and name were changed by the show's producers.
Nor was this the actual place that inspired the show (That was Bob's Convenience at Dundas/Parliament) but nonetheless, Kim's Convenience has become a popular tourist attraction in the neighbourhoo
Moss Park Market (260 Queen St. E.)
Community organization Building Roots and Toronto Community Housing have teamed up to open a pretty unique neighbourhood store, a shipping container produce market!
Built to address food insecurity issues for many of the neighbourhood's tenants, the market buys produce wholesale, and sells it at a discount. There is a grocery store a seven minute walk from the area, but the community found that the elderly, people with disabilities, or new parents weren't able to make it that far, and were simply doing without.
We think this is a great idea for many neighbourhoods, as do the folks at Building Roots, who say, 
"GTA developers looking for ways to enhance resident experience beyond pools and party rooms should contact Building Roots as soon as possible, since food accessibility endeavours not only work best when included at the planning stages, they must be tailored to the specific needs of each neighbourhood." link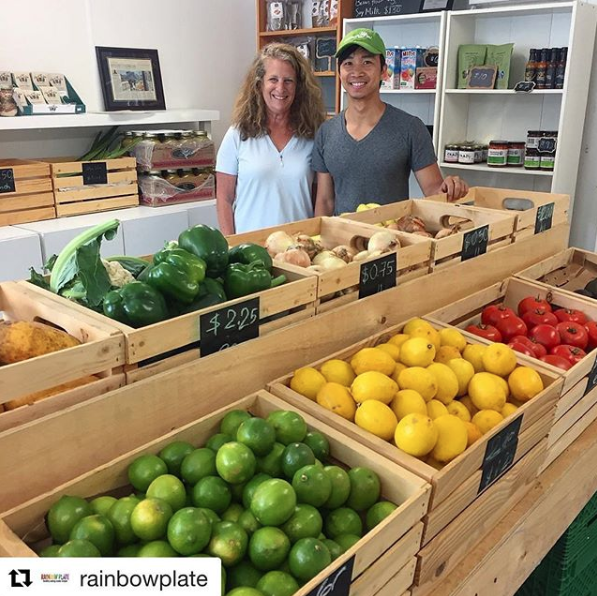 Let me know! 
Thank you so much for your attention! Hopefully you found this content useful. If so, make sure you're subscribed to the industry's "least spammy newsletter!" to be kept in the loop. We've got some great resources for Buyers and Sellers here too, so check that out and keep in touch, will ya?
Don't forget, you can always call, text (416-434-1511) or email (ara@property.ca)  if you have any comments or questions. Also, feel free to comment below!