The King St Pilot Project has been a resounding success; there's no way around it.
Mayor John Tory supports it. Executive Committee approved it. And just last week, city council approved it 22-3. With only the usual suspects voting against.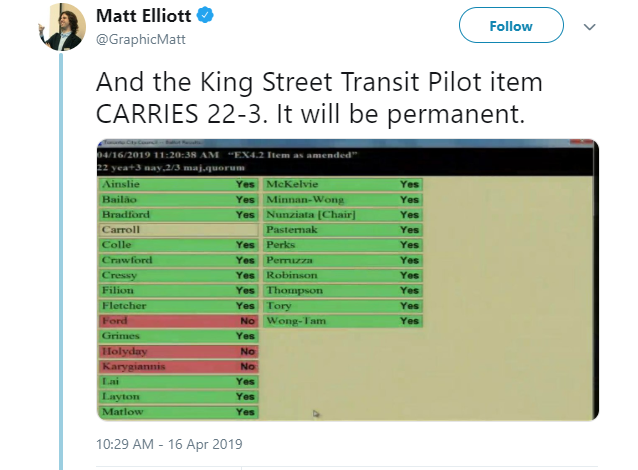 What does the data say?
The pilot project has been huge for getting people moving. Reliability increased, which means you weren't waiting 20 minutes for three streetcars to show up in a row; trips are about four to five minutes faster during the afternoon rush; ridership grew by 16%, from 72,000 to 84,000 boardings per day; and even cycling increased.
According to the Ryerson City Building Institute, the pilot project has had time savings valued at $12.6 million! This is a pretty good deal considering the project only cost $3 million to implement.
Why did we need the pilot?
The neighbourhoods along King St have the "largest concentration of jobs in the entire country" and have also experienced a huge amount of growth over the past ten years. The 504 King is the busiest surface route in the city. As the neighbourhoods around King St continue to grow, this route will become even more essential for transporting people to their jobs in the core. Before the pilot project, the streetcar route simply didn't work; often, it was faster to set off on foot, and smugly watch as the streetcar slowly lurched downtown.
For us in the east end, we know that investing in the downtown is essential if we need to get there to work. The 504 King St can be a key part of your morning. Even for those of us who don't rely on the King St streetcar, a functioning streetcar network means that commuters have the option to pick the most convenient route and don't pile on to other crowded lines.
Why does Toronto have so much trouble approving projects that are good for the city?
Toronto has a track record of approving major infrastructure projects with little information, such as the one-stop Scarborough Subway, or studying the absolute crap out of proposals, in particular low-cost transportation solutions, such as the King St Pilot Project and the Bloor St Bike Lanes. At this point, every time John Tory hems and haws over a progressive, $500,000 project, you can guarantee it's working, but he wants to put off the decision because he thinks someone might get upset and build another rude ice sculpture. And, as we've argued previously, rolling out a pilot project with a smattering of chairs and some half-hearted design changes and then claiming to study the impacts feels like a bit of a waste.
In a reluctantly-amalgamated city like Toronto, with a super dense core, and sprawling suburbs not everyone will agree on what a liveable city is, let alone how to create one that works for everyone. It's easy to fan the flames and claim that the downtown is getting all of the investment. We see you Scarborough, fighting for a terrible and expensive transit project, just to say you've got one. Yet, the King St Pilot Project is just the beginning of the kinds of initiatives needed to address the chronic unreliability of surface streetcar routes.
Hey! I bet you're thinking, "That's all well and good, Ara. You're in Real Estate, what do you know about the plight of business owners on King St?" – Well, let me tell you! I'm a partner of Mascot Brewery, and we've just signed a lease at a new spot at 220 King St W. because we KNOW that if you have a great product and the right team, you can be very successful on King St. We hope to see you there this summer!
Thank you so much for your attention! Hopefully you found this content useful. If so, make sure you're subscribed to the industry's "least spammy newsletter!" to be kept in the loop. We've got some great resources for Buyers and Sellers here too, so check that out and keep in touch, will ya?
Don't forget, you can always call, text (416-434-1511) or email (ara@property.ca) if you have any comments or questions. Also, feel free to comment below!