Here's how Toronto's urban markets are performing. Happy reading!
Missed a month of updates but that's how intense our market has been. The blog had to suffer so our buyers and sellers could win.
So let's begin – June 2019 realized more sales overall than 2018 but there were fewer new listings. Meaning – inventory tightened even more. This drove prices up in most urban communities.
You'll see from the infographic below (or download it here) that we've got some arrows pointing down this month. Most of these are adjusting after massive gains the month prior but what I really want to focus on today (again) is the East Side. Essentially from Parliament to the West all the way to the end of the Beaches. Even into Scarborough's Birchcliffe and Cliffside communities where we've seen new condos sell for record prices up to $1000/PSF.
Nothing but up there but most impressive is the average price of a condo in East Toronto is now $816K only a few percent less than Toronto's core.
Yup, it's happened: The East is no longer "up and coming" it is officially here. 
Detached Homes
(West to the left Central in the middle and East to the right)

Looks like both the East and West urban communities are performing very well. The East is inching closer to the West each and every month and I'd put my money on East communities surpassing the West within the next year. More buyers want to be in Riverdale, Riverside and Leslieville but can't find homes big enough. Builders are seeing this demand and providing top shelf product here like we've never seen.
I'll tell you one thing: we've never had so many buyers with $2mm++ budgets wanting the East as we do now. This won't change for a while as more and more jobs come here and more people realize that the East isn't just the West's ugly little brother. If you have a detached house, it's probably worth more than you think it is. Find out how much here.
Semi Detached Homes
Remember when we were shocked when the average detached home hit $1M? Well here we are with Semi's now. If you want something fully done and ready to live in that won't need any work for at least 10 years then you're going to pay a million at least. Finding a home for under a million in our urban communities has become increasingly difficult. But possible.
The massive growth of pre-2017 spiked prices and when many were waiting and hoping they would fall after the OFSI rules came into play in April 2017…well…they were disappointed as prices pretty much just balanced at our "new normal"
If you're in the market as a Buyer it's more important than ever to be on top of fresh listings in real time. Sign up here for access to our real time search tool that will allow you to search like a Realtor. Top shelf access! Not to mention the 30 properties that are currently being prepared to hit the market. You might want to know about those before they are even searchable by anyone!
Townhouses

An awesome house alternative, townhouses are still on fire..and have been for years (as predicted). I mean this one wasn't rocket science. Folks have been getting priced out of freehold options for years not and have always sought TH's as a great house alternative.
Condos will continue to be a hot commodity as TH prices inch closer to a million on average month after month, year after year.
There are many different types of TH's though from common element TH's with lower monthly fees (much more expensive) and traditional condo townhouses with higher condo fees. Both make solid investment and home options depending on your specific needs.
Condos Condos Condos!

Do I really need to get into this? In 2017 $500K was the new $400K and in 2018 $550 was the new $500 and now $600K is the new $550. Will that trend continue where the entry level condo is $700K in a couple years?
No.
Why?
Because condos are getting smaller as the price per square foot increases so there will be options in the lower price points but Buyers will have to get used to smaller spaces as they start their real estate journey.
Toronto's becoming a Rent First city and affordability is going to be an issue that cannot be solved by simply building more (like Dougie would make you believe).
You can expect a lot more attention on organizations like Options for Homes and Habitat for Humanity as they help first time buyers and families become owners and government orgs to help with geared to income or subsidized rentals.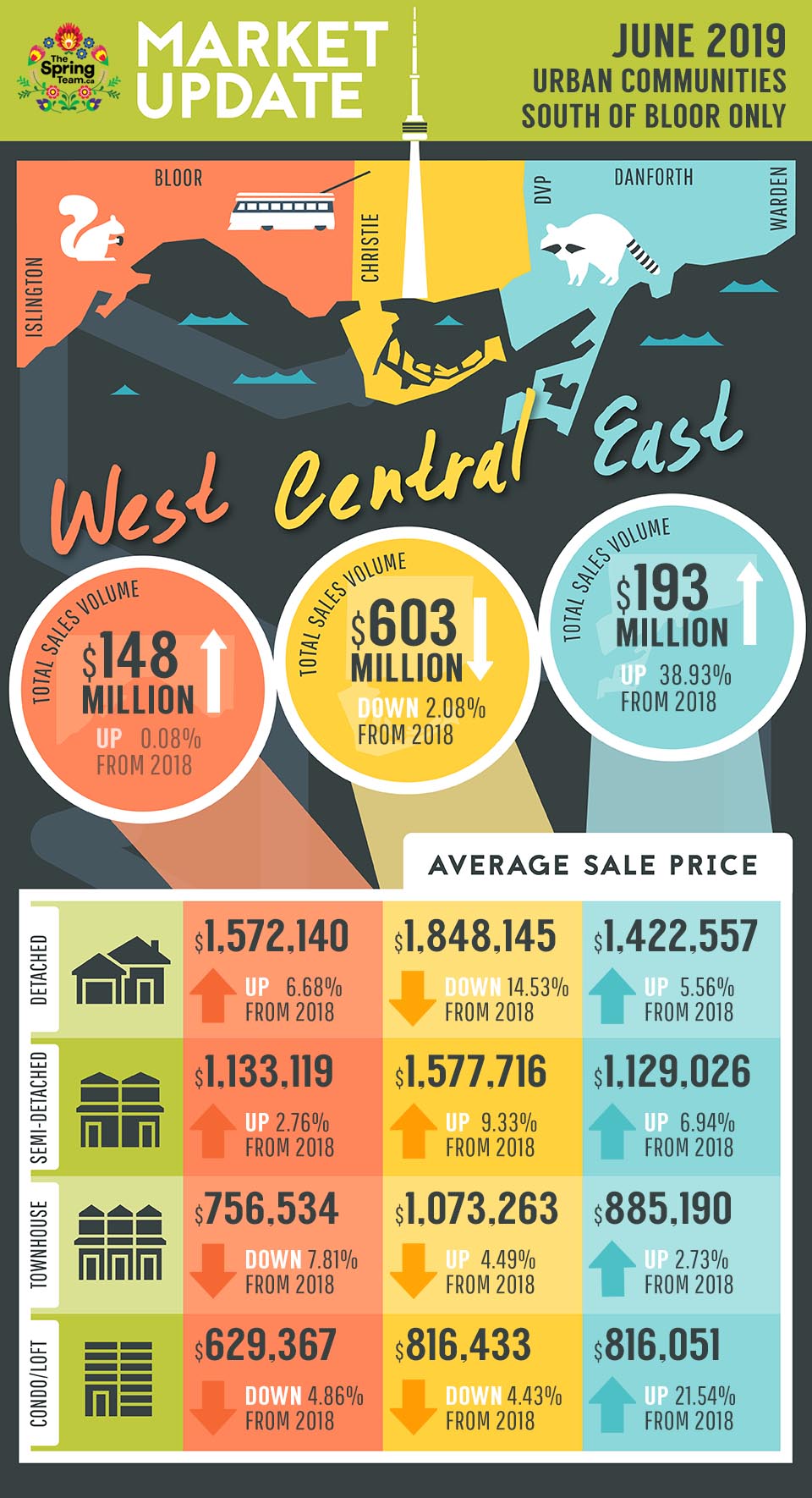 _______________________________________________________________________________________
Thank you so much for your attention! Hopefully you found this content useful. If so, make sure you're subscribed to the industry's "least spammy newsletter!" to be kept in the loop. We've got some great resources for Buyers and Sellers here too, so check that out and keep in touch, will ya?
Don't forget, you can always call, text (416-434-1511) or email (ara@property.ca)  if you have any comments or questions. Also, feel free to comment below!