You can't buy any of these beers for a dollar…Good!
I can't think of any neighbourhood in the city (maybe the Junction) with so many newly created microbreweries and brewpubs, than the Distillery, Riverside and Leslieville, and it looks like they're ALL busy, so the thirst is real in the East. We've decided to highlight 10 of our faves right now, it's by no means an exhaustive list, but it was exhausting doing all that research. (We're not complaining though!)
Hey, speaking of beer, want to try some of these beers (and many more?) – You should get a ticket to the 3rd annual Leslieville Beer Fest. We're a founding partner, and tickets are going fast! Click here for more info!
Mill St. Brewery (Our fave brew: Tankhouse)
The big daddy of the little guy, Mill St. built a thriving craft beer business when only a handful of others were doing it, and none in the downtown core. They were in the Distillery District way back in 2002! – In 2015 Mill St. was bought by Labatt brewing, but they get a spot on our list, because without them proving a viable business model, I don't think we'd have any of the other breweries on this list.
Eastbound Brewing Co. ( Our fave brew: Basecamp Saison)
You could say timing was everything for Eastbound Brewing Co. They took over a large but unremarkable space in Riverside that had previously been a rotating door of woodworkers and live edge slab businesses (remember when Riverside was ONLY furniture stores?) – Oh, how things have changed, and Eastbound Brewing's opening coincided with their much larger, flashier neighbour, The Broadview Hotel. The quality of brew, as well as the food (Octopus tostada, hello!) would have ensured Eastbound's success, but the extra spillover business from the city's newest hotspot next door definitely helped.
Brickworks Ciderhouse  (Our fave brew: Stadium Peach)
Okay, so, a cidery doesn't brew beer, but, they do brew their own cider on premises, and core and peel their own apples with a fancy machine up front. A large, modern 2 storey space makes Brickworks a great place for a party, and its location at the opposite corner of the Broadview Hotel and Eastbound makes the intersection of Queen and Broadview a candidate for the laziest place to hold a bar crawl. At the moment, Brickworks does not have a retail program, so you can't pick up cider to go, but we're hoping that changes soon.
Saulter Street Brewery (Our fave brew: Riverside Pilsener)
Saulter has a different philosophy that most new breweries, focus on one thing. They only offer the Riverside Pilsener at the moment,  but don't fret, if you're not a Pilsener fan, they create small batch experimental beers on offer in their tap room and I'm sure you'll find some interesting experimental brews at the Leslieville Beer Fest which the Spring Team is so proud to host!
Avling Brewery (Our fave brew: None yet, but happy to help with product testing)
This place isn't even open yet, but we thought we'd add it to the list, because it's right next to the Spring Team office, has plans for a pretty sexy rooftop garden and is sure to be a hit with the upcoming 1001 Queen development just across the street.
Radical Road Brewing Company (Our fave brew: Yuzu Pale Ale)
There are few Leslieville date nights I like better than a Descendant Pizza then a trip across the street to Radical Road. If (for some crazy reason) pizza isn't your jam, Radical Road also offers a tight food menu to go with their beers. Sidle up to the copper bar top and enjoy!
Rorschach Brewing Co. (Our fave brew: Truth Serum IPA)
Rorschach took over a century home on Eastern Avenue that used to house the Papillon on the Park restaurant. Prior to that, the building served as boat storage and repair shop, which makes sense, as it's just a stone's throw from the beach. Rorschach specializes in IPAs and Stouts, and I mean specialize, they have five of each of varying strength. Hey, one question though, why do all of the labels look like my parents having sex?  (That's just some Psychology humour for y'all!)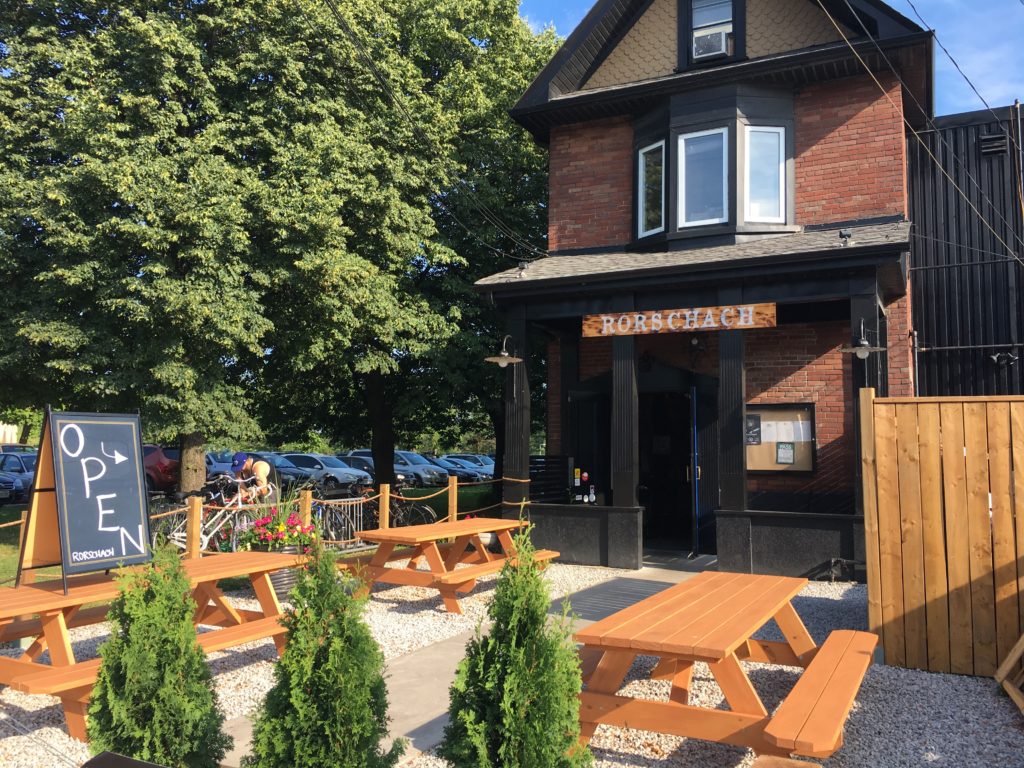 Left Field Brewery (Our fave brew: Eephus)
Left Field recently celebrated their fifth anniversary in a quiet industrial alley in Leslieville, and it's hard to remember the NIMBYism they faced early on. I bet those folks feel dumb. Left field has animated the neighbourhood with their baseball themed beer and decor and weekend popup events. They're pet and child friendly, and there are few better places to enjoy a low key afternoon Jay's game.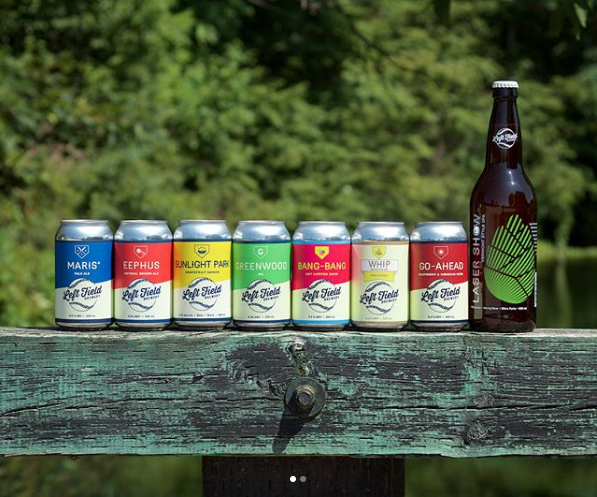 Godspeed Brewery (Our fave brew: Otsukaresama Dortmunder) 
Godspeed is the slickest, hippest new brewery and tap room, and has the most "west end" vibe of our local breweries. (It's named after beloved Montreal weirdo noise band Godspeed! You Black Emperor) Brewer and owner Bim LaFontaine cut his teeth at Dieu du Ciel! In Montreal, then moved to Japan, the style of beer and Izakaya menu at Godspeed are both reflective of his past. We think Godspeed has a bright future in the 'hood.
Black Lab Brewing (Black Lab will be launching with a Schwarzbier, APA, Double Dry Hopped IPA and a Rhubarb Sour. Can't wait!)
Beer and fitness generally don't go together, but Black Lab owners Billy and Anne Madden prove that to be false. This group are also managers of the wildly popular RunTObeer group. A loose group of likeminded people running 3/5/10 km routes to local bars/breweries. We're excited to check out Black Lab Brewing when they open this fall, but don't blame us if we take an Uber instead of run. 🙂 Also, can we talk about how much we love their new collab with Tom & Sawyer to create a tasty doggie treat with their spent grains! So great.
Thank you so much for your attention! Hopefully you found this content useful. If so, make sure you're subscribed to the industry's "least spammy newsletter!" to be kept in the loop. We've got some great resources for Buyers and Sellers here too, so check that out and keep in touch, will ya?
Don't forget, you can always call, text (416-434-1511) or email (ara@property.ca)  if you have any comments or questions. Also, feel free to comment below!