Leslieville & Riverside Condos For Sale Lead the Pack with THREE Apartment Building Trading at Over $1000/PSF
As one of my colleagues said yesterday: "Never thought I'd live to see the day when Leslieville was selling at $1000/PSF" indeed a sentiment echoed by many long time pros who specialize in our East End Communities such as Leslieville.
I remember selling my apartment at the Garment Factory Lofts in 2013 for $546/PSF and how worried the Buyer was about "overpaying". Another instance when a client freaked out on me when her investment unit at The Worklofts in Leslieville wasn't appraising at $600/PSF in 2014. Another time a Listing Agent worried that the Buyer's financing wouldn't go through when she bought a unit for a whopping $685/PSF in 2015 in Leslieville.
All financing and valuation worries seem to be gone now as apartments in the East End such as Leslieville and Riverside have outperformed almost all others in The City of Toronto! Here are the Top 10 Condo Buildings in Leslieville and Riverside Toronto For Sale based on price per square foot (PSF) according to data collected by our very own Condos.ca team!
1. i-Zone Lofts 321 Carlaw – $1,204/PSF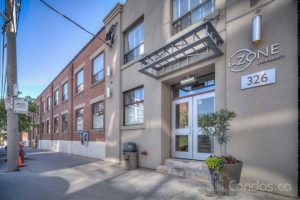 Based on two of the most recent Leslieville Condo sales, the i-Zone lofts are well in the lead here located right in between Leslieville and Riverside. Not really surprising since this building is home to some of the most unique floor plans and designs in the entire City. Literal blank canvases that folks have turned into dream apartments. i-Zone Lofts were undervalued for so long it's no surprise to see the 57% year over year increase.
You'll want to make sure you're receiving our Real Time updates. Get notified the second a Realtor lists a property in Leslieville and Riverside…even sooner than some other agents!
2. Showcase Lofts 88 Colgate Ave – $1,036/PSF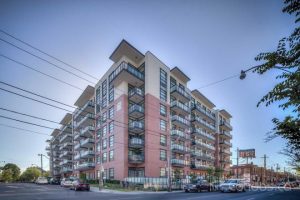 88 Colgate has surprised absolutely everyone in the industry by being the first building in the East End to record a condo sale over $1000/PSF in Leslieville. Then another and then another. If not for the two massive sales at i-Zone, we'd see Showcase Lofts in the top spot. The apartments here are pretty great with huge ceilings and reclaimed brick walls in all units topping the list of most condos in Leslieville for sale. The brick is what creates the warmth and character and helps Buyers make emotional connections to the spaces…which in turn allows them to open up their wallets a little more.
This condo building in Leslieville (as well as most others here) perform very well as rentals too.
3. The Taylor Lofts 1238 Dundas St East – $1,011/PSF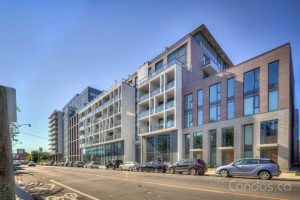 The Taylor was the building in Leslieville everyone was wondering about. It sold well at launch, then it occupied a few years later…then nothing. Not a single unit hit the market for sale for a very long time.
People loved living in this Leslieville condo building. Then units at neighbouring 1190 Dundas started to turn over for big money. Folks started to pay attention at The Taylor and boom.
We still don't see a ton of turnover here although the past few months have shown some movement. This last Leslieville condo for sale average was based on the last three sales of this Leslieville condo building.
4. The Worklofts 319 Carlaw Ave – $955/PSF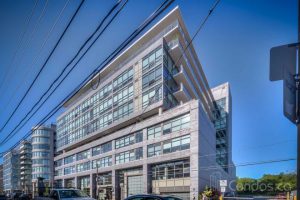 I remember it like it was yesterday. Trying to convince folks that $400/PSF was a good deal here in Leslieville. Back then I worked for Brad Lamb. It was amazing! He gave me access to developments. I got to work in sales centres (and this was one of them).
There are still some of the original buyers (who've done very well now by the way) but most units have turned over, over the years here in Leslieville. In fact, we are just now seeing condo sales at over $1000/PSF in this Leslieville condo building. Next time I report this, we'll see The Worklofts move up a position or two in Leslieville. A 935sqft just sold for $1,028,000 last week. Another couple sales like that should bump the average up nicely.
Units here in this Leslieville condo building sell extremely fast so make sure you're signed up for our Real-Time search tool.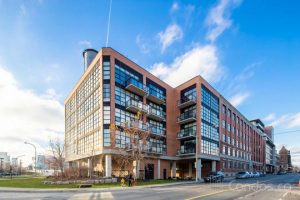 This should come as no surprise. Literally one of the best examples of a Hard Loft here in Toronto. Amazing spaces and all different. Massive Douglas Fir beams, exposed century-old bricks and a collection of some of the coolest Torontonians..ever!
The only surprise here in this Leslieville condo for sale units is that it's not higher on the list. Some units at The Broadview Lofts are perhaps a little too personalized so some listings tend to sit on the market a little longer. There are also some multi-level lofts that don't quite make for the most efficient floor plans in Leslieville. Overall, a truly magnificent (and I don't use that word often…like this is probably the 4th time I've ever used it) building that you'd be lucky to be in.
I remember when I first launched Spring Realty back in 2011 we did our photos in that building. I had no idea you're not supposed to do photos here in the common areas so we got kicked out. If security and privacy is a concern for you..trust that the Broadview Loft's staff are on the ball and on your side!
6. The Carlaw 1190 Dundas St East – $936/PSF
This Leslieville condo for sale Originally sold and marketed at 345 Carlaw hence the name "The Carlaw" but ended up with the municipal address of 1190 Dundas. Caused some confusion at the beginning with folks listing using both addresses but eventually all was sorted out.
There was even a unit listed as 345 Carlaw there last week so I called the agent to let her know she had incorrectly listed it. She yelled at me wondering "why I was meddling with her business". Anyway, she corrected the listing the next day and sure enough…her property that had sat on the market for two weeks with zero action, was finally leased in this Leslieville neighborhood. Not even a "thank you" from her! The nerve! Always helps to work with a local who knows what they're doing. Right?
There was a TON of turnover here and listing activity is still way up but prices remain strong here in Leslieville. Dundas & Carlaw is a strong cultural hub for the East End with the Crow's Theatre occupying the main floor of this space so The Carlaw's popularity and success in Leslieville is not surprising to me.
7. The Ninety 90 Broadview Ave – $902/PSF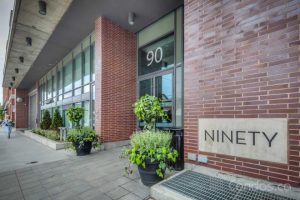 The Ninety was the 2nd ever sales centre I ever worked in Riverside while working for Brad Lamb. Loved the vibe then and love the vibe now! Sadly a lot of the West facing units will lose their view of the skyline due to the massive development by Streetcar called Riverside Square.
That's certainly not stopping units from flying off the shelves here in this Riverside condo building for sale. One of our investors bought a rental unit in this part of Riverside and flipped in just over one year for a $100K profit. The Ninety has treated both investors and end-users very well over the years. I regret selling my unit there in Riverside as an assignment back in 2010. Such a bad decision!!!
This average is based on 21 sales. That's the biggest sample size of any of the Top 10. There have been a few at over $1000/PSF but some of the less desirable floor plans have dragged that average down over 2017. We should definitely see The Ninety in Riverside bounce up many positions as we progress through 2018. Don't forget, these places in Riverside sell very fast so you'll need to be the first in the door. Only our real time search notifications can give you a competitive advantage in this market. Sign up.
8. The Edge Lofts 625 Queen St East – $873/PSF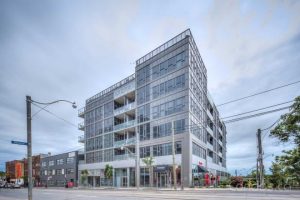 The Edge Lofts was built in no man's land back in 2009 by Streetcar Developments by the edge of Riverside. Not much action there by the DVP at that time so units were selling cheap! Owners here have in this Riverside condo building for sale realized incredible returns over the years and now we've even seen some $1000/PSF sales already so next report will see a dramatic jump in values. We'll see The Edge lofts and its counterpart Sync Lofts do some incredible things in Riverside.
Who doesn't want a building with a dog wash as an amenity…amiright? Also, have you been to Il Ponte, the Italian joint as the commercial tenant? Holy smokes, is it ever good! The other commercial tenant is Magenta Health (my GP!).
We'll see this part of the East End (effectively the gateway to the East) improve dramatically as we flow into 2020. Riverside Square just a block or so East of here will have all the amenities you'd ever want or need. Not to mention the MEGA development called East Harbour by First Gulf coming soon just over the bridge.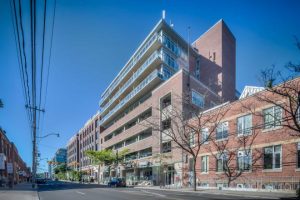 What happened to you, Garment Factory Lofts?? You were once the Darling of Leslieville. Always at the top of the Price Per Square Foot list. Now you're near the bottom! What happened???
I'll tell you what happened! Nobody is selling! There has never been a ton of turnover here at The Garment Factory in Leslieville. We used to see on average about a listing per month here but we haven't seen an active listing here in a few months now. We especially haven't seen one of the extra special terraced units that occupy most of the 5th floor and those as part of the original building on the first 4 floors.
The Garment Factory houses the most diverse collection of residents too in Leslieville. You'll often find retired down-sizers and youngsters getting started in the professional world side by side in the common areas. I lived here for 4 years and loved every single moment of it. (well except for the part where I got divorced…didn't love that)
We should see some movement here in 2018 and I'd bet the next couple sales will smash this hugely undervalued building right now. If we don't see this average bump up to at least the top 3 in 2018 I'll eat my socks!
10. Abode Lofts 53 Colgate Ave – $863/PSF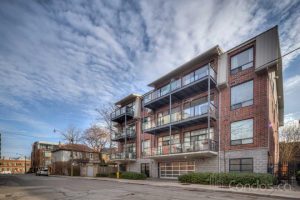 Only one sale in all of 2017 and nothing yet in 2018 this building is the quintessential "boutique condo". Built by then small time developer George Popper of GRID developments (now he's huge with many projects on the go) this Leslieville condo project quietly sold out at a friends and family event in the architects office.
The lucky buyers have seen enormous returns over the years and clearly they love the place as only a handful of units have changed hands since 2011 when the building was first occupied. We have been keeping a close eye on this one for our Buyers. It's absolutely essential that you are a member of our real-time listings platform for this Leslieville condo building and other Riverside condos as well, so sign up already so I can stop bothering you about it!
Thank you so much for your attention! Hopefully you found this content useful. I'll be updating this post regularly with latest Leslieville and Riverside condos for sale, so make sure you're subscribed to the industry's "least spammy newsletter!" to be kept in the loop.
Bye for now! Don't forget, you can always call, text (416-434-1511) or email (ara@property.ca) me if any comments or questions. Also comment below 🙂