East Harbour By First Gulf Is So Much More Than A Mall
East Harbour To Become Toronto's Newest Neighbourhood
East Harbour: This week BlogTO and a bunch of other outfits click-baited their way to more ad revenue with the headline: "Yorkdale sized shopping complex coming to Toronto's East Side".  Narcity with "A massive mall is coming to the City and it will be bigger than Yorkdale" (I won't even do them the honour of providing links).
As we know, many lazy folks who love trolling based on headlines and soundbites took it and ran with it. "We don't need no more malls here" "what about the mom and pop shop" and all that noise. The truth is, First Gulf has been planning this development for a long time and they want to get it right. They're taking risks and in my opinion, they're going to pay off. Let's get started by looking at some facts.
The entire site is 60 acres bound by the DVP to the West, The tracks and Eastern Ave to the North, Lakeshore to the South and Booth Ave to the East (see renderings below).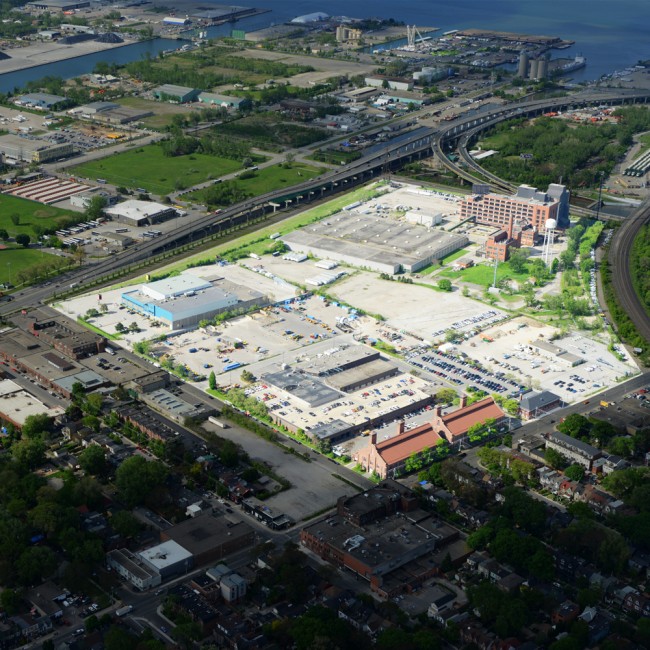 What I'm most curious about beyond the 12 million square feet of office/retail space is what they're going to do with these two beautiful heritage buildings along Eastern Ave at Booth. I can see them being converted to community event space, maybe even a brewery…the possibilities are endless.
17% of the East Harbour project is devoted retail, entertainment and institutional. Meaning, 83% of the space is NOT A MALL.
Now let's break down that 12 million square feet. Yes, it's true: A portion of the 2 million square feet will be retail. A PORTION.  A portion of the same 2 million square feet will be dedicated to entertainment and institutional (schools, universities, government office buildings, art galleries, and museums). What about your average Mom & Pop shop? Sure, your average "mom'n pop" outfit isn't going to be sustainable here (and why should it?). There are going to be huge demands placed on retail tenants to be innovative and deliver their product and service efficiently and effectively. Some argue that it's the Mom and Pop shop that creates community and vibrancy. I disagree. I think creative "place-making" does. Creating an environment where folks can live work and play and most importantly, contribute, is what creates community.
Derrick Goring, VP of Development of First Gulf said in an interview with the Toronto Star back in May:
Goring suggests some stores might function solely as showcases, with no actual inventory on-site (shoppers scan codes to buy products, which are then delivered by courier, obviating the need for stock space and big trucks on site). "It's one example of the type of thing we're thinking about," he says, noting there'll be a focus on "experiential retail" that complements online shopping rather than competes with it. "The main thing is we're trying to be flexible."
It's going to be amazing to see First Gulf deliver some serious retail and city building innovation here at East Harbour. Just like anything new, we expect some growing pains. First Gulf's focus on carbon neutrality, autonomous vehicle tech and focus on Transit/Accessibility will make this project a success.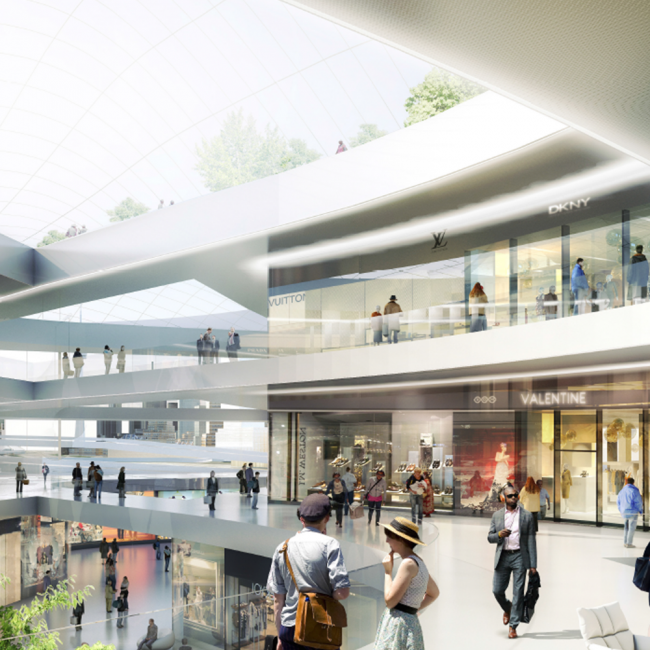 The Majority Of East Harbour…
…will be over 10 million square feet of office space providing an estimated 50,000 jobs. These jobs will range from entry level customer service positions right up to big CEO's with big pay cheques. Look, there's nothing ground breaking about office space but First Gulf has an opportunity to push their limits here. The twist? There will be 20 different buildings on the site all designed by different architects. Ya know, to avoid the CityPlace effect….
There will be a ton of built in features to help "future proof" this development. The installation of electric vehicle charging stations and other infrastructure innovations to accommodate driverless cars and drone technology.
East Harbour Public Space
East Harbour Toronto will be a walk-able neighbourhood with loads of public space to encourage engagement. Tied in with the Martin Goodman trail to encourage cyclists to come and hang and lots of open, public space for all to enjoy.
Transit First
East Harbour cannot happen without a serious transit hub. Once complete a collaboration between Metrolinx's GO, RER and TTC will provide unprecedented access to this new community.
First Gulf is hoping to start construction of East Harbour in early 2018 with Phase 1 complete in 2023. If all goes well, we'll be able to enjoy Toronto's newest neighbourhood sooner than you think!