Last week, Doug Ford took Toronto's long-term transit plans, said "nah", then re-drew the relief line route to link the Science Centre to Ontario Place for some reason.
Did you know that the idea of a Downtown Relief Line (DRL) has been on the books in some fashion since 1910! The City struggled in the years since to either commit to a plan or secure the funding to make a DRL a reality, so the latest iteration was remarkable in how far it had gotten before it to was cancelled.
So, what does the new transit map mean for Toronto?

In letters released in March, the provincial government indicated they would only fund a DRL if they controlled the "planning, design, and delivery" of the subway line.
In the provincial budget, the government claims that they will be able to not only deliver the Ontario Line two years before DRL South was planned to be completed in 2029, but also at a cheaper cost.
The PCs claims that this can be achieved by "fundamentally redesigning the Downtown Relief Line project", although, a fundamental redesign would likely suggest the opposite.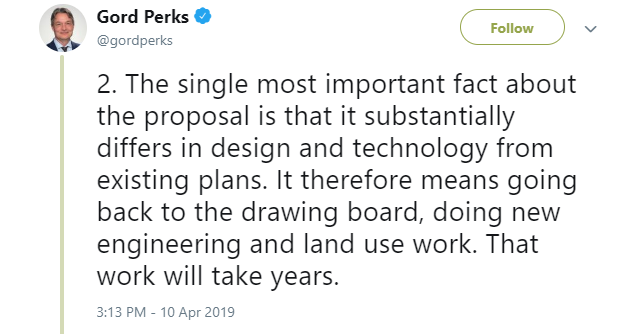 The province has no concrete proof on how this would be accomplished, but do provide a cursory bullet list of rough ideas, including:
Building a bridge instead of a tunnel to traverse the Don Valley,

Using "lighter, more cost-effective and modern trains", which transit advocate and blogger Steve Munro speculates would mean using smaller trains, such as what is used on Vancouver's Canada line.

Creating a "freestanding Ontario Line" that would not depend on the Bloor-Danforth line technologies, and

Speeding up the construction process through an early works program and using the province's power to expedite approvals.

Beyond the list, above, no other real reason has been provided as to why the Ontario Line could be completed so quickly. Councillor Gord Perks argues via an epic twitter thread linked above, that the promise of a faster turnaround isn't possible "within the terms of office of the current Council or the current Ontario government".
Additionally, the proposed transit map is missing one key line: the Eglinton East LRT. The project is still unfunded, so its exclusion from the map does not bode well for its future. Yet, this may not be indicative of whether the provincial government will support the LRT, so we'll have to wait and see whether northern Scarborough will ever get the transit service it so sorely needs.
When it rains, it pours.
The provincial government has been releasing information in drips and drops over the past month. It's clear that legalizing tailgating was announced to distract from the cuts to education and increasing class sizes. Yet, it's unclear whether the transit announcement is a distraction from more sinister cuts.
The city desperately needs more transit, and years of false-starts have made us all so frustrated that any announcement is met with exasperated coalescence. "Fine, we don't care, just get something built!" The worst part about this plan though, is that with Doug's track record of abject failure as a city Councillor and sticker salesman, we don't see any way that this will get built either. It's just another waste of time and money that will result in the city's already over burdened transit infrastructure continuing to get worse.
Thank you so much for your attention! Hopefully you found this content useful. If so, make sure you're subscribed to the industry's "least spammy newsletter!" to be kept in the loop. We've got some great resources for Buyers and Sellers here too, so check that out and keep in touch, will ya?
Don't forget, you can always call, text (416-434-1511) or email (ara@property.ca) if you have any comments or questions. Also, feel free to comment below!