OneOsborne: Detached & Fully Renovated Upper Beach Home
Welcome to OneOsborne – An Upper Beach Beauty!
One Osborne is an absolute stunner and a must see if you're looking for a detached home on a semi budget. Ideal for busy professionals or the young family not interested in the maintenance involved with a traditional home but are over the condo-life. The entire home is fully updated and is ready for its new caretaker.
The parking here is very easy to find on the street but there's a mutually owned driveway (owned by the three adjoining properties including OneOsborne) that this home's owner has been parking in without issue for a year. Needless to say, you have many parking options. .
You'll find the basement to be quite something! A basement bathroom like you've never seen along with a sizeable laundry room with plenty space and storage to keep the rest of the house clutter free.
The fully modern and custom main floor is ideal for an entertainer or family not wanting to lose sight of one-another! The custom kitchen, large dining room area and comfortable living room have been expertly designed to avoid any wasted space. Did you notice the stained glass and fireplace? Wow!
The Upper Beach Area
Located between Kingston Rd and Gerrard St just east of Main there is a ton to do locally. An ideal mix of green and urban I can't think of a better place to live.
The entire community, especially Osborne Ave is so incredibly quiet make sure to take a moment to appreciate the serenity during your visit. The Seller even noted that he's had some of the best sleeps of his life in this home as it's so quiet!
If you wanted to immerse yourself in even more nature you can take a 5min walk to the Glen Steward ravine or head over to The Beach in a quick 15min stroll.
But when you need to get downtown you can walk to the Danforth Go in about 10mins and then take the train for 11 mins and you're right at Union Station. Just far enough out of the action to enjoy the peace and quiet but a quick ride away when you're craving some urbanizm.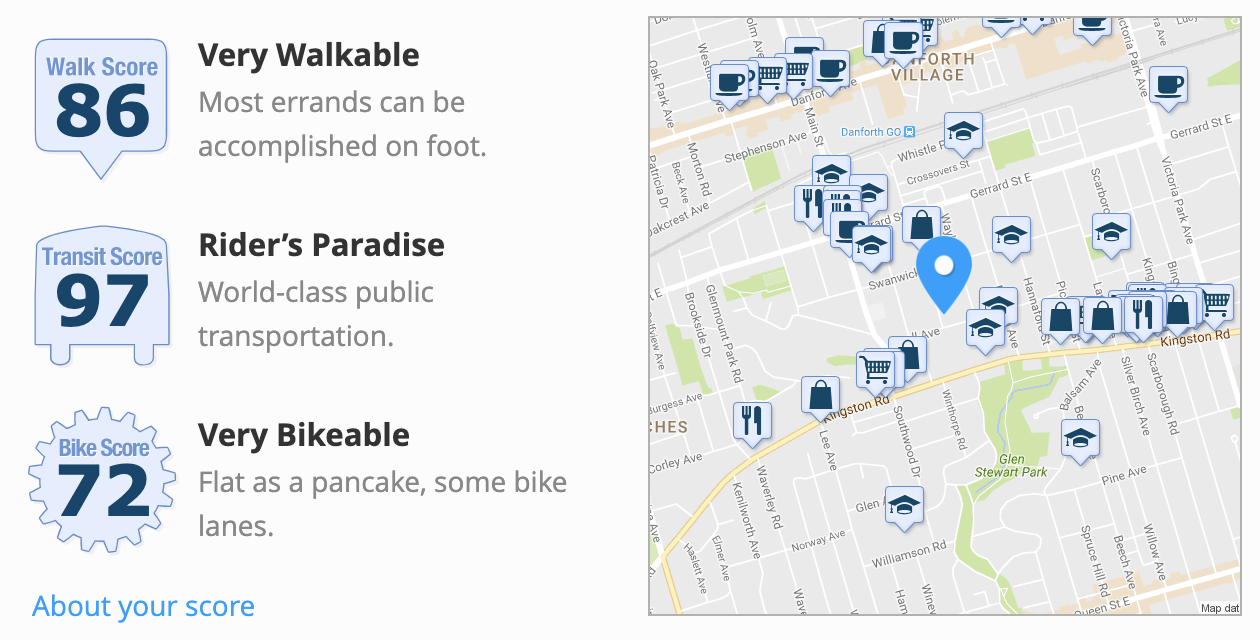 We're hosting an open house September 7th and 8th from 1-4:30pm and offers will be reviewed Monday September 9th. 
Please get in touch for a private viewing and we'll tell you all about this awesome place! or Call 416-434-1511 or ara@property.ca