Families in Condos Put Pressure on Local Schools
The Vertical Family Club puts tons of pressure on local schools
With kids returning to school this week, we thought we'd answer a question we've heard quite a bit from clients and friends. "What's up with those TDSB notices posted outside of new condo construction sites?"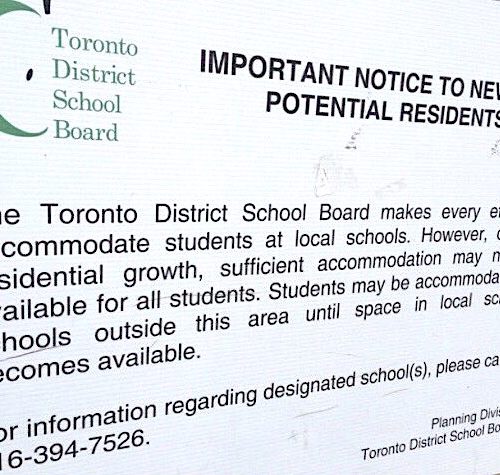 If you haven't seen one, the signs read:
"The Toronto District School Board makes every effort to accommodate students at local schools. However, due to residential growth, sufficient accommodation may not be available for all students. Students may be accommodated in schools outside this area until space in local schools becomes available."
This can be jarring for a young family who buys into a specific neighbourhood thinking that their child will be enrolled in the school just down the street. Only to find out, via a sign, that might not be the case. We have seen these signs pop up in Leslieville and Corktown, but per the Globe and Mail, many neighbourhoods are affected.
"TDSB spokesman Ryan Bird says the board has placed signs on the street level warning potential home buyers that a spot in a home school isn't guaranteed, and similar warnings are also included in the home buyer's agreement. Bird says the most recent statistics show that there are 110 new developments in Toronto with those warnings."
Now this doesn't mean that your child can't go to school, and become some uneducated urban hillbilly
It simply means that if your local school is full, your child might get bussed elsewhere. This has already happened at Yonge/Sheppard where they've added several thousand condo units to a relatively small area, according to the TDSB, almost 900 students are take buses to schools with lower density. 
Residents of Cityplace have waited twenty years for a school to be built in the area, and they've made it work.  I wouldn't count on any new schools being built in Leslieville anytime soon, so it might be time to adjust your expectations and prepare your kids for the bus.
Cityplace Does it Right…Finally!
Canoe Landing Centre in Cityplace is a Bright Light! A community centre, child care and a collab between TDSB and the Catholic School Board (why is that still a thing?).
Now this project would have been ideal about 10 years ago. If you build it they will come…type of situation.
Why does it take so long to built the infrastructure to support vertical communities? 
Private Schools are Booming!
Inaction by local government on expanding our school system has created a booming private school industry. My daughter for example, is enrolled in the local Montessori program (which we had to enrol a year in advance!).
These private options aren't cheap but sometimes they can be the best and only option for some locals. They say a school is coming in Canary District…let's see if that'll get done within the next decade.
Anyway, that's all for today….
Thank you so much for your attention! Hopefully you found this content useful. If so, make sure you're subscribed to the industry's "least spammy newsletter!" to be kept in the loop. We've got some great resources for Buyers and Sellers here too, so check that out and keep in touch, will ya?
Don't forget, you can always call, text (416-434-1511) or email (ara@property.ca)  if you have any comments or questions. Also, feel free to comment below!