Week 57: Urban Toronto House supply is way up but buyers are maintaining newly achieved high prices across the board
Urban Markets: Downtown & Surrounding Areas
House MoI aka months of inventory is up 35% when compared to February but still not nearly enough to do anything about big numbers still being offered by buyers. What we're not seeing is the massive "can you believe what that house sold for" kind of offers but the previous highs achieved by such offers are being regularly maintained by new buyers firmly setting the previous highs as the new normal.
"Waiting for the market to crash" is and has always been a terrible strategy for folks looking for a home. The condo market did crash and the peak "crash" was in November. Did you buy then? No? Why? Probably because when the world is falling apart around you, you're likely also falling apart. So please…let's get real here and either buy what you can afford today or move to a market where you can get that detached home for the price you can afford. It's really that simple.
Condos however maintained seriously low supply levels adding no new listings month over month but we should start to see a little more supply as we head deeper into Q2. Sellers are realizing that getting their pre-covid pricing is now a reality and are beginning to get their properties ready for market. Again, the condo market is the most competitive it's ever been right now and it will only get more competitive as more buyers who've been sitting on the fence are finally entering the market before it gets even more unaffordable (because a 20% crash over the winter wasn't good enough for them).
Anyway, we'll see how the market reacts as the Feds pull back some of their wage subsidies later in the year as vaccinations take hold. That's the only thing I'm keeping an eye on now. Are people who are typical homebuyers and sellers going to be affected? How many companies are being propped up by this wage subsidy right now? Important questions that need to be answered.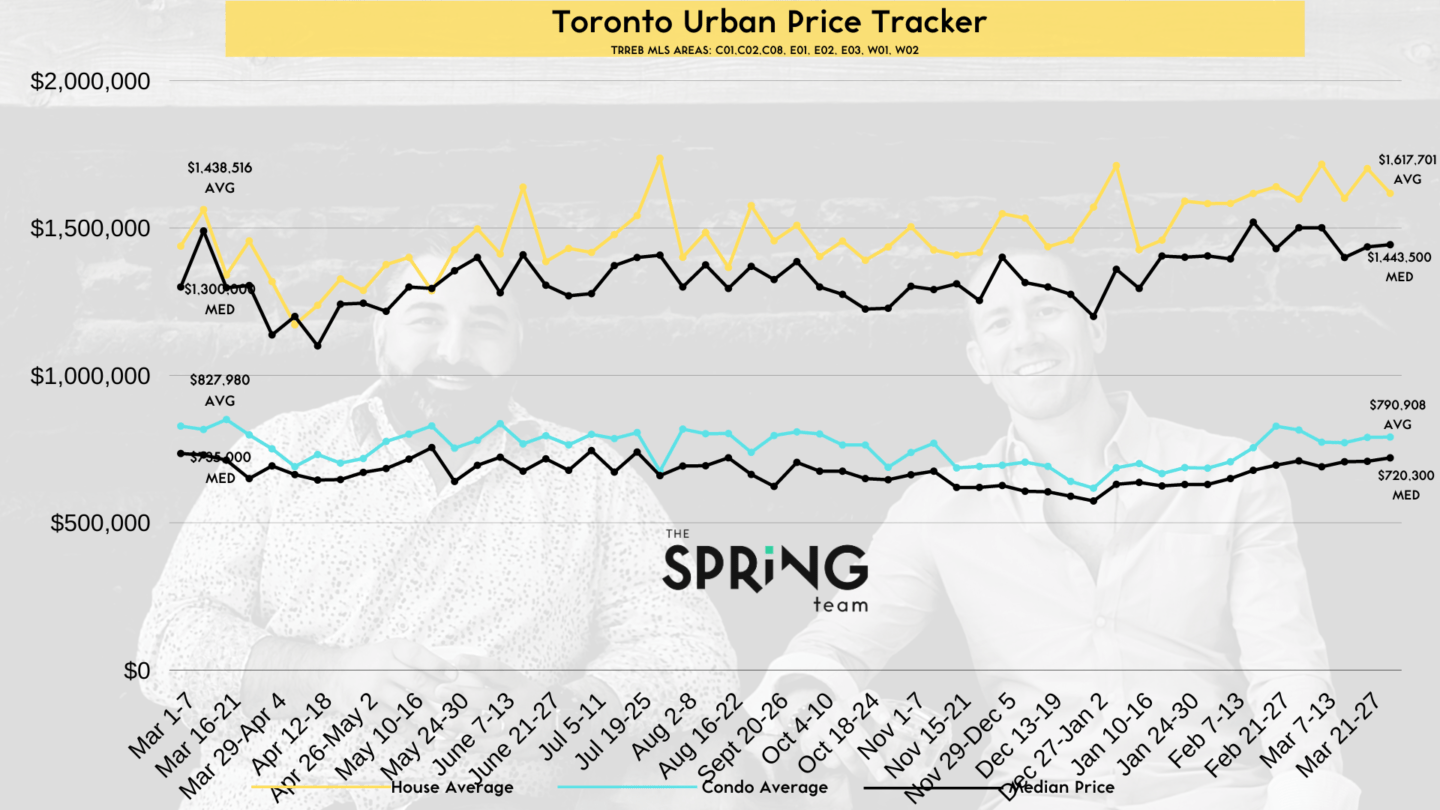 House Average Price: $1,617,701
House Median Price: $1,443,500
372 Active Listings
133 Firm Sales This Week
Months of Inventory (MoI) ~ 1.06
Average Days on Market ~ 6.14 DoM
Condo Average Price: $790,908
Condo Median Price: $720,300
1108 Active Listings
227 Firm Sales This Week
MoI ~ 1.34
Average Days on Market (DOM) ~ 11.69
Urban North: Rosedale, Deer Park, Moore Park, Forest Hill, & Lawrence Park
Both Condos and Houses maintained their extremely low inventory levels here. MoI in both areas remained relatively flat with buyer demand only increasing at all price points. Not much else to report here this week other than…if you're a buyer then best to get in sooner than later as the market doesn't seem to be showing any signs of slowing at the moment.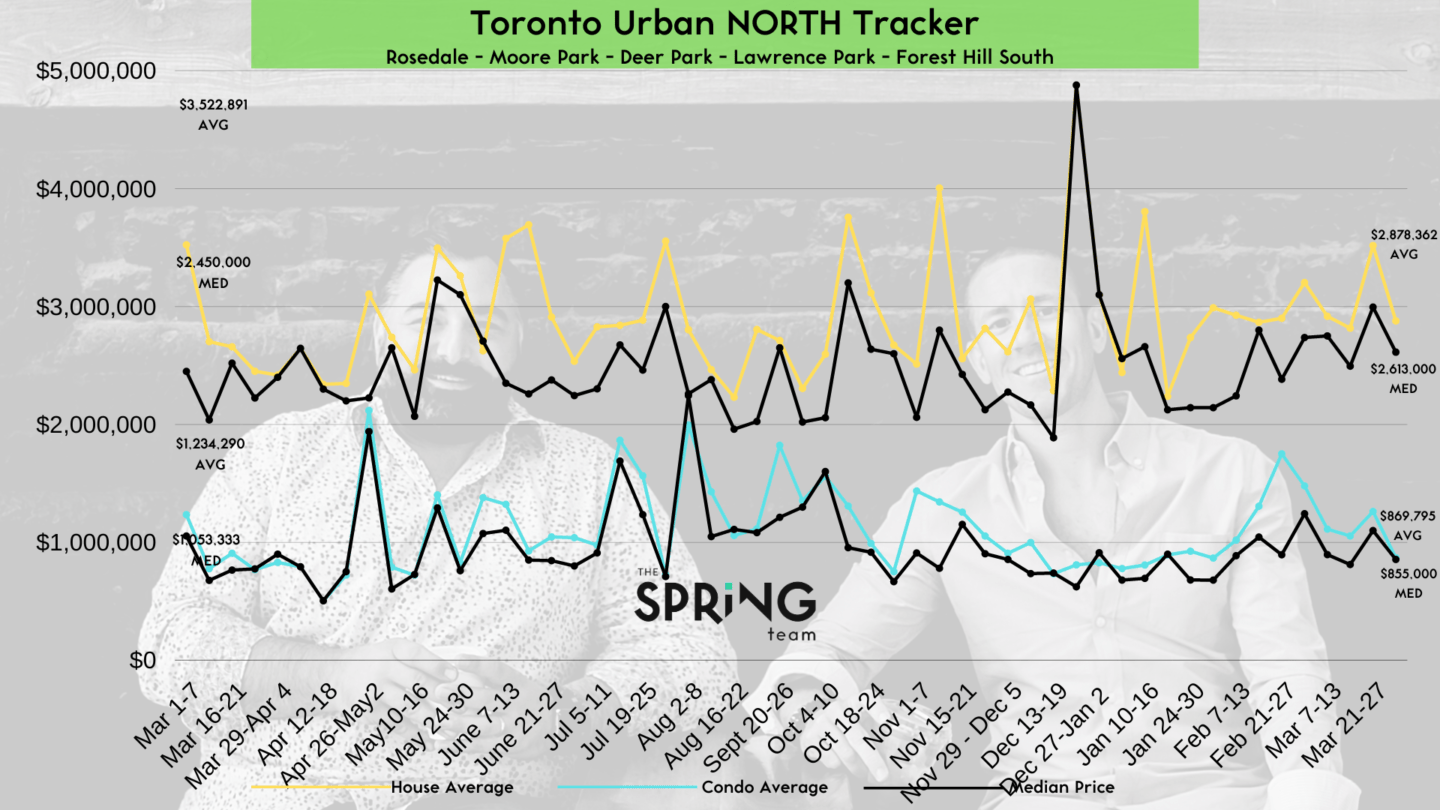 House Average Price: $2,878,362
House Median Price: $2,613,000
121 Active Listings
28 Firm Sales This Week
Months of Inventory (MoI) ~ 1.61
Condo Average Price: $869,795
Condo Median Price: $855,000
187 Active Listings
15 Firm Sales This Week
MoI ~ 2.75
Leaside & Davisville (including Yonge and Eg)
Supply a major issue once again here but I'm starting to sound like a broken record. Buyers are out in full force here and we can only expect this activity to continue as we head into the Summer as folks try and find homes to settle in before the new school year begins. Assuming people can actually get out and view properties considering they've been locked in with their kids once again for the foreseeable future.
The market didn't seem to be affected when kids were home during the first couple of lockdowns so there's no reason to expect that to be the case this time around. So hearing some use that as a reason to "wait and see if prices come down since parents can't view properties since they're busy with their kids' homeschooling" isn't all that reasonable or based on any sort of past performance.
House Average Price: $2,400,091
House Median Price: $1,905,000
49 Active Listings
11 Firm Sales This Week
Months of Inventory (MoI) ~ 1.23
Condo Average Price: $726,063
Condo Median Price: $743,000
87 Active Listings
13 Firm Sales This Week
MoI ~ 1.31
Birch Cliff
The great news here is that MoI is finally getting up to close to one month. But if you've been following this blog at all you'll know that we're extremely bullish on Birchcliff and so are many other buyers and developers. This community could handle a doubling or even tripling of inventory based on current buyer demand.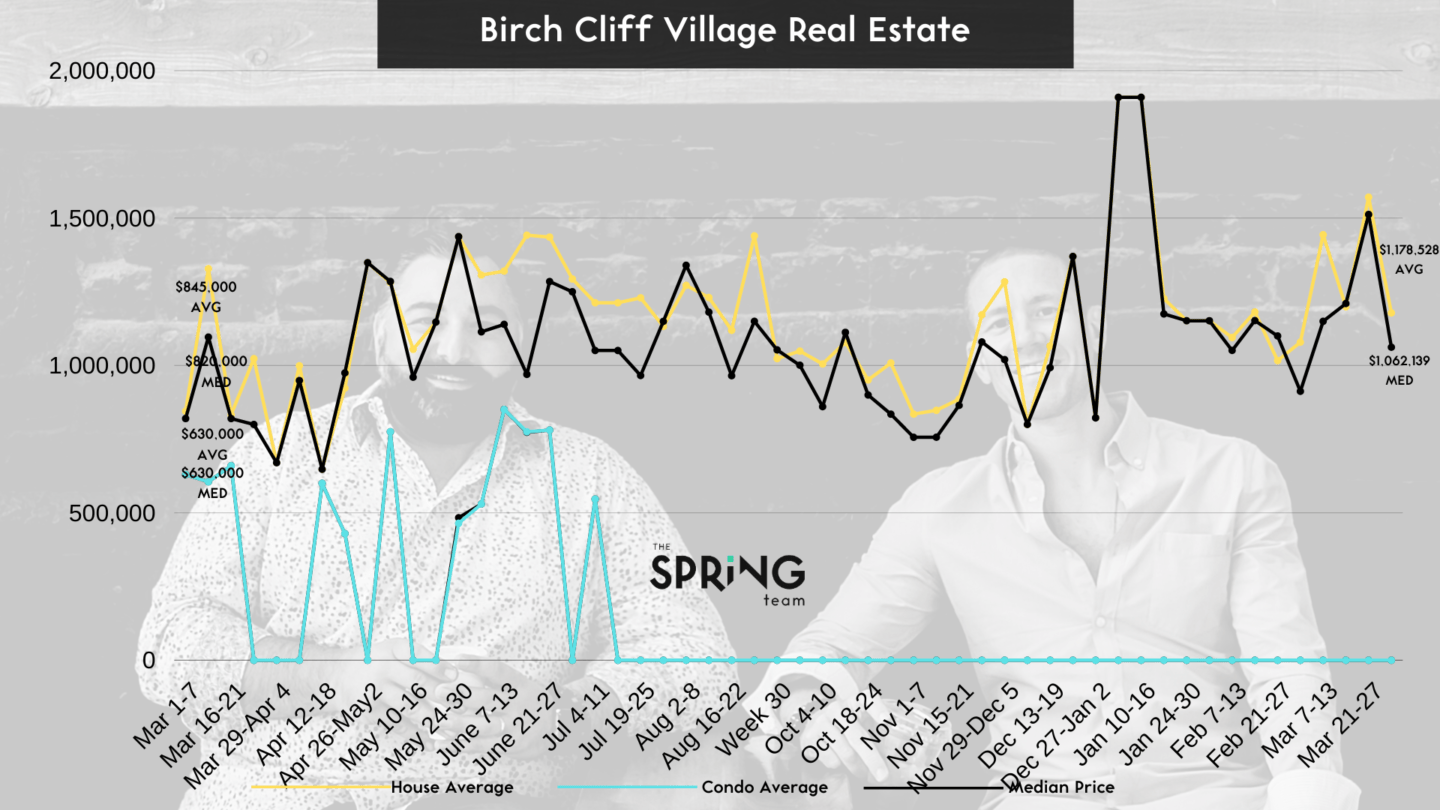 House Average Price: $1,178,528
House Median Price: $1,062,139
20 Active Listings
10 Firm Sales This Week
Months of Inventory (MoI) ~ 0.78
Thanks so much for your energy and attention! If you need clarity on any of this or want to talk about your specific situation then call/text/email anytime: ara@thespringteam.ca or 416-434-1511