Week 43: Condoland closes out 2020 on a positive note while house supply continues to be a problem.
Sales nearly halved for both condos and houses as buyers finally take some time off from real estating. This Holiday slowdown would have started much earlier in normal times but the delay was expected.
Did you see my comments in the Toronto Star on the 28th? Read up here 🙂 Real Estate experts (hey I'm one of those) weigh in on what's to come in 2021! 
&
You'll notice that condo average prices are down this week. That's mainly due to the successful sale of much smaller sub $600K units that have been sitting on the market for longer than 30 days with many north of 75 days. The condo market overall is performing much better than about 7-8 weeks ago when we were at peak inventory levels.
Prices for downtown condos are definitely down when compared to the 2020 highs of May so discounts are still out there. We can expect inventory to spike up a bit in the early part of January as sellers who've been waiting for some improvement in the market start to hit the MLS.
Buyers: now is the time to start your property search if you want to take any advantage of the havoc that COVID has wreaked on the condo market. In a few months, you won't have the same opportunities that exist in today's marketplace. As Warren Buffet has said: "be fearful when others are greedy, and greedy when others are fearful."
Sellers: now is the time to get your house on the market if you're ready to make a move. Download our Seller's guide to see what we do 🙂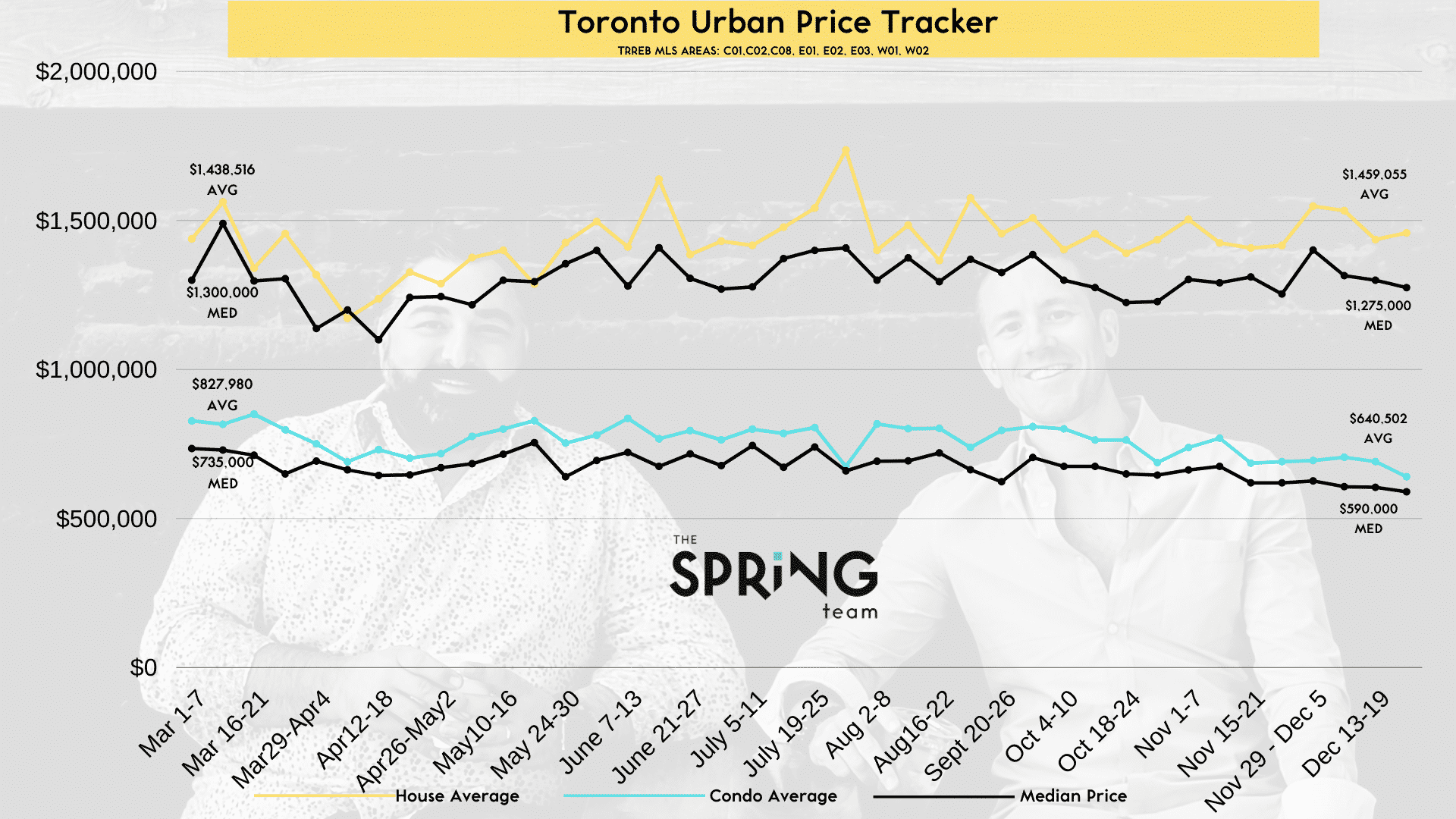 House Average Price: $1,459,055
House Median Price: $1,275,000
259 Active Listings
21 Firm Sales This Week
Months of Inventory (MoI) ~ 1.24
Average Days on Market ~ 15.30 DoM
Condo Average Price: $640,502
Condo Median Price: $590,000
1803 Active Listings
85 Firm Sales This Week
MoI ~ 4.54
Average Days on Market (DOM) ~ 36
: , , , , &
Let's not take these house numbers too seriously this week as there were only 2 sales. The Holiday was finally in effect here as folks settled down and literally didn't buy anything! Well…other than two $4mm+ houses. Nice Christmas presents for someone!
House listing inventory notched down a few units but we rarely see huge fluctuations in active listings here. We can expect more of the same steady sales activity here in the coming weeks as we settle into a more positive new year.
Condos actually continued to sell here as there was no change in sales volume from the week prior. The average price shot up with one big $2.1mm sale at our favourite new building at Yonge and St. Claire called The Jack. Message me if you want to see it. Wow!
There aren't a ton of buying opportunities available in these communities as demand has remained fairly strong for both houses and condos. Some discounts still do exist but they're few and far between.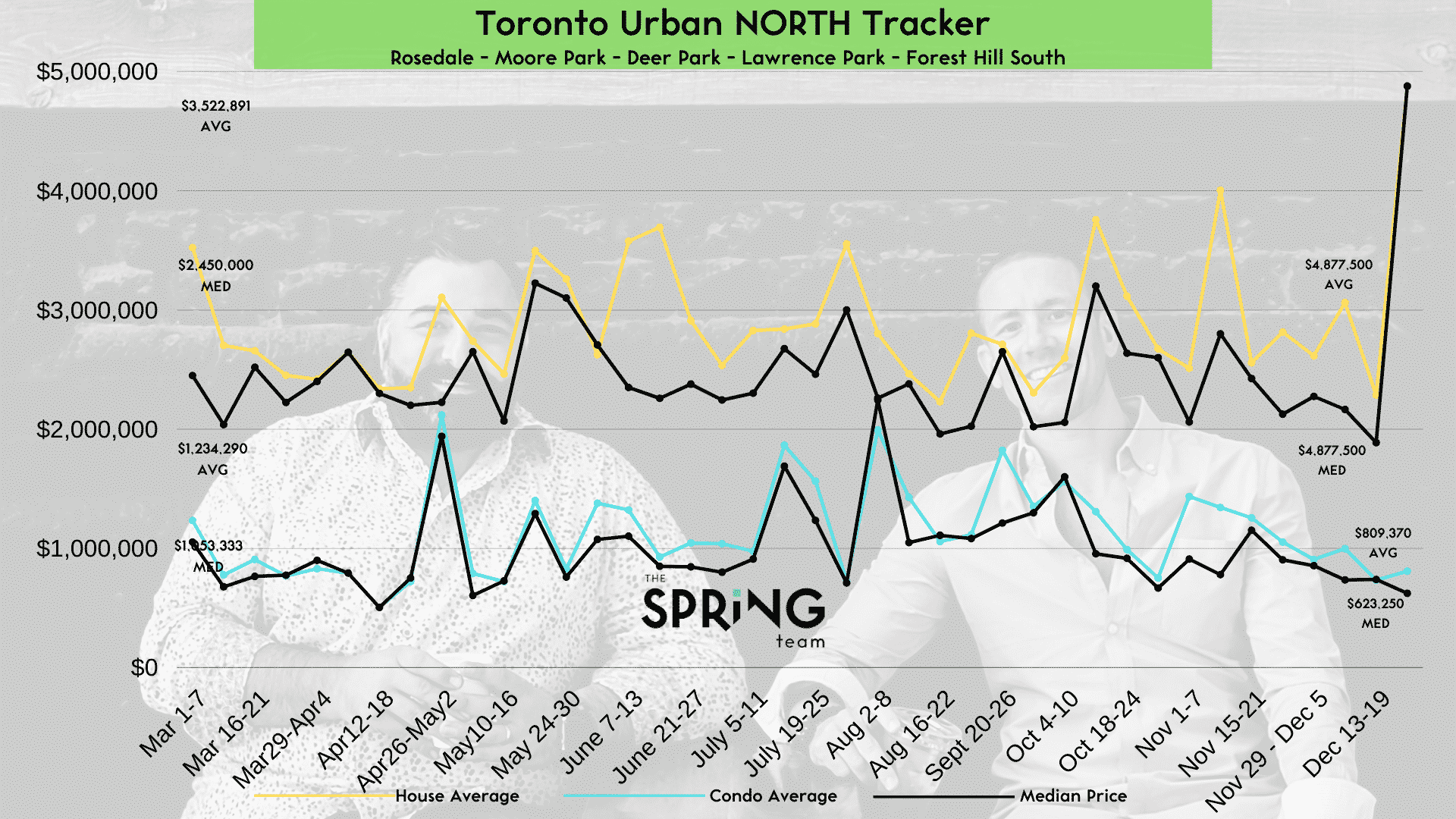 House Average Price: $4,877,500
House Median Price: $4,877,500
80 Active Listings
2 Firm Sales This Week
Months of Inventory (MoI) ~ 2.17
Condo Average Price: $809,370
Condo Median Price: $623,250
215 Active Listings
10 Firm Sales This Week
MoI ~ 5.68
&
Only 3 house sales here Christmas week (down from 5 last week). Low sales activity not because Buyers aren't interested, rather, there's nothing for them to buy! Extremely low inventory levels (not just Holiday related) are causing a serious bottleneck of buyers looking for their move-up home.
Condos barely had any sales with only 4 reported. Those 4 sales only absorbed old inventory as available new supply hit an all time COVID low like in most other communities. Condo supply is tight here and we should see serious gains throughout 2021 in this community as well as Yonge and Eglinton.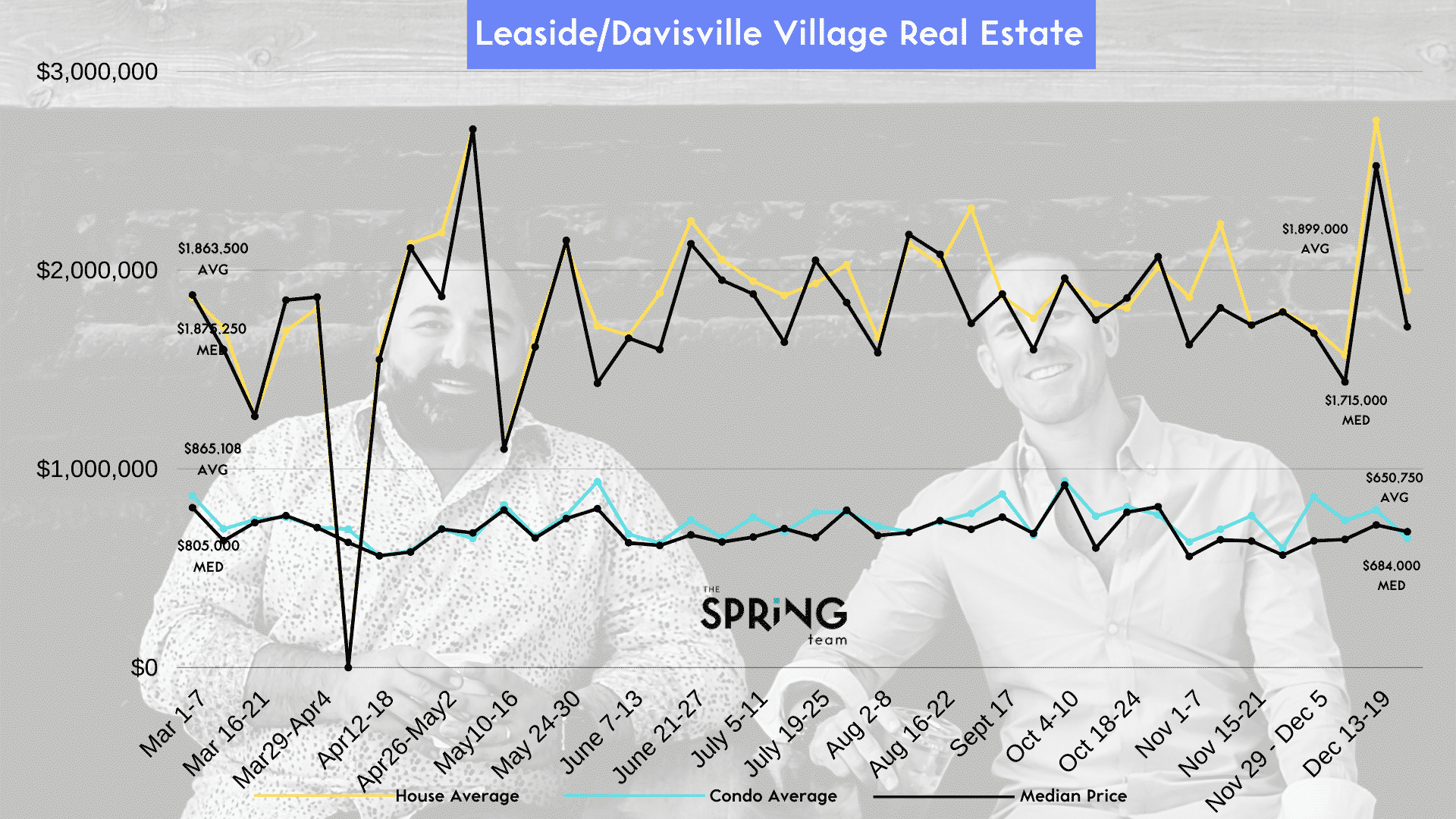 House Average Price: $1,899,000
House Median Price: $1,715,000
32 Active Listings 
5 Firm Sales This Week 
Months of Inventory (MoI) ~ 1.32 
Condo Average Price: $650,750
Condo Median Price: $684,000
166 Active Listings
4 Firm Sales This Week
MoI ~ 4.33
Only 2 sales in Birchcliff this week with active listings remaining consistent. If we don't see a serious influx of listings in this area prices are going to rocket to the moon here. Demand for the area has never been higher.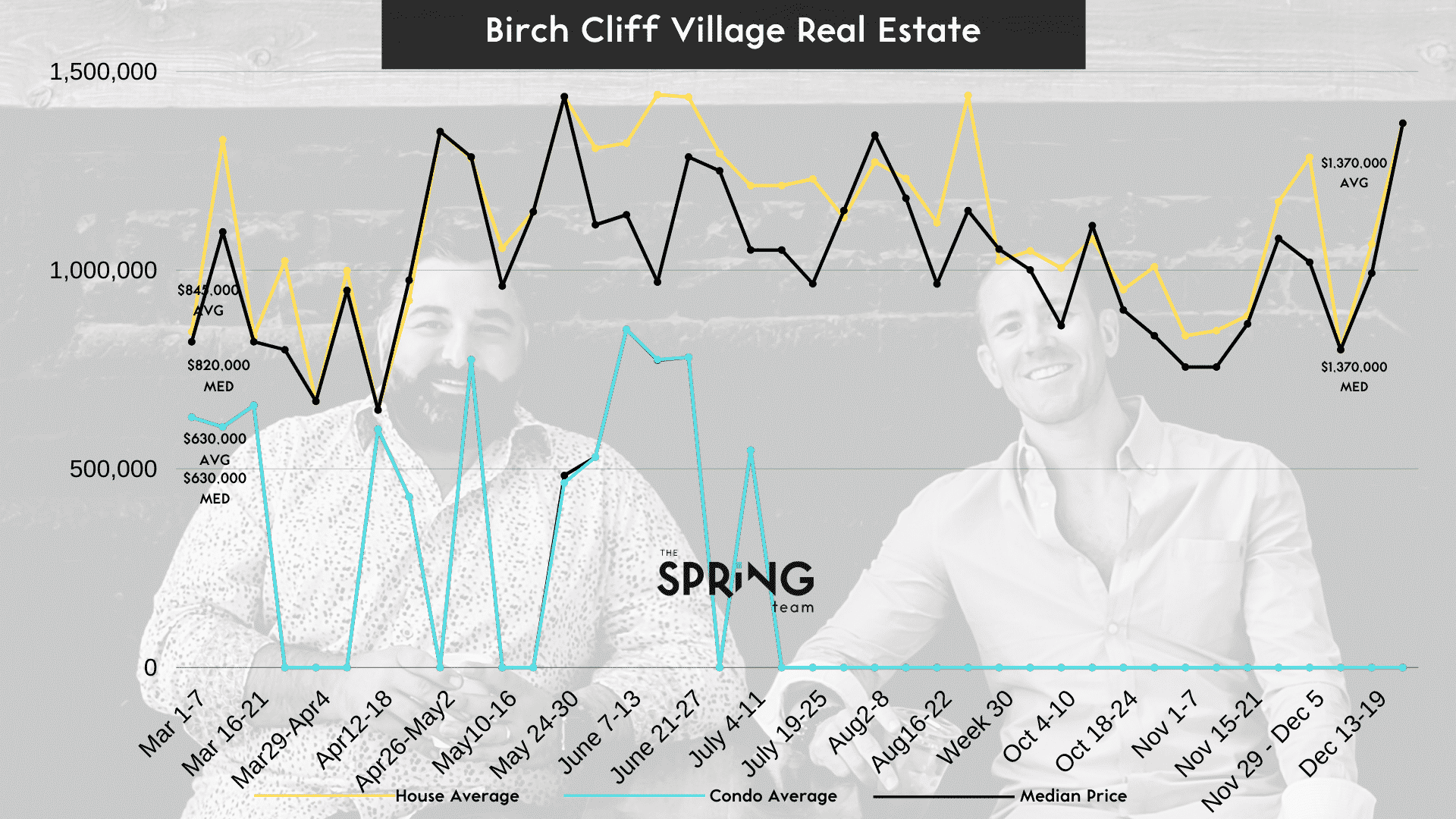 House Average Price: $1,370,000
House Median Price: $1,370,000
10 Active Listings 
2 Firm Sales This Week
Months of Inventory (MoI) ~ .89 
Thank you so much for your attention this year! Looking forward to providing this info as we head into 2021 and as always, if you need clarity on any of this or want to talk about your specific situation then call/text/email anytime: ara@thespringteam.ca or 416-434-1511