Week 41: Toronto Condo supply seriously drops while Buyer activity ramps up
When are buyers going to kick back and enjoy the Holiday season? Because right now offers are flying on most move-in-ready houses and for the 9th week in a row, we've had significant improvement in the condo market from downtown all the way up to Lawrence Park. Will we see a day in the very near future with less than 2000 active condo listings available?
&
The sales activity and lack of house inventory isn't a surprise. As I've said many times before, December can be a great time to sell your home as Buyers are usually still quite active but Sellers tend to hold going to market till after the Holiday.
Toronto hasn't had a traditional spring market for about a decade (you'd know this if you follow my IG stories or The Spring Team IG). What' we've had are fluctuations of inventory and sentiment which have affected the market at various times throughout each year. That and government intervention … remember when the government announced the Ontario Fair Housing Plan? Pretty much destroyed the suburban market and put the brakes on the resale urban market as well. 
Condos are improving every single day. We're at July inventory levels right now. Why is that important? Because it's when Buyers firmly removed Sellers from the driver's seat and deal started showing up en masse. 
The number of sales remains consistent and prices are inching up each week. If you're looking for deals, we've moved on from the bottom of the market but prices are still down from pre-covid times and many opportunities exist from $800-1000/PSF. We should start to see condos hit that $1000/psf average in Q1/2 of 2021.
If you're a seller make sure to download our Seller's guide so you can see how we work.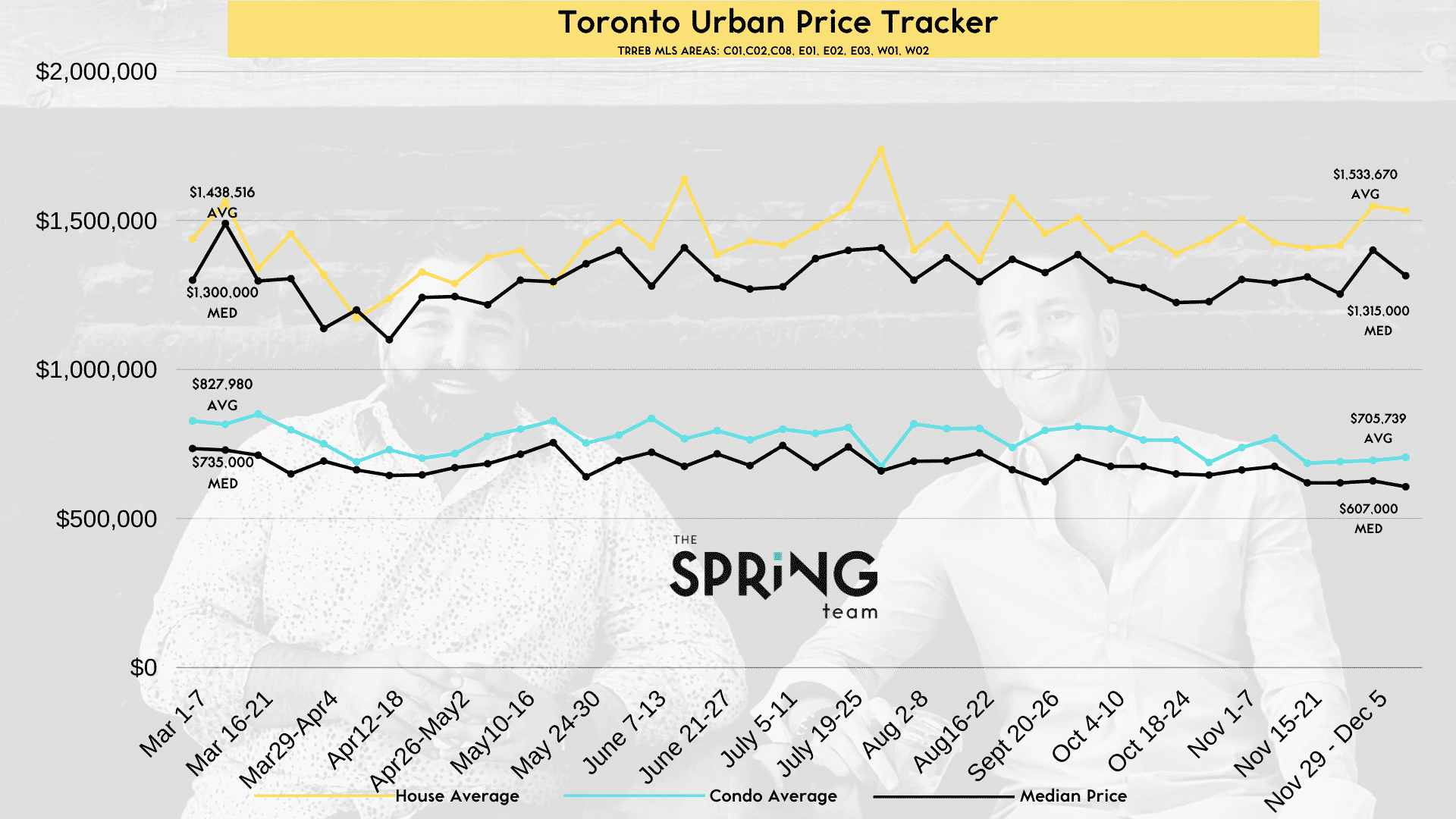 House Average Price: $1,533,670
House Median Price: $1,315,000
360 Active Listings
56 Firm Sales This Week
Months of Inventory (MoI) ~ 1.24
Average Days on Market ~ 15.30 DoM
Condo Average Price: $705,739
Condo Median Price: $607,000
2283 Active Listings
123 Firm Sales This Week
MoI ~ 4.54
Average Days on Market (DOM) ~ 33
: , , , , &
Big money moves once again are keeping this area's numbers up and Buyers confident. Sellers are coming to market with big prices and they're getting it. Both houses and condos are selling quite well at the moment but aren't being replenished with new listings. That's typical for this time of year though so we'll see what happens in January onward to see how the rest of 2021 will perform.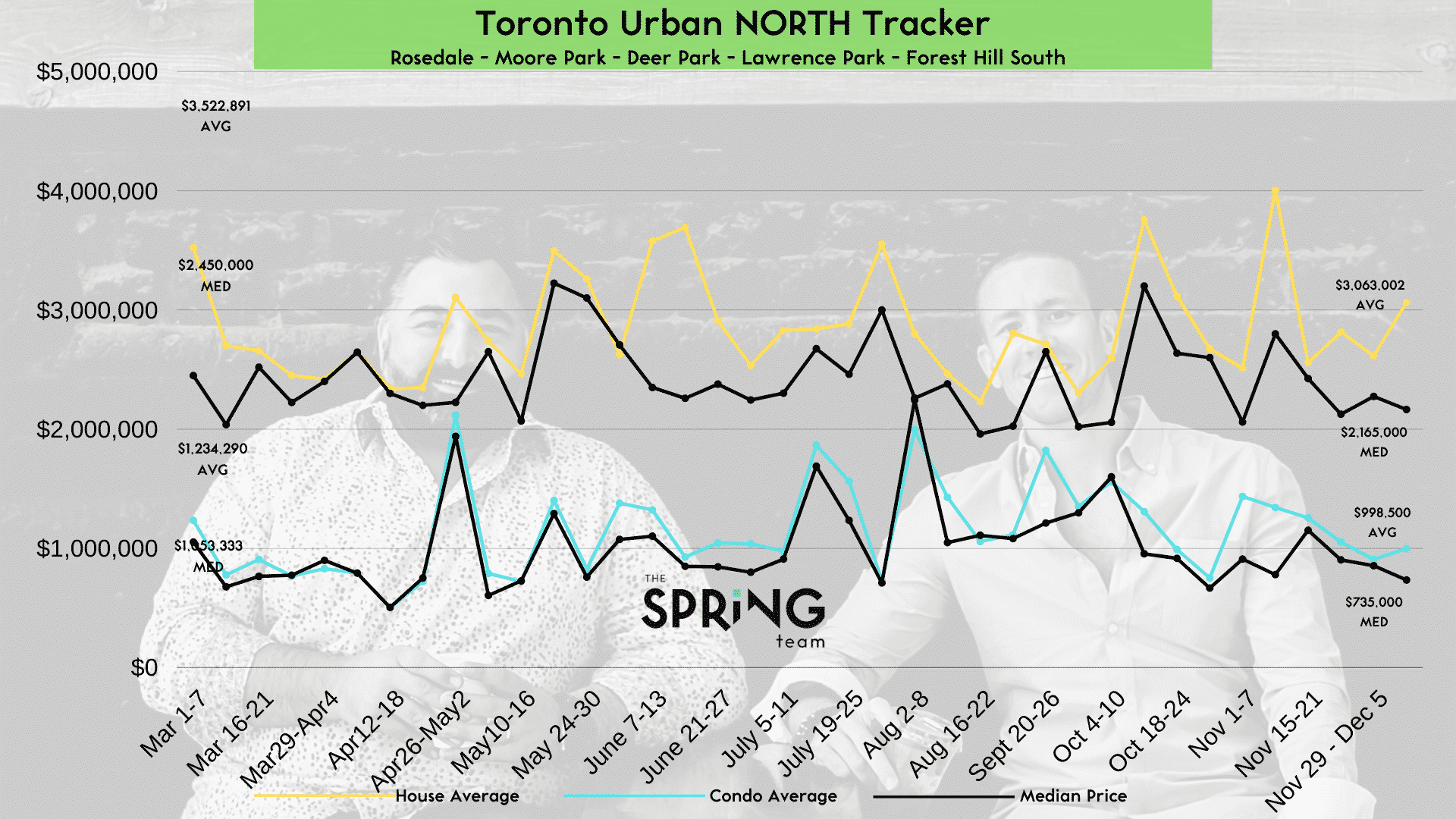 House Average Price: $3,063,002
House Median Price: $2,165,000
109 Active Listings
8 Firm Sales This Week
Months of Inventory (MoI) ~ 2.17
Condo Average Price: $998,500
Condo Median Price: $735,000
265 Active Listings
7 Firm Sales This Week
MoI ~ 5.68
&
House supply continues to drop here as buyer activity remains the same if not tapers off a little as you'd expect this time of year. Demand for Leaside/Davisville is massive at the moment and if inventory doesn't replenish in the New Year you can expect some huge gains here.
Condos are something to watch and definitely invest in at the moment. Condos along the East-West streets between Mt. Pleasant and Yonge are selling at a discount at the moment. Considering that condo inventory is the lowest in this area, buyer demand remains high. This is a recipe for a huge gain in 2021. Our clients are still getting some great deals here but that window should close by year's end. Units here should start to average $1000/psf+ in Q1/Q2. I'd buy anything you can get in the $900's PSF at the moment.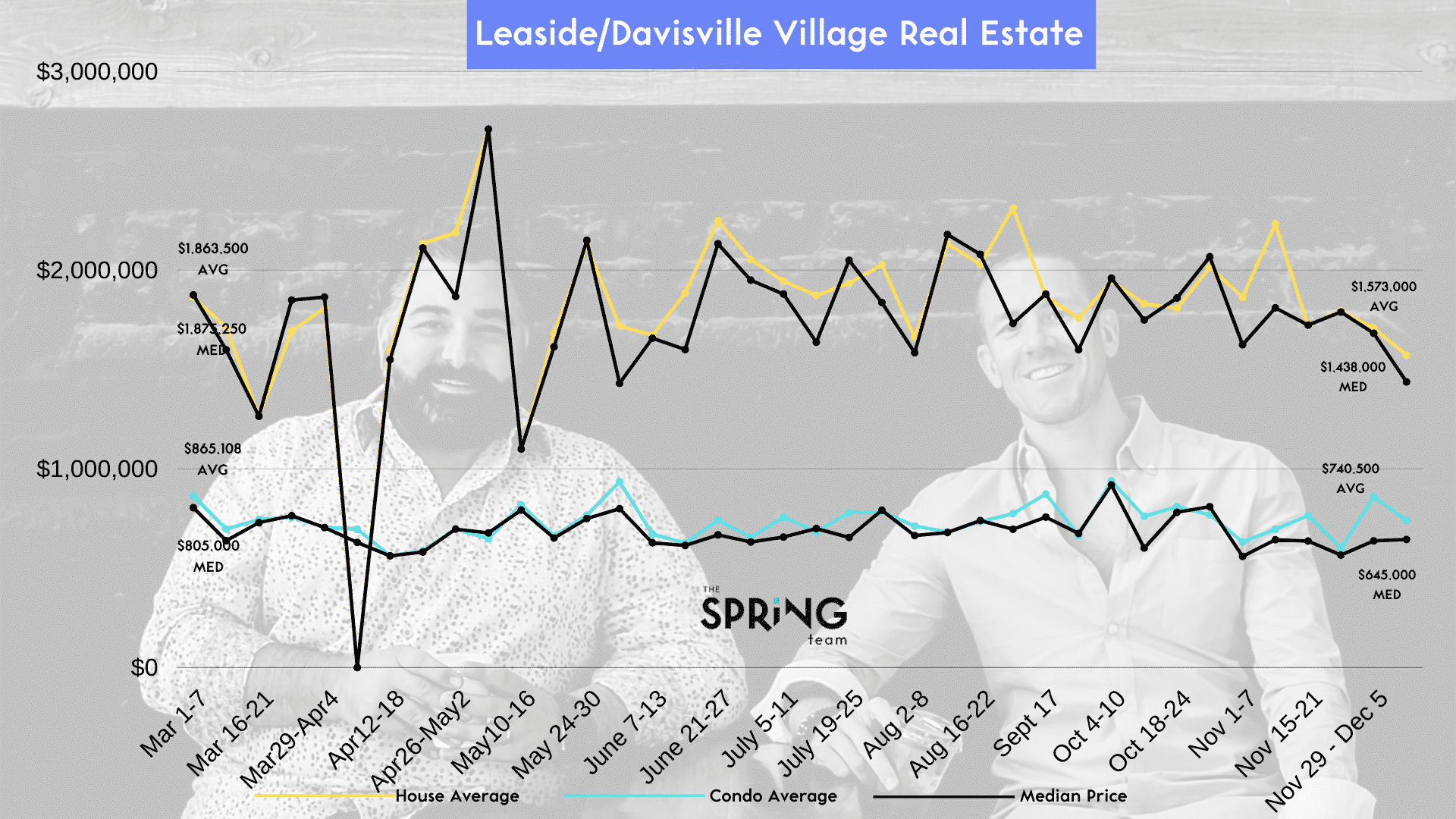 House Average Price: $1,573,000
House Median Price: $1,438,000
37 Active Listings 
6 Firm Sales This Week 
Months of Inventory (MoI) ~ 1.32 
Condo Average Price: $740,500
Condo Median Price: $645,000
194 Active Listings
8 Firm Sales This Week
MoI ~ 4.33
With only 2 sales this week we have to take these average and median prices with a grain of salt. Only two sales each selling for $800K both tiny bungalows that need complete renovations. Both were East of Birchmount as well. Prime Birchcliff was silent and should remain so till the end of the year. 
Birchcliff needs a serious inventory infusion. If you own a home here and are interested in selling then I'd love to hear from you.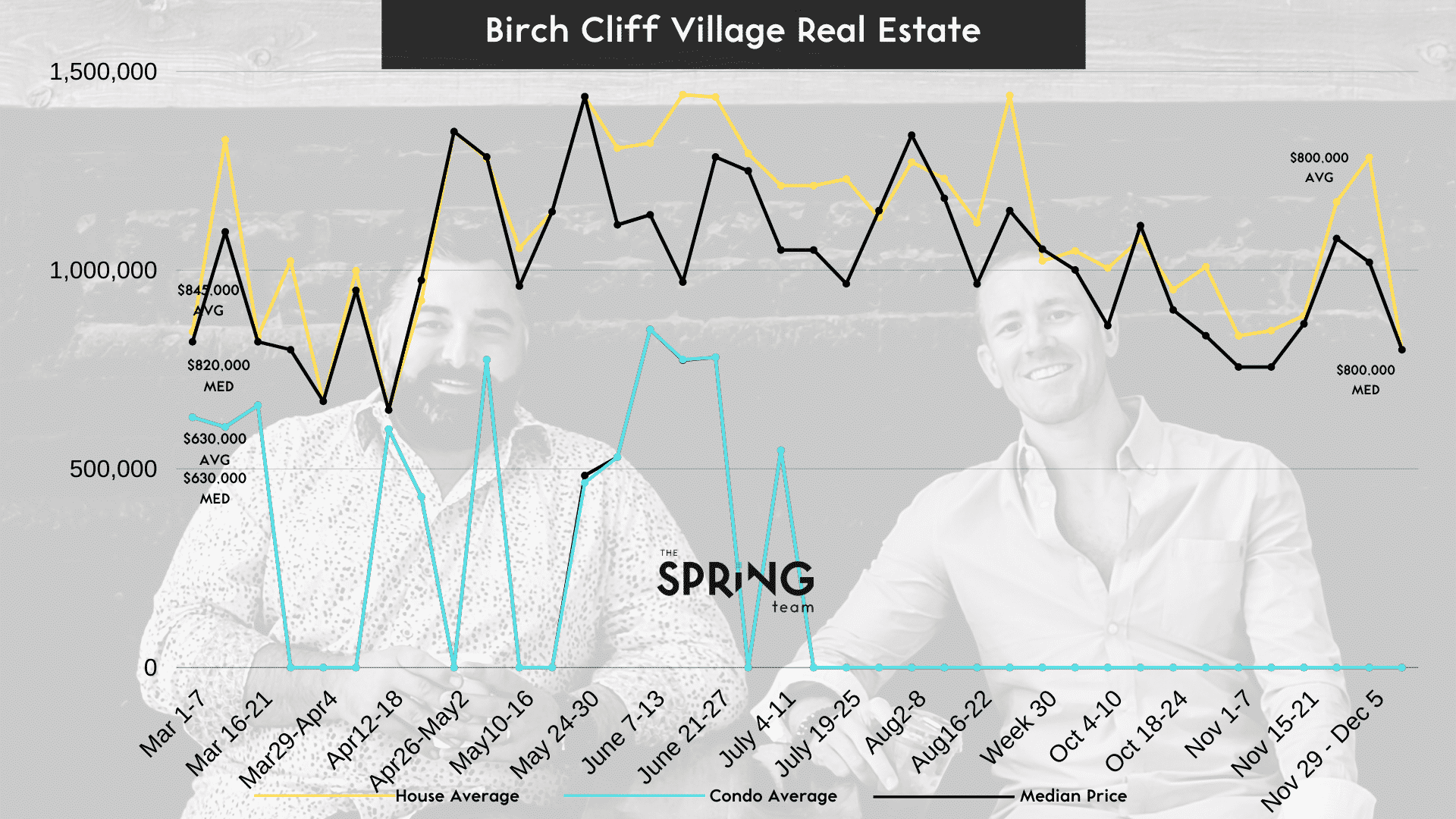 House Average Price: $800,000
House Median Price: $800,000
17 Active Listings 
2 Firm Sales This Week
Months of Inventory (MoI) ~ .89 
As always, please comment below, DM, or call/text 416-434-1511 if any questions.