Week 16: Toronto's Urban Markets are as strong as they've ever been
[ ] ' : ' . .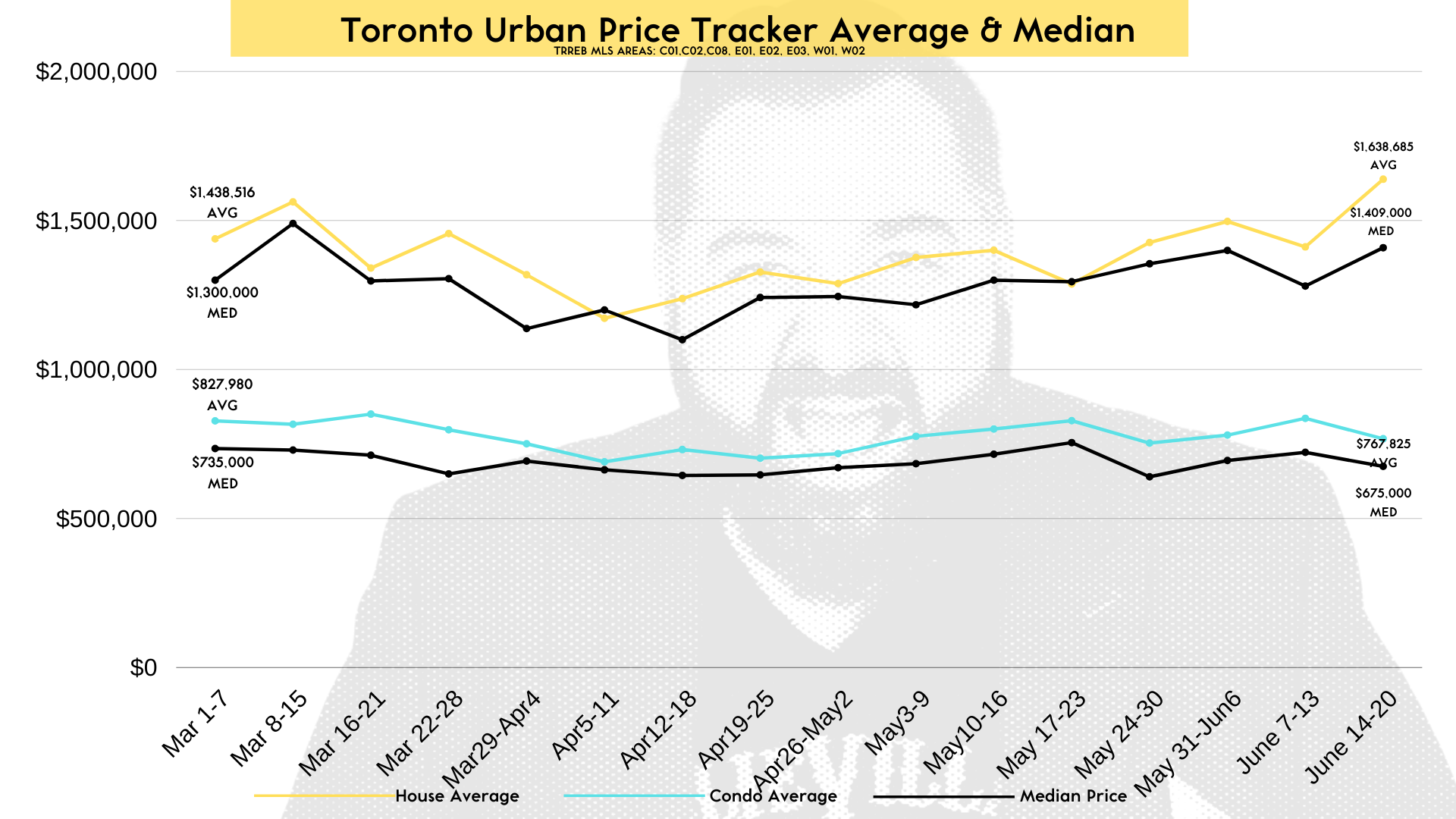 continue to aggressively sell at extremely high prices in our urban communities.
So let's dig into the Urban Markets for now shall we?
House Average Price: $1,638,685
House Median Price: $1,409,000
441 Active Listings
66 Firm Sales This Week
Months of Inventory (MoI) ~ 2.32 months
Average Days on Market – 8.29 DoM
, . ' ' . .
Having that clear and open line of comms with the listing side will make your eventual offer much much easier when the time comes. Telling the story of your and your Buyers and helping the Listing side get comfortable with you and your client's ability to provide a strong and efficient closing (and the path to closing) is just as important as the offer price in most cases.
' .2% ( .3%) .
are once again on the radar of buyers and although we're still about 39% down in total number of sales from the first week of March, prices are stable and climbing in most buildings and communities. 134 , .
Condo Average Price: $767,825
Condo Median Price: $675,000
1697 Active Listings
112 Firm Sales This Week
MoI ~ 5.24 months of inventory
Average Days on Market (DOM) – 14.29
? if you're a buyer of a house in Toronto then your journey will need to be navigated by a serious local professional. It's extremely competitive out there and most of the time properties are selling prior to their set offer date. , . ' .
Condo buyers have a little more breathing room but not much. Most condos in urban communities surrounding the downtown core are performing extremely well and the higher-end $1.1M+ condos are selling faster than ever.
. 4 $1100/ ' ' .
Pre-Construction: So last week I noted that we hadn't yet launched a project during COVID times so there's no baseline.
However, I've been fully advertising 28 Eastern Ave, Toronto's first launch during COVID and the response has been INSANE.
I already have suite requests submitted to the developer for all types of units starting from $500K to over $1.3M. I have no doubt this project will sell out quickly. Proving once again that Buyers are well funded and extremely confident in their local jobs.
, ' . . www.CorktownCondos.co
' . ' , , , , $2.5 ++ .
I'll be putting together a 2nd update weekly to focus specifically on these luxury communities starting next week (only on the blog so make sure you're signed up there –> https://thespringteam.ca/newsletter-signup) as more of my clients have been graduating into the luxury and super luxury markets.
As always, please comment below, DM, or call/text 416-434-1511 if any questions. cc: The Spring Team Real Estate
. /