Leslieville Value Village Parking Lot Is Sold.
Leslieville Value Village Lot To Be Developed
My source, who's very close to the Leslieville Value Village parking lot deal has confirmed with our office that the parking lot behind the Value Village in Leslieville is now sold. Development should happen within the next 5 years but the Buyer's true ambitions aren't known. The deal has yet to close but we know that it is firm for an amount over $10 million dollars. I'll confirm the amount once reported to the land registry office.
(Jan 19 2018 EDIT: Parking Lot sold for $6,750,000 and the VV building $4,250,000 $11m total)
The 15,300 square foot Leslieville Value Village parking lot site was originally purchased in 1961 for $65,000, then traded among family members a couple of times. The site was even involved in a legal dispute with one of the owners back in 2002. We're not sure if 924 Queen St East (the actual Value Village store) was part of this deal. If the Value Village building was also part of a development here, there is an opportunity to build an "L" shaped building with a Queen Street entrance. Could create an unassuming Queen Street entrance adding to the "boutique" feel of the eventual development.
(Jan 19 2018 EDIT: Confirmed that building was part of the deal)
What's Next For The Leslieville Value Village Site?
How high can they go there? I'd be surprised if they are able to go higher than 4-5 storeys. If on Queen then they'd go up to 6 or 7 but not on Logan. Another option the Buyer has is to attempt a large scale land assembly and acquire the rest of the Queen Street fronting buildings. That's a long play but if executed successfully, they'd have a massive lot to build up to 7 storeys with many more apartments. Assembly could be a possibility since the lot and stores would all provide income in the short term allowing the Buyer to hold and still profit.
Every single develop-able piece of land is already in the hands of developers and new commercial retail blocks are being assembled for development daily. Queen St East is so far from peak density that this intensification is long overdue. Since the average single family house is out of reach for many Torontonians, these new apartments are one of the only ways to get first timers and those without huge down-payments to get into the market.
EDIT Jan 18 2018 – Reserve Properties announces first phase of Value Village Leslieville Development. 6 massive townhouses with main level retail/office. Sort of a live/work set-up.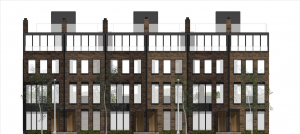 The Future
The World is talking about Toronto. This level of appreciation is obviously not sustainable. You're a fool if you think this level of aggressive appreciation is here to stay. You're also a fool if you think the market is going to crash to allow detached homes to all of a sudden become affordable again. Those days are long gone.
We'll keep you in-the-know if any news, but for now, you have a choice to understand what's happening here in Toronto or have the "oh no, not another condo" mindset. Homes (yes, homes are condos AND houses) will be more expensive 10 years from now than they are today but of course there will be ups and downs in between. If you're one of the optimists and want to get in the market, call me.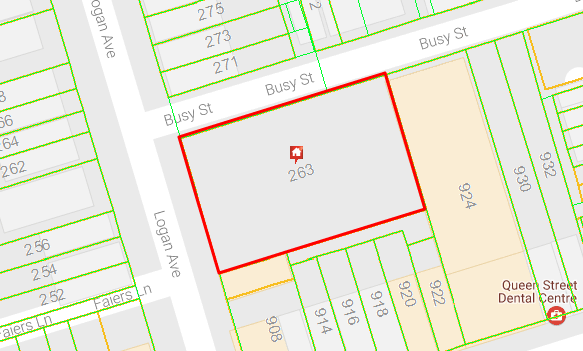 Below is the Value Village Store. I'm not sure if it was part of the deal but will confirm.