Don't get too comfortable out there, folks.
Shame on all of you who attended events, parks etc…whilst completely ignoring all physical distancing guidelines. For urinating on people houses, and for leaving a giant mess for the City staff to clean up. You're disgusting. Ok, rant over…let's get into it.
[𝗩𝗶𝗱𝗲𝗼 𝗕𝗲𝗹𝗼𝘄] Happy Monday, everyone! Week 12 now in the books! Make sure you check out the video. I may or may not take a shot at the West End and have a quick rant at the end about the future of Downtown and offices.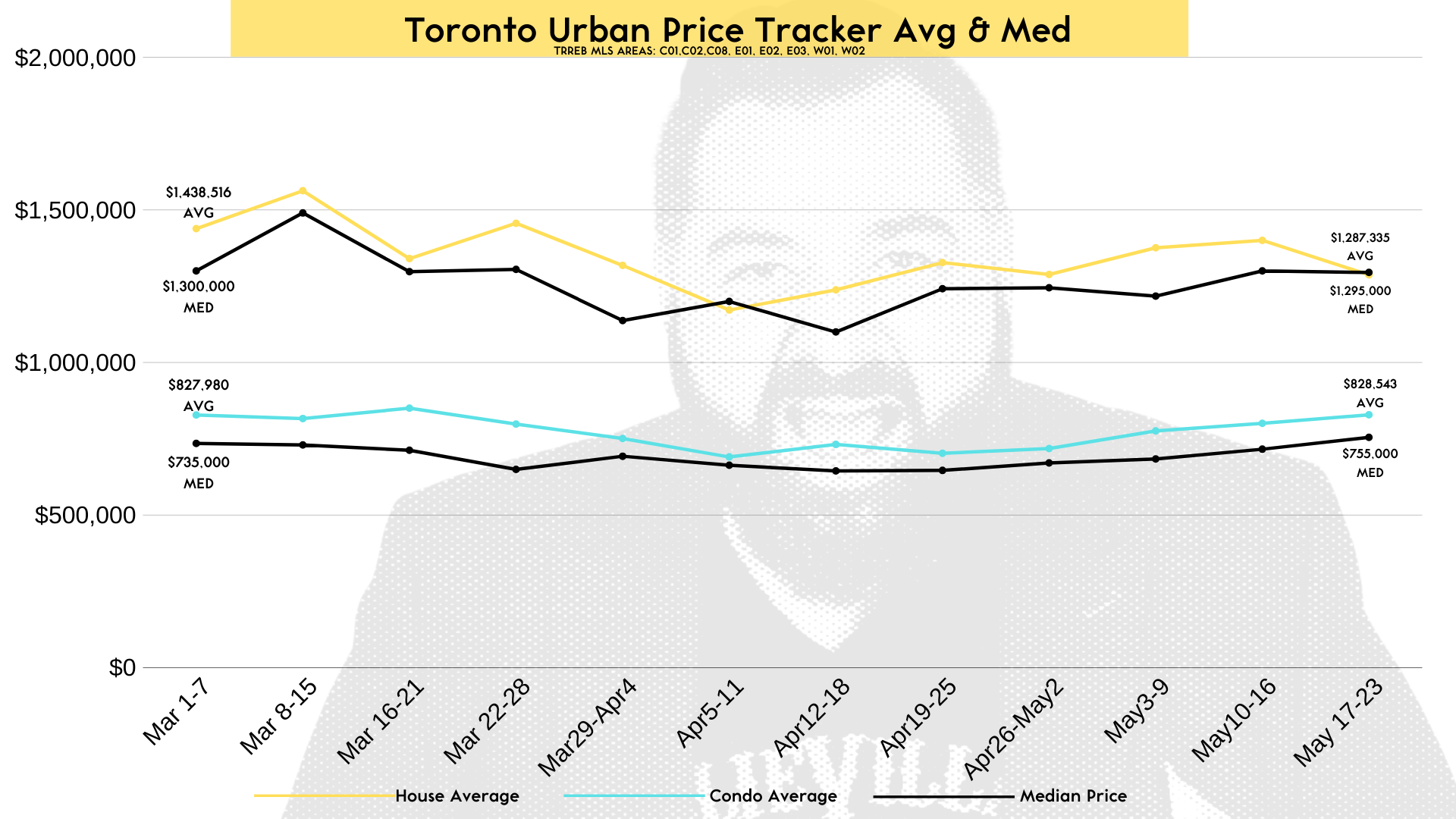 🏠 𝗛𝗼𝘂𝘀𝗲𝘀 fell a bit flat in terms of volume this week only reporting 28 firm sales. Buyer confidence is still strong with 15 of the 28 fetching over the asking price with multiple offers. There were zero sales over $2M reported this week but that doesn't seem to be due to any new problems in that price range. There was a unusually high amount of activity there over the past couple of weeks so perhaps a lull this week. I'll keep on it and see if any changes next week.
📈House Average Price: $1,287,335
📈House Median Price: $1,295,000
📈319 Active Listings
📈MOI ~ 1.98 months (mostly Seller's market)
𝗡𝗼𝘁𝗶𝗰𝗲 𝗵𝗼𝘄 𝗮𝘃𝗲𝗿𝗮𝗴𝗲 𝗽𝗿𝗶𝗰𝗲 𝗵𝗮𝘀 𝗮 𝗺𝘂𝗰𝗵 𝗴𝗿𝗲𝗮𝘁𝗲𝗿 𝘀𝘄𝗶𝗻𝗴 𝘁𝗵𝗮𝗻 𝗺𝗲𝗱𝗶𝗮𝗻? 𝗟𝗮𝘀𝘁 𝘄𝗲𝗲𝗸 𝗮𝘃𝗲𝗿𝗮𝗴𝗲 𝗽𝗿𝗶𝗰𝗲 𝘄𝗮𝘀 $𝟭.𝟰𝗠 𝗻𝗼𝘄 $𝟭.𝟮𝟴𝟳. 𝗦𝗼 𝗶𝗳 𝗜 𝘁𝗼𝗹𝗱 𝘆𝗼𝘂 "𝗮𝘃𝗲𝗿𝗮𝗴𝗲 𝗵𝗼𝘂𝘀𝗲𝘀 𝗶𝗻 𝘂𝗿𝗯𝗮𝗻 𝗧𝗼𝗿𝗼𝗻𝘁𝗼 𝗱𝗿𝗼𝗽𝗽𝗲𝗱 𝟴% 𝘄𝗲𝗲𝗸 𝗼𝘃𝗲𝗿 𝘄𝗲𝗲𝗸" 𝘆𝗼𝘂'𝗱 𝗽𝗿𝗼𝗯𝗮𝗯𝗹𝘆 𝗯𝗲 𝗼𝘂𝘁 𝘁𝗵𝗲𝗿𝗲 𝗲𝘅𝗽𝗲𝗰𝘁𝗶𝗻𝗴 𝗮 𝗱𝗲𝗮𝗹…𝗿𝗶𝗴𝗵𝘁? 𝗡𝗼𝘄 𝗱𝗼 𝘆𝗼𝘂 𝘀𝗲𝗲 𝘄𝗵𝗮𝘁 𝗶𝘁'𝘀 𝗶𝗺𝗽𝗼𝗿𝘁𝗮𝗻𝘁 𝘁𝗼 𝗽𝗮𝘆 𝗮𝘁𝘁𝗲𝗻𝘁𝗶𝗼𝗻 𝘁𝗼 𝗵𝘆𝗽𝗲𝗿 𝗹𝗼𝗰𝗮𝗹 𝗠𝗲𝗱𝗶𝗮𝗻 𝗱𝗮𝘁𝗮? 𝗛𝗼𝗽𝗲 𝘀𝗼!
Last week's theme was "the buyer party is over" and that theme continues to be true. Most discounts are gone (only a few existed but that was late March/early April). If you're buying a house in our urban communities you're most likely going to be competing with other buyers unless you're in the $1.4++ price point where you have a little less competition.
🏢𝗖𝗼𝗻𝗱𝗼𝘀 once again show strong and consistent sales with 45 firm deals, 8 over the ask with multiple bids. Again, the "over asking" deals were all under $800K. Most opportunities exist in the $800K++ price point especially for larger, more expensive one bedrooms (𝘵𝘩𝘪𝘯𝘬 𝘢𝘮𝘢𝘻𝘪𝘯𝘨 𝘣𝘢𝘤𝘩𝘦𝘭𝘰𝘳 𝘰𝘳 𝘣𝘢𝘤𝘩𝘦𝘭𝘰𝘳𝘦𝘵𝘵𝘦 𝘱𝘢𝘥!)
📈Condo Average Price: $828,543
📈Condo Median Price: $755,000
📈1159 Active Listings
📈MOI ~ 4.6 months of inventory (𝘧𝘢𝘪𝘳𝘭𝘺 𝘣𝘢𝘭𝘢𝘯𝘤𝘦 𝘮𝘢𝘳𝘬𝘦𝘵 𝘸𝘪𝘵𝘩 𝘚𝘦𝘭𝘭𝘦𝘳 𝘪𝘯 𝘥𝘳𝘪𝘷𝘦𝘳'𝘴 𝘴𝘦𝘢𝘵 𝘧𝘰𝘳 𝘭𝘰𝘸𝘦𝘳 𝘱𝘳𝘪𝘤𝘦𝘥 𝘪𝘯𝘷𝘦𝘯𝘵𝘰𝘳𝘺)
𝗛𝗼𝘂𝘀𝗲𝘀 𝗮𝗻𝗱 𝗖𝗼𝗻𝗱𝗼𝘀 𝗮𝗿𝗲 𝗯𝗼𝘁𝗵 𝘀𝗲𝗹𝗹𝗶𝗻𝗴 𝗮𝘀 𝘀𝘁𝗿𝗼𝗻𝗴 𝗮𝘀 𝗰𝗮𝗻 𝗯𝗲 𝗲𝘅𝗽𝗲𝗰𝘁𝗲𝗱 𝗶𝗻 𝗮 𝘁𝗶𝗺𝗲 𝗼𝗳 𝘀𝘂𝗰𝗵 𝗲𝗰𝗼𝗻𝗼𝗺𝗶𝗰 𝘂𝗻𝗰𝗲𝗿𝘁𝗮𝗶𝗻𝘁𝘆 𝘀𝗵𝗼𝘄𝗶𝗻𝗴 𝘁𝗵𝗮𝘁 𝗨𝗿𝗯𝗮𝗻 𝗧𝗼𝗿𝗼𝗻𝘁𝗼𝗻𝗶𝗮𝗻𝘀 𝗮𝗻𝗱 𝘁𝗵𝗼𝘀𝗲 𝘁𝗵𝗮𝘁 𝘄𝗮𝗻𝘁 𝘁𝗼 𝗯𝗲𝗰𝗼𝗺𝗲 𝗨𝗿𝗯𝗮𝗻 𝗧𝗼𝗿𝗼𝗻𝘁𝗼𝗻𝗶𝗮𝗻𝘀 𝗮𝗿𝗲 𝗲𝘅𝘁𝗿𝗲𝗺𝗲𝗹𝘆 𝗰𝗼𝗻𝗳𝗶𝗱𝗲𝗻𝘁 𝗶𝗻 𝘁𝗵𝗲 𝗙𝘂𝘁𝘂𝗿𝗲 𝗼𝗳 𝗼𝘂𝗿 𝗮𝗺𝗮𝘇𝗶𝗻𝗴 𝗖𝗶𝘁𝘆 (𝘢𝘯𝘥 𝘣𝘺 "𝘰𝘶𝘳" 𝘐 𝘮𝘦𝘢𝘯 𝘢𝘭𝘭 𝘩𝘶𝘮𝘢𝘯𝘪𝘵𝘺, 𝘣𝘶𝘵 𝘸𝘦'𝘭𝘭 𝘨𝘦𝘵 𝘪𝘯𝘵𝘰 𝘩𝘰𝘸 𝘐 𝘧𝘦𝘦𝘭 𝘢𝘣𝘰𝘶𝘵 𝘵𝘩𝘦 𝘪𝘥𝘦𝘢 𝘰𝘧 𝘤𝘭𝘢𝘪𝘮𝘪𝘯𝘨 𝘰𝘸𝘯𝘦𝘳𝘴𝘩𝘪𝘱 𝘰𝘧 𝘤𝘪𝘵𝘪𝘦𝘴, 𝘤𝘰𝘮𝘮𝘶𝘯𝘪𝘵𝘪𝘦𝘴, 𝘴𝘵𝘳𝘦𝘦𝘵𝘴 𝘢𝘯𝘥 𝘵𝘩𝘢𝘵 𝘣𝘦𝘪𝘯𝘨 𝘵𝘩𝘦 𝘳𝘰𝘰𝘵 𝘰𝘧 𝘮𝘰𝘴𝘵 𝘰𝘧 𝘵𝘩𝘦 𝘸𝘰𝘳𝘭𝘥𝘴 𝘱𝘳𝘰𝘣𝘭𝘦𝘮𝘴 𝘪𝘯 𝘢𝘯𝘰𝘵𝘩𝘦𝘳 𝘱𝘰𝘴𝘵).
Watch more in the video below and check out some yet-to-be released reporting from CIBC's Chief Economist Benjamin Tal talking about the Canadian Real Estate market as a whole. Remember, take it with a grain of salt as what's happening Nationally won't always reflect what's happening in the communities you're interested in.
As always, please comment below, DM, or call/text 416-434-1511 if any questions. cc: The Spring Team at Property.ca