Episode 91: December will be one of the best months to Sell in 2021 as supply continues to plummet
If you know me (us) you know we're not advocates of selling. We bend over backwards trying to figure out ways for our clients to keep their houses and condos when they decide to move on to the next nest.
However, if you want to sell your home and dump all of your money in the hottest NFTs or go all-in on $SHIB… well, now's the time. Ok, I'm kidding, please don't do that. Although, I do think that everyone should be learning about all things blockchain and crypto. But, that's a story for another day. Here's a good resource if you're interested. (this is not an ad!)
Anyway, let's get back to real estate.
In February of 2021 things started heating up for sellers in Toronto. Week after week, we saw drops in supply. It started with houses then condos followed suit.
Then, we went on an extreme bull run till about the summertime. Things cooled down a little, but not much. It took a few months for condo supply to replenish, and things balanced out a bit as we headed into the fall
Houses were getting less activity, and they weren't all selling on offer night. But, they'd be relisted the next day at the higher, more reasonable price and sell within a week or so. Same with condos, there weren't too many multiple offers and sellers were getting a bit nervous.
This relative balance in condoland lasted until about right now, houses recovered a lot quicker from the lull though. Houses have been running up for a few weeks now, but get ready for December as supply continues to drop.
So where do we stand now?
If you own a house, you're going to get more for it today than you would have in the history of time. We're still about 100 units above the lowest low from March, of this year, but prices are way up and there are many more buyers in the market (the Q1 I'm always referring to). You can read all of my reports from that time here. As we head into December, supply will further drop and new price records will be set. This is not a "guess."
If you own a condo, then now is the time to get ready for market (if selling is an absolute must). Supply is about 200 units above the all-time low of Q1 (read the link above to see for yourself) but multiple offers and quick sales are happening across the board regardless.
Buyers, if you're someone who still believes that our markets (especially our urban markets) will crash, then I have no more words for you. Ok well, maybe a few more words. Let's explore the idea of a crash. Also, remember that prices don't come down because they're too high.
The condo market essentially crashed in mid-2020. Did you buy then? Why not? Maybe you were afraid of what's happening with the world? It's easy to say "ya for sure I'll buy when the rest of the market is crashing" when you are living in a bull market with a bull market optimism and mindset. But, what makes you think that you'll be insulated from the economic turmoil that caused the crash in the first place?
Let's get back to reality for our level-headed readers.
If you're a buyer you need to understand that you're going to pay more for the next house that sells. If you miss out on the house you want today, the next one is likely to sell for more. Does this mean you adjust your expectations and maybe step down on the ladder to a townhouse (if you're looking for a house) or to a two-bed condo if the townhouse becomes too expensive? Yup… that's exactly what this means. Completely maxing out on your purchase may not be the best strategy if you want to have any sort of life but that's your decision.
That's all for today, please DM, comment below or reach out in any way if you want some clarity on the market and your specific situation!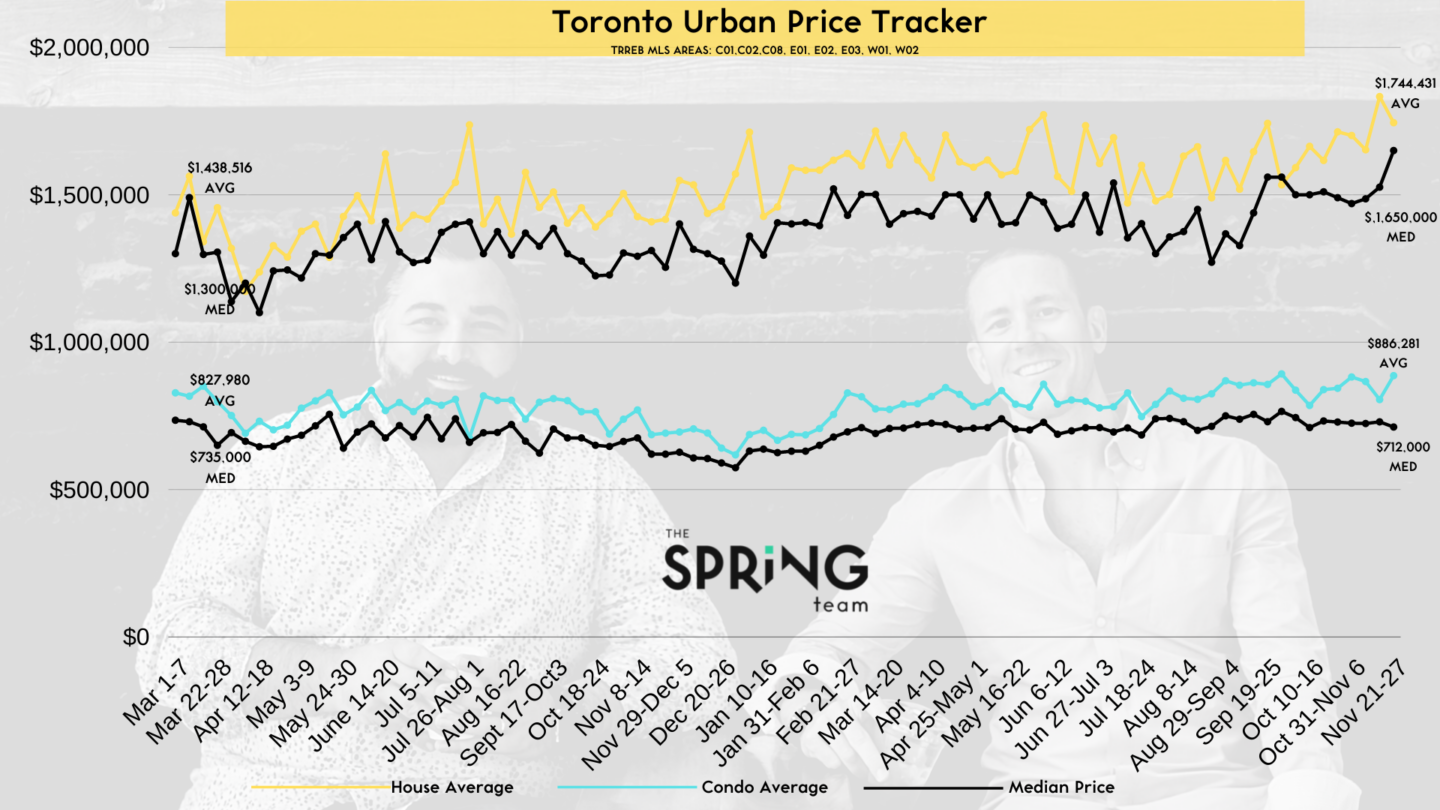 Urban Markets: Downtown & Surrounding Areas
House Average Price: $1,744,431
House Median Price: $1,650,000
323 Active Listings
61 Firm Sales This Week
Months of Inventory (MoI) ~ 1.010
Average Days on Market ~ 11.18 DoM
Condo Average Price: $886,281
Condo Median Price: $712,000
1143 Active Listings
190 Firm Sales This Week
MoI ~ 1.25
Average Days on Market (DOM) ~ 19.49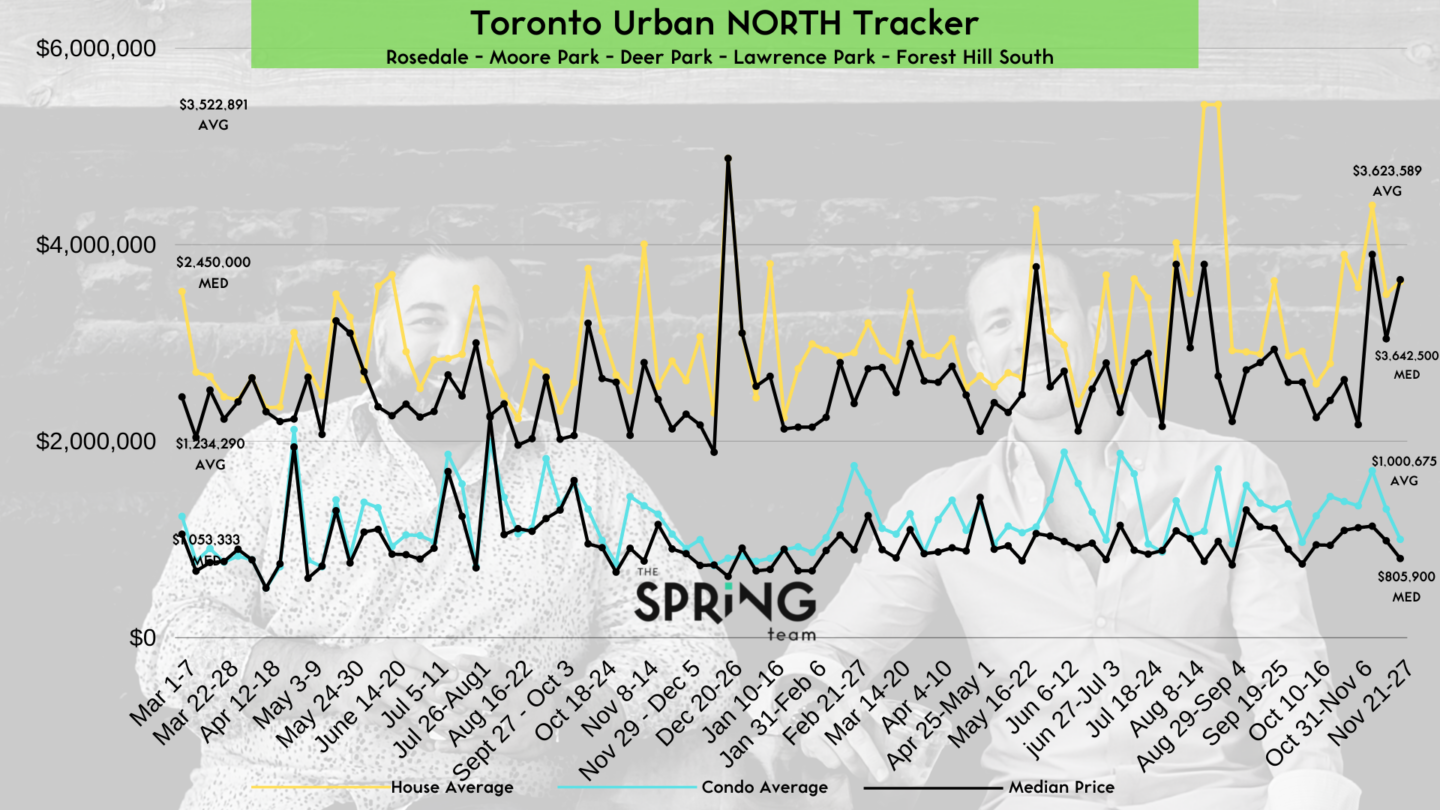 Urban North: Rosedale, Deer Park, Moore Park, Forest Hill, & Lawrence Park
House Average Price: $3,623,589
House Median Price: $3,642,500
89 Active Listings
10 Firm Sales This Week
Months of Inventory (MoI) ~ 1.68
Average Days on Market ~ 7 DoM
Condo Average Price: $1,000,675
Condo Median Price: $805,900
201 Active Listings
19 Firm Sales This Week
MoI ~ 2.62
Average Days on Market ~ 32 DoM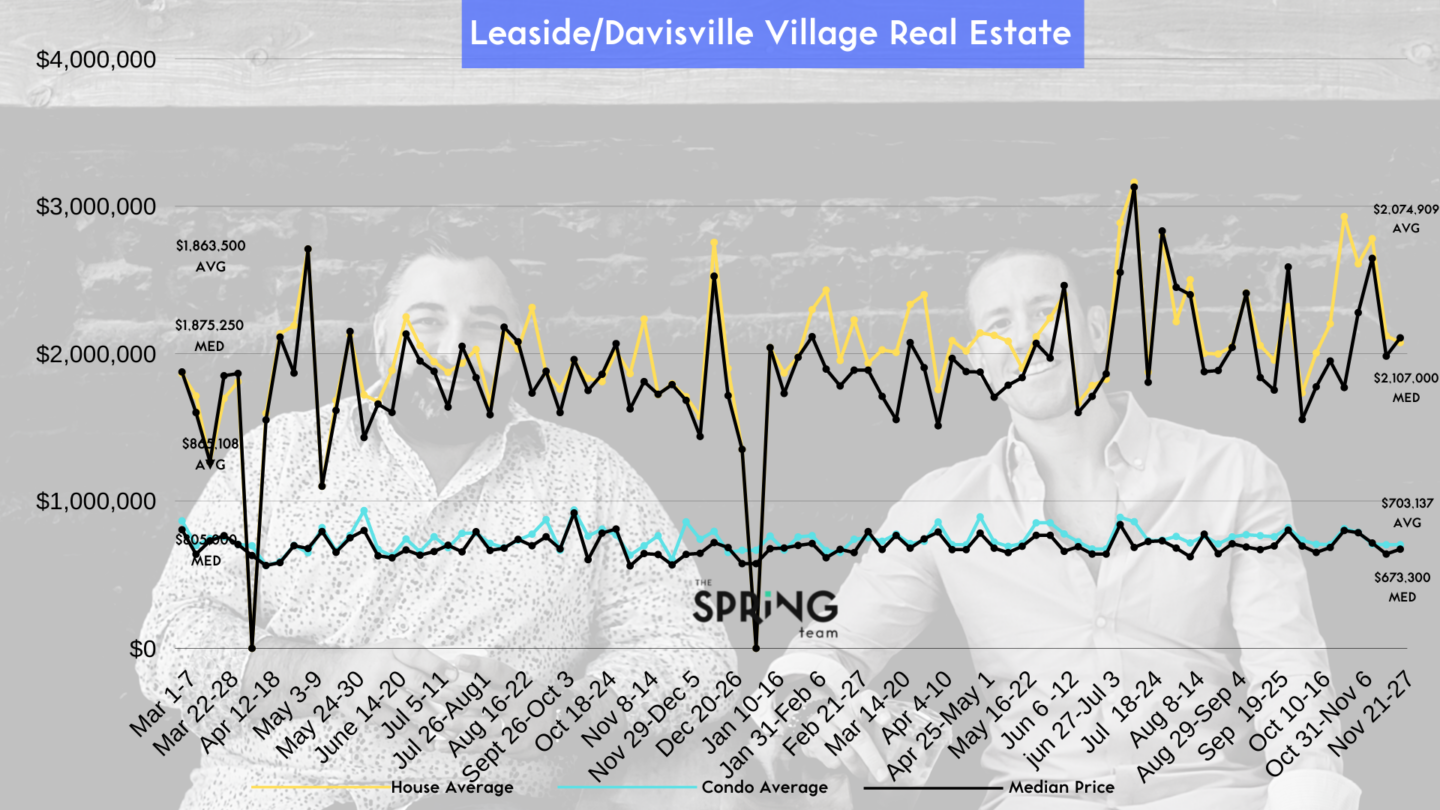 Leaside, Davisville, Yonge & Eglinton
House Average Price: $2,074,909
House Median Price: $2,107,000
30 Active Listings
11 Firm Sales This Week
Months of Inventory (MoI) ~ 0.83
Average Days on Market ~ 6 DoM
Condo Average Price: $703,137
Condo Median Price: $673,300
72 Active Listings
16 Firm Sales This Week
MoI ~ 1.24
Average Days on Market ~ 13 DoM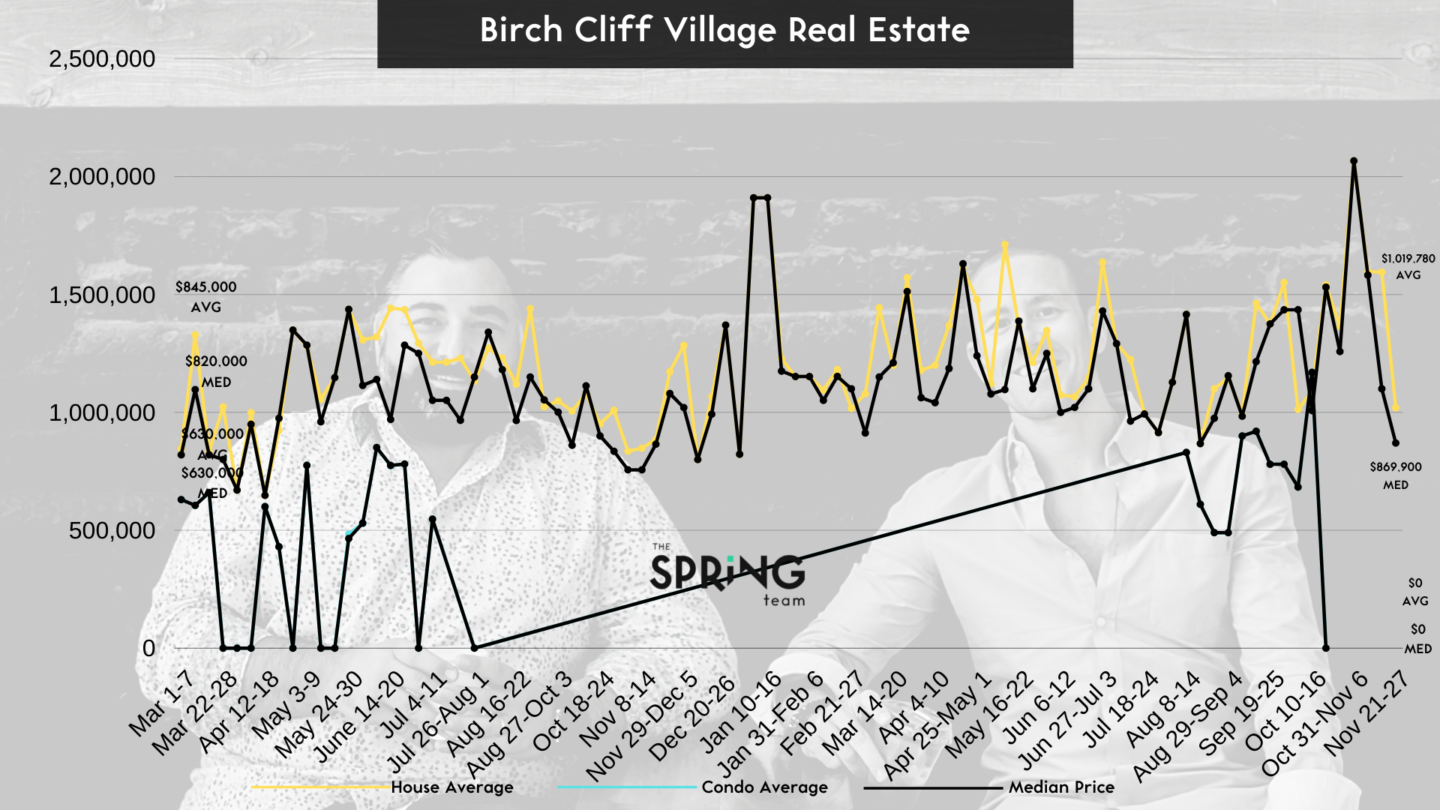 Birch Cliff
House Average Price: $1,019,780
House Median Price: $869,900
12 Active Listings
7 Firm Sales This Week
Months of Inventory (MoI) ~ 0.57
Average Days on Market ~ 6.6 DoM
Thanks so much for your energy and attention! If you need clarity on any of this or want to talk about your specific situation, then call/text/email anytime: ara@thespringteam.ca or 416-434-1511