Episode 88: Supply of all real estate types continues to drop as prices go for another run
Toronto real estate has proven to be one of the most resilient markets in the world. Why? Read all of the past weekly updates to find out!
Last week I talked a lot about interest rates and Toronto not being a one-trick pony (like Calgary et al).
This week, months of inventory is the main event… or MoI as I will refer to it going forward.
MoI is a stat that allows us to see how long the existing supply of a specific property type will take to sell out if no new listings are added to the mix.
Usually, MoI of 2-3 is a fairly healthy and relatively balanced market with sellers being in the driver's seat on occasion. With 2-3, MoI buyers have a bit of breathing room and likely a few options to choose from.
If you look at the stats below, you'll see exactly why buyers are having a hard time buying houses, and condos, in most Toronto communities. Right now, as active listings dropped for a third week in a row, we only have one month's supply in downtown and surrounding area houses and only a month and a quarter for condos.
We're seeing this on the ground with more multiple offers on listings and prices a little bit higher than expected.
Great for sellers, but a bit of a reality check for buyers as properties are going to start getting a little more expensive as we head into the Holiday season.
Many think the spring market is the best time to sell but oftentimes, especially in recent years, sellers have done just as well just before the Holidays.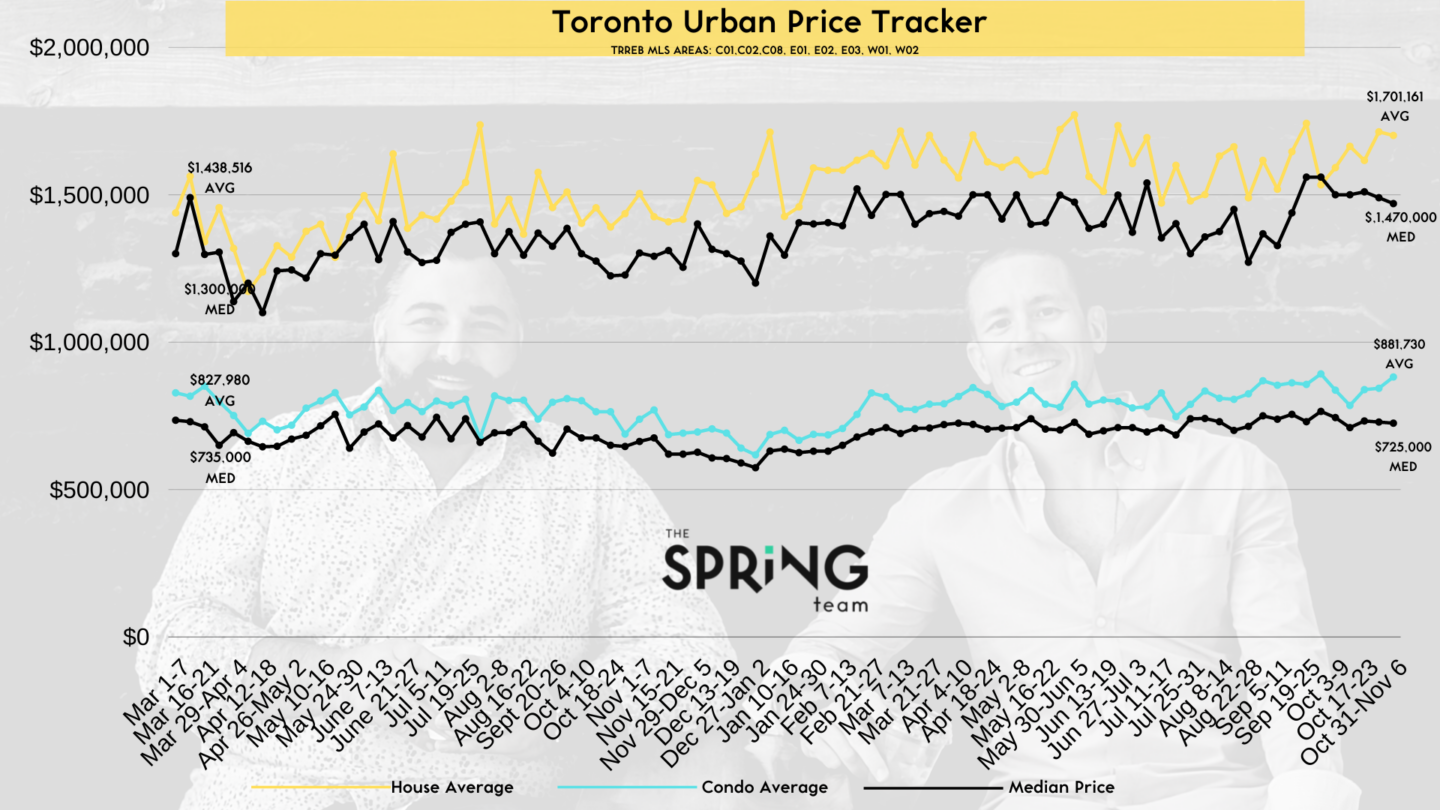 Urban Markets: Downtown & Surrounding Areas
House Average Price: $1,701,161
House Median Price: $1,470,000
387 Active Listings
73 Firm Sales This Week
Months of Inventory (MoI) ~ 1.010
Average Days on Market ~ 14.73 DoM
Condo Average Price: $881,730
Condo Median Price: $725,000
1374 Active Listings
182 Firm Sales This Week
MoI ~ 1.25
Average Days on Market (DOM) ~ 18.14

Urban North: Rosedale, Deer Park, Moore Park, Forest Hill, & Lawrence Park
House Average Price: $3,563,517
House Median Price: $2,168,563
99 Active Listings
14 Firm Sales This Week
Months of Inventory (MoI) ~ 1.68
Condo Average Price: $1,342,238
Condo Median Price: $1,119,500
226 Active Listings
24 Firm Sales This Week
MoI ~ 2.62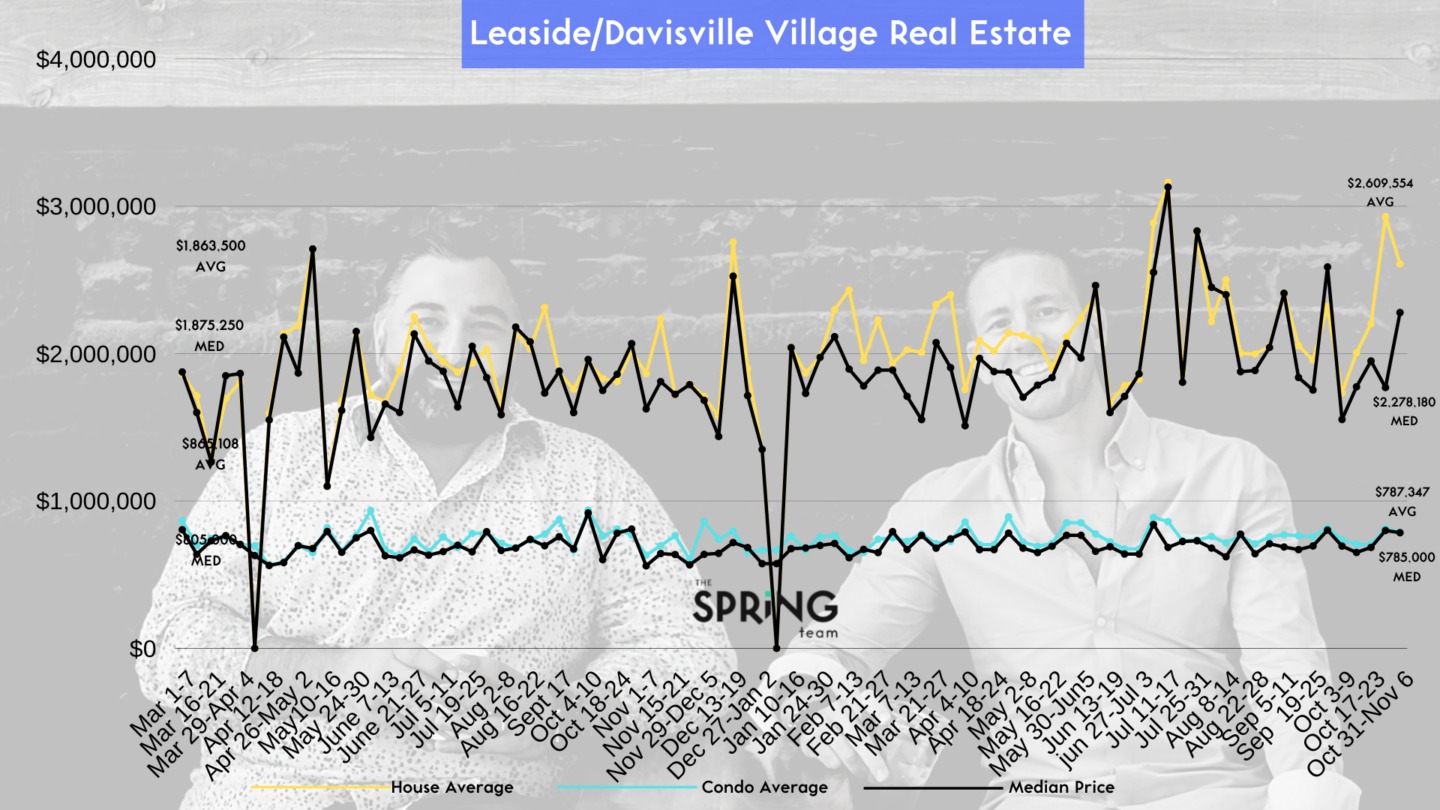 Leaside, Davisville, Yonge & Eglinton
House Average Price: $2,609,554
House Median Price: $2,278,180
35 Active Listings
7 Firm Sales This Week
Months of Inventory (MoI) ~ 0.83
Condo Average Price: $787,347
Condo Median Price: $785,000
98 Active Listings
17 Firm Sales This Week
MoI ~ 1.24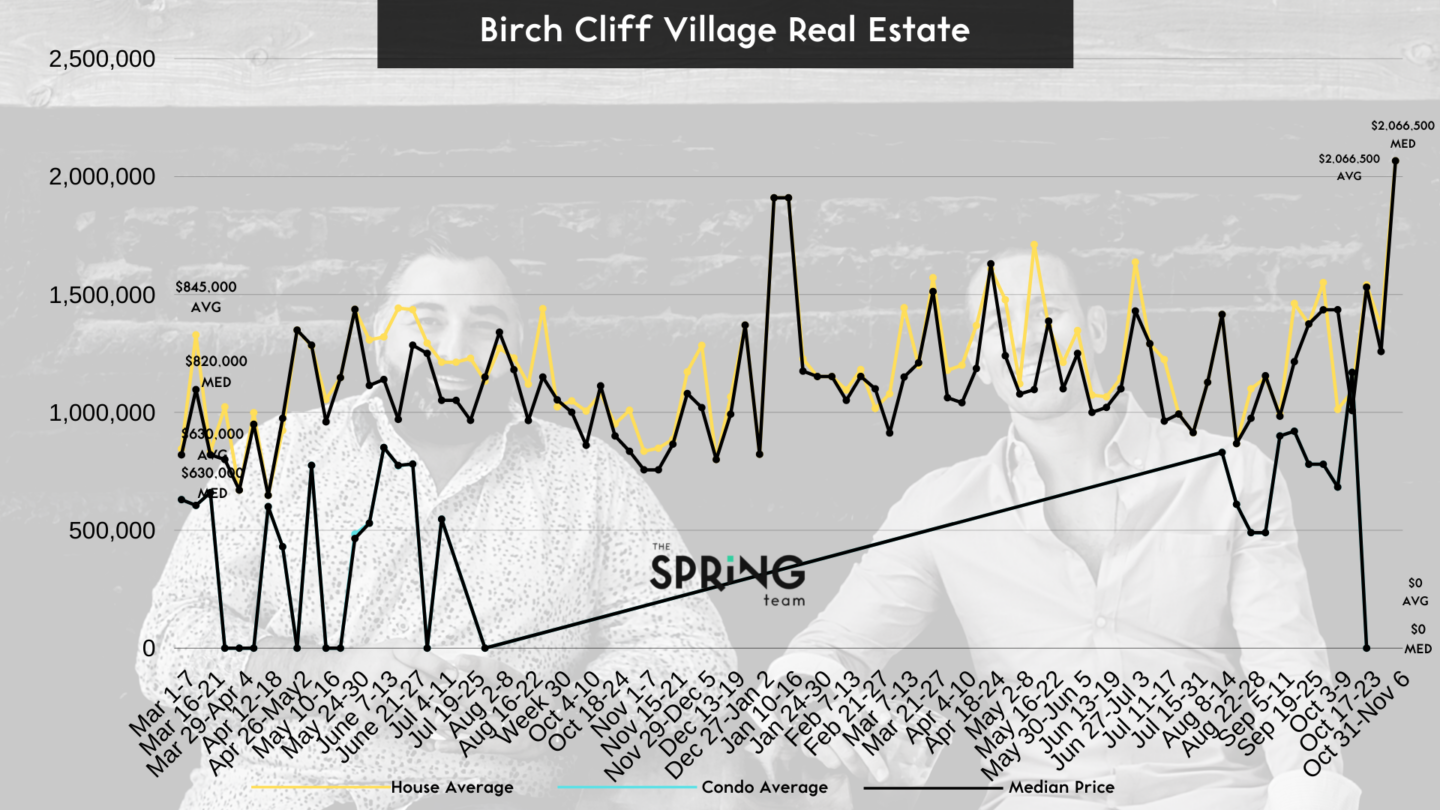 Birch Cliff
House Average Price: $2,066,500
House Median Price: $2,066,500
14 Active Listings
2 Firm Sales This Week
Months of Inventory (MoI) ~ 0.57
Thanks so much for your energy and attention! If you need clarity on any of this or want to talk about your specific situation, then call/text/email anytime: ara@thespringteam.ca or 416-434-1511