Episode 81: Toronto house sales increase 151% and condo sales up 70% week over week
Urban Markets: Downtown & Surrounding Areas
It looks as though last week's jump in supply was a one-off. Sure, new supply was added but only a small amount.
The big news of the week is the serious increase in sales volume. Condo sales are up 70% and house sales jumped an unprecedented 151% from a low of 43 sales to 108 sales.
House sales have been seriously low for many weeks as there simply hasn't been available supply to support more sales. With the fall market, usually comes more listings so many more options for buyers and many more offers.
We also noticed days on the market drop by about four days for houses signalling more new inventory getting scooped up within seven days and sitting inventory also being bought up.
Buyers seem to have an appetite for everything at the moment from basic entry-level condos to $5mm downtown palaces.
If I'm a buyer (for anything out there) I'm getting on my horse and buying if whatever I find checks most of my "must-have" boxes. Why? Property is going to be more expensive as we close out the year vs. today. Why? Because it seems like buyers are ready to absorb any new listing inventory and based on the activity at our office (we're the most active brokerage in the city), the buyer pipeline is full while upcoming listings are lagging.
The assignment market still provides amazing opportunities for Buyers looking for better deals but these deals could require more cash upfront so keep that in mind.
If I'm a Seller I'm getting ready to go to market right now or at least monitoring to jump when the time is right.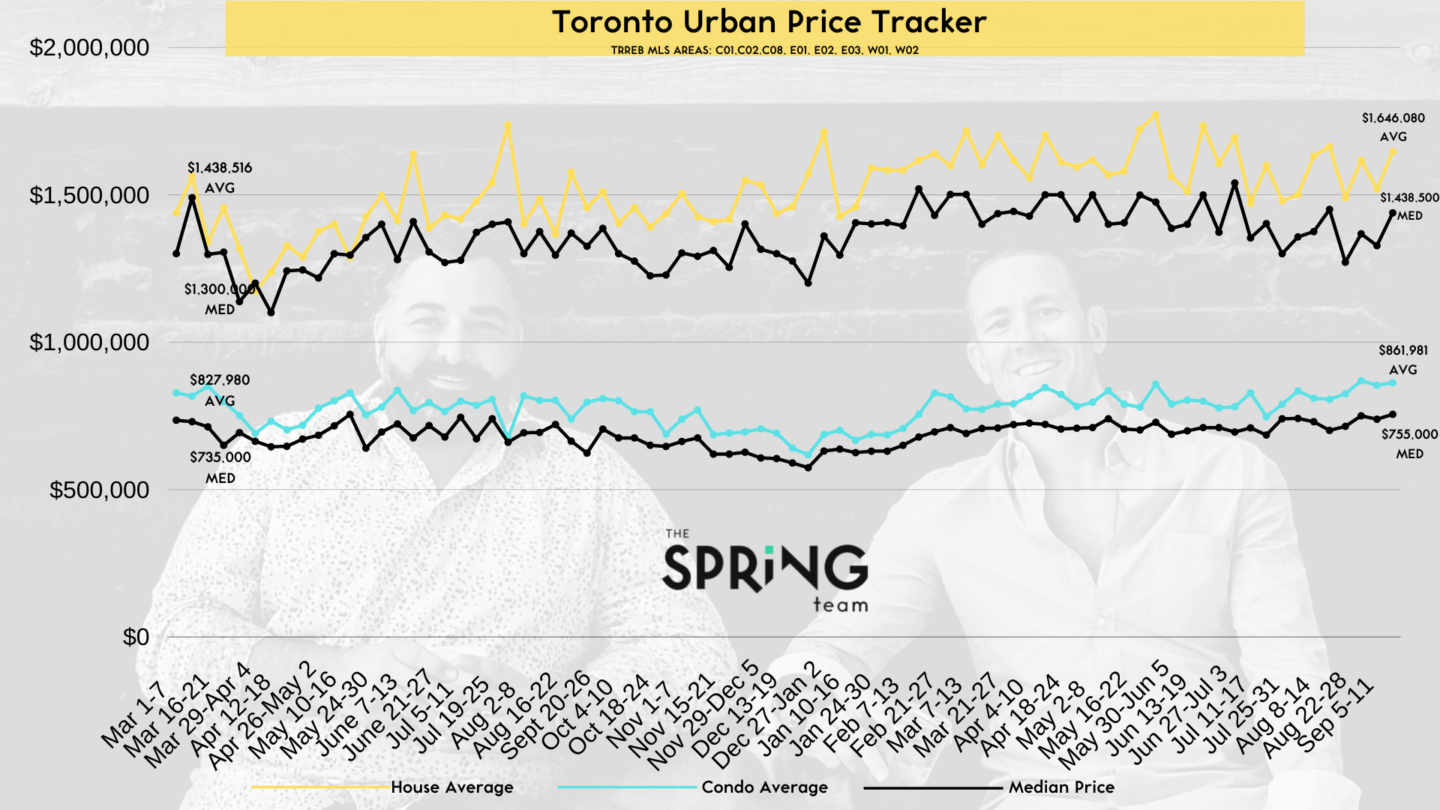 House Average Price: $1,646,080
House Median Price: $1,438,500
437 Active Listings
108 Firm Sales This Week
Months of Inventory (MoI) ~ 0.79
Average Days on Market ~ 15.02 DoM
Condo Average Price: $861,981
Condo Median Price: $755,000
1415 Active Listings
171 Firm Sales This Week
MoI ~ 1.32
Average Days on Market (DOM) ~ 11.46
Urban North: Rosedale, Deer Park, Moore Park, Forest Hill, & Lawrence Park
Supply remains unchanged here while house sales nearly double.
Needless to say, these luxury communities have been starving for new supply for months and months and months and just as new supply hits the market, it all gets gobbled up by the massive queue of buyers sitting on the sidelines waiting for their next home.
As one of the more undersupplied communities in Toronto, we could use a doubling of supply here.
I'd give the same advice to a Buyer here as I did above. If you like it and can love it with some changes then buy it now. If you pass on a property because of things you dislike but you can change then that same property will cost you more next week/month. You should pass on the home if there are things about it you cannot change…or don't have the budget to change.
Sellers, GET. TO. MARKET. That's the only advice I can give you.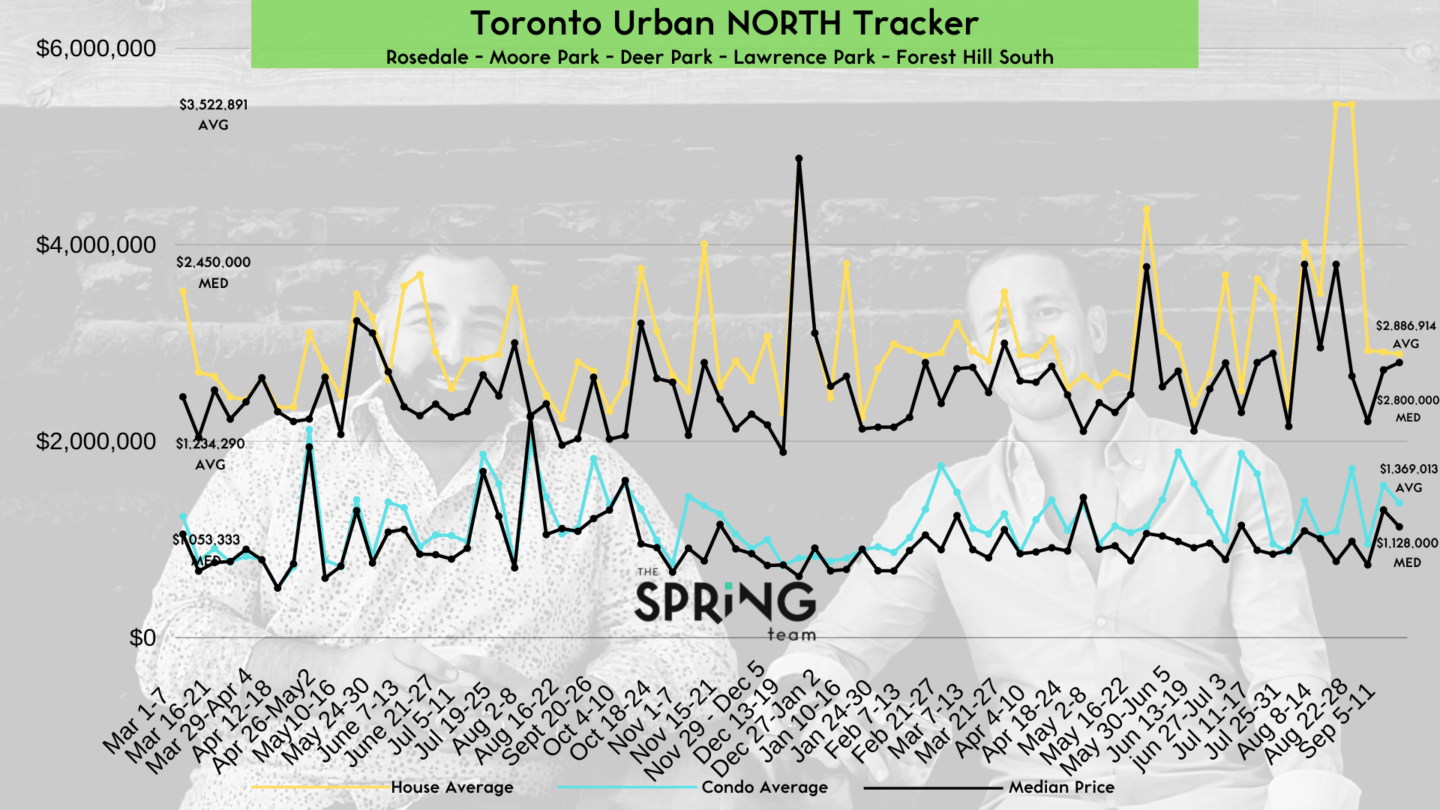 House Average Price: $2,886,91
House Median Price: $2,800,000
129 Active Listings
13 Firm Sales This Week
Months of Inventory (MoI) ~ 1.04
Condo Average Price: $1,369,013
Condo Median Price: $1,128,000
232 Active Listings
15 Firm Sales This Week
MoI ~ 2.53
Leaside, Davisville, Yonge & Eglinton
Great to see some new listings added to the mix but with sales doubling I don't see enough of it to come anywhere near meeting demand.
As I've said week over week, these communities are the 2nd most undersupplied (Birchcliff is 1st) in the entire 416 and 905 combined so there's no time to dilly dally as a buyer. All ducks must be in a row in terms of financing and there's no "giving it a try" if you're making offers. You need to go all in or you're not going to be successful here. Holding back $10-50K on offers is not going to help you out here. It's all-in time
Sellers, same as above….GET TO MARKET!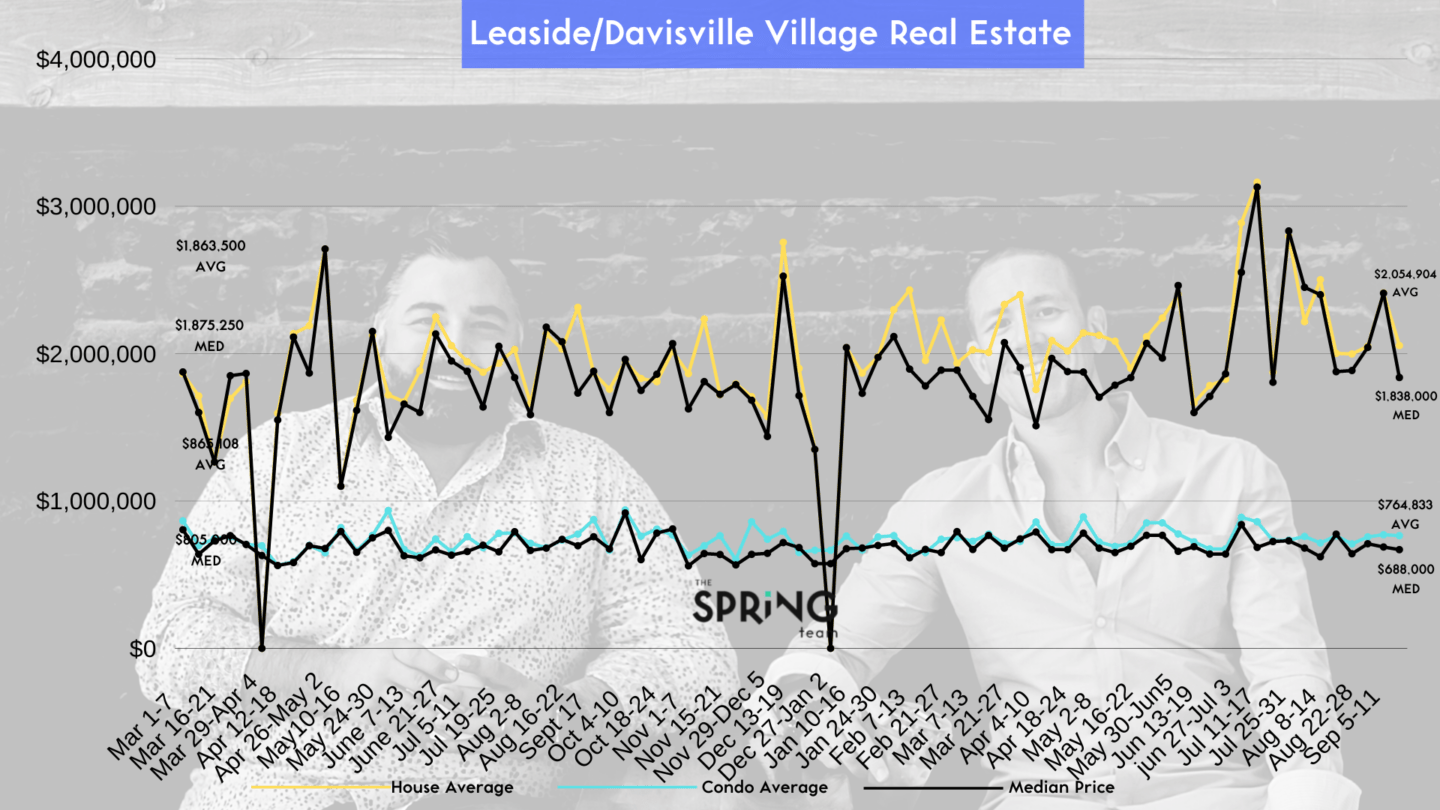 House Average Price: $2,054,904
House Median Price: $1,838,000
30 Active Listings
10 Firm Sales This Week
Months of Inventory (MoI) ~ 0.53
Condo Average Price: $764,833
Condo Median Price: $670,000
135 Active Listings
18 Firm Sales This Week
MoI ~ 1.58
Birch Cliff
Welcome to THE most undersupplied community in all of Toronto. This week is a great example of prime street sales vs. not-so-prime street sales.
Bungalows on less desirable streets are fetching around $900K while their more in-demand counterparts are fetching $1.2mm as proven this week.
Finished and newly renovated homes that have been topped up are now at $2mm (a little less on the less desirable streets).
Again, only one condos sale which makes me question why I decided to add condos back to the mix here but here we are. There are thousands of units planned for this community so we'll see a lot more activity here in the coming months/years.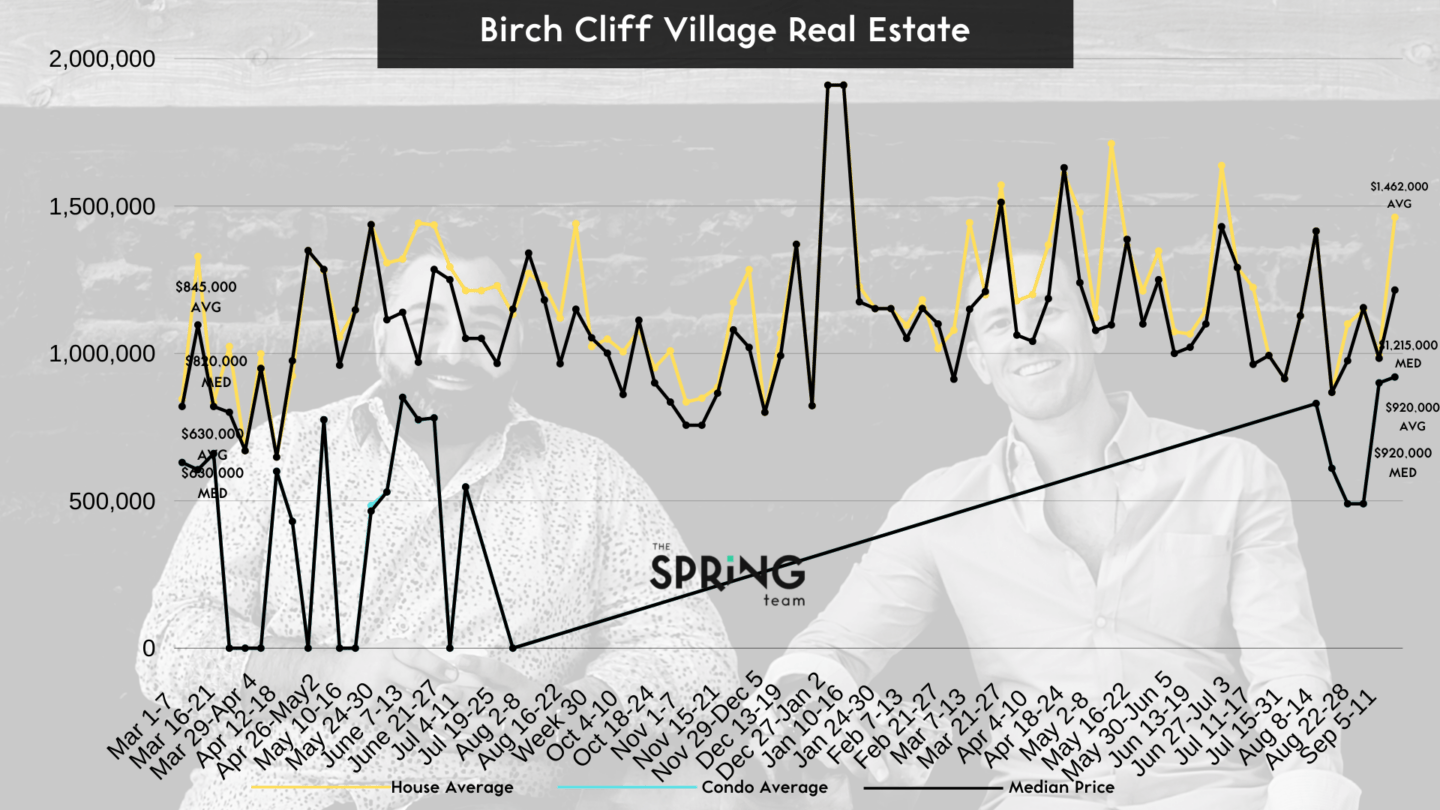 House Average Price: $1,462,000
House Median Price: $1,215,000
9 Active Listings
3 Firm Sales This Week
Months of Inventory (MoI) ~ 0.50
Condo Average Price: $920,000
Condo Median Price: $920,000
8 Active Listings
1 Firm Sales This Week
MoI 1.75
Thanks so much for your energy and attention! If you need clarity on any of this or want to talk about your specific situation, then call/text/email anytime: ara@thespringteam.ca or 416-434-1511