Episode 77: Toronto house and condo supply continues to drop and big offers are back on the table
Urban Markets: Downtown & Surrounding Area

If you've been reading this blog, you know I've been calling for big gains as inventory drops this Fall/Winter but it seems like buyers are out there making big offers right now.
But what's more important is that huge offer counts and larger-than-expected selling prices seem to have started a little earlier.
Just yesterday a property in Toronto's East End fetched 27 offers and sold for about $75K more than any comparable would justify. 27 Offers in the dog days of summer isn't something that we usually see.
If you're a Buyer, make sure you get into that property you like today…waiting is going to cost you a lot of money.
On Sunday, a North Riverdale home (which was not liveable as is) sold for $1,660,000. My clients were about $40K short but we were already $20K over what any comparable could justify.
When making offers in this type of market, you must adjust for time. Meaning, if a comparable home sold for a certain number last week, the current offering will sell for a percentage more. What percentage? Well, that's when our team's expertise comes into play.
Not sustainable, not comfortable, but it is what it is. If you want to be a Buyer in Toronto's urban markets (or anywhere really) you're going to have to put your ego aside, understand that there's no such thing as an overpayment as long as you're buying for the long term, and make it happen.
(oh and if you're a buyer reading this, we have a few awesome listings coming to market so get in touch with us if you want access to those before they hit the market…we have everything from detached in Leslieville to entry-level condos downtown coming….reach out for the full list)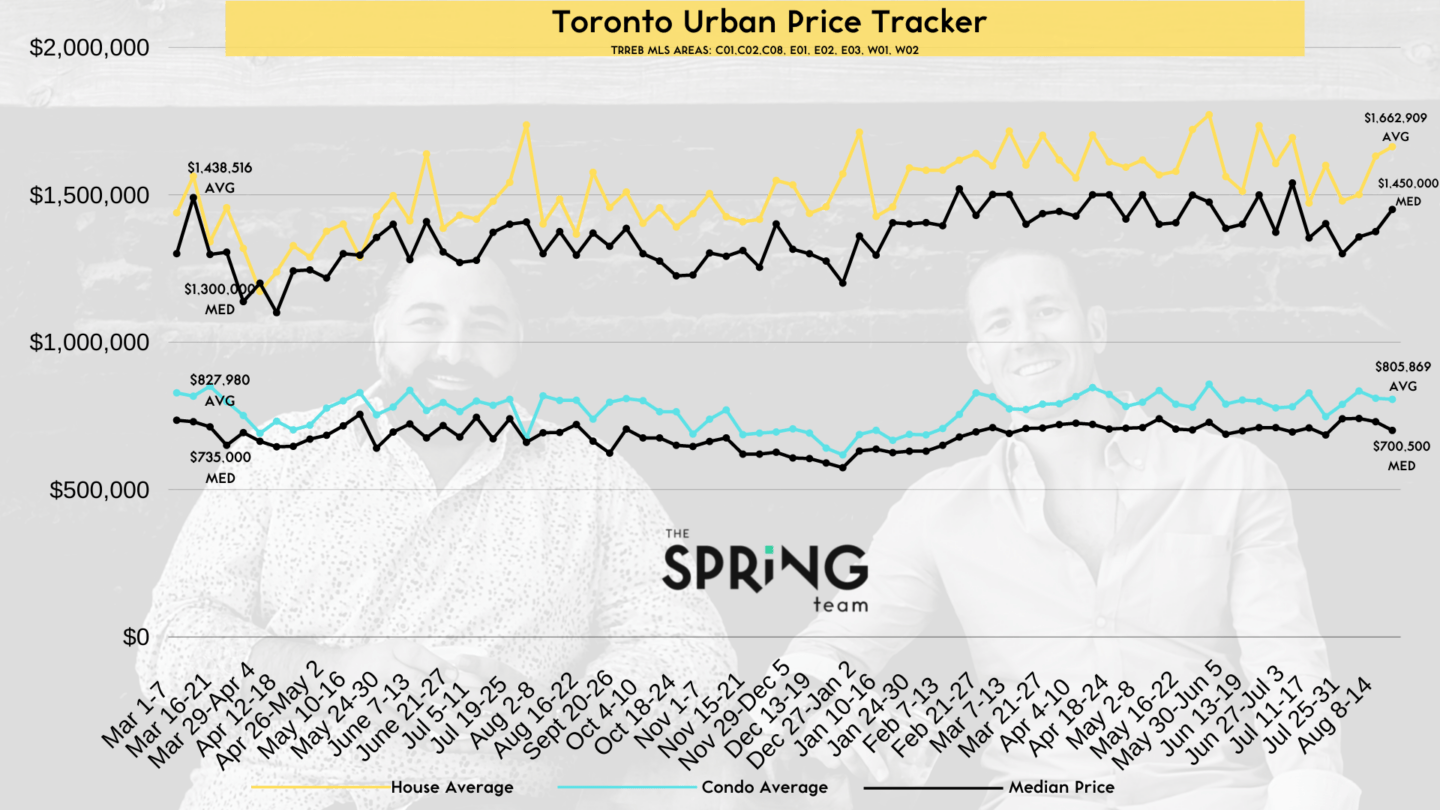 House Average Price: $1,662,909
House Median Price: $1,450,000
364 Active Listings
53 Firm Sales This Wee
Months of Inventory (MoI) ~ 0.93
Average Days on Market ~ 11.34 DoM
Condo Average Price: $805,869
Condo Median Price: $700,500
1267 Active Listings
149 Firm Sales This Week
MoI ~ 1.42
Average Days on Market (DOM) ~ 19
Urban North: Rosedale, Deer Park, Moore Park, Forest Hill, & Lawrence Park
What do you get when three houses sell for a combined $31.1 million? A huge average price when you only have 8 data points to compare.
Three absolute stunners sold in Rosedale this week (message me and I'll send you the listings…wow) which seriously jacked the average price for these areas.
The demand for real luxury product has never been this great. Week after week Buyers are showing us that they are comfortable making huge money moves despite all of the craziness happening in the world.
From $3mm to $15mm buyers are well supplied and ready to make offers all while Sellers are sitting pretty deciding what their next move is.
Most homeowners are staying put, totally happy with their current situation. The luxury markets are seeing gains at a pace that is normally reserved for the more affordable end of the spectrum.
But as I said last week, Buyers are armed with massive amounts of equity, combined with the cheapest mortgages we've ever seen, oodles of disposable income since extravagant vacations haven't been a thing for the past 18 months, and the financial markets have been kind to investors.
All of this is contributing to people being able to level up into unimaginable levels of luxury and putting extreme pressure on this end of the market typically reserved for Global cities like New York, Hong Kong et al.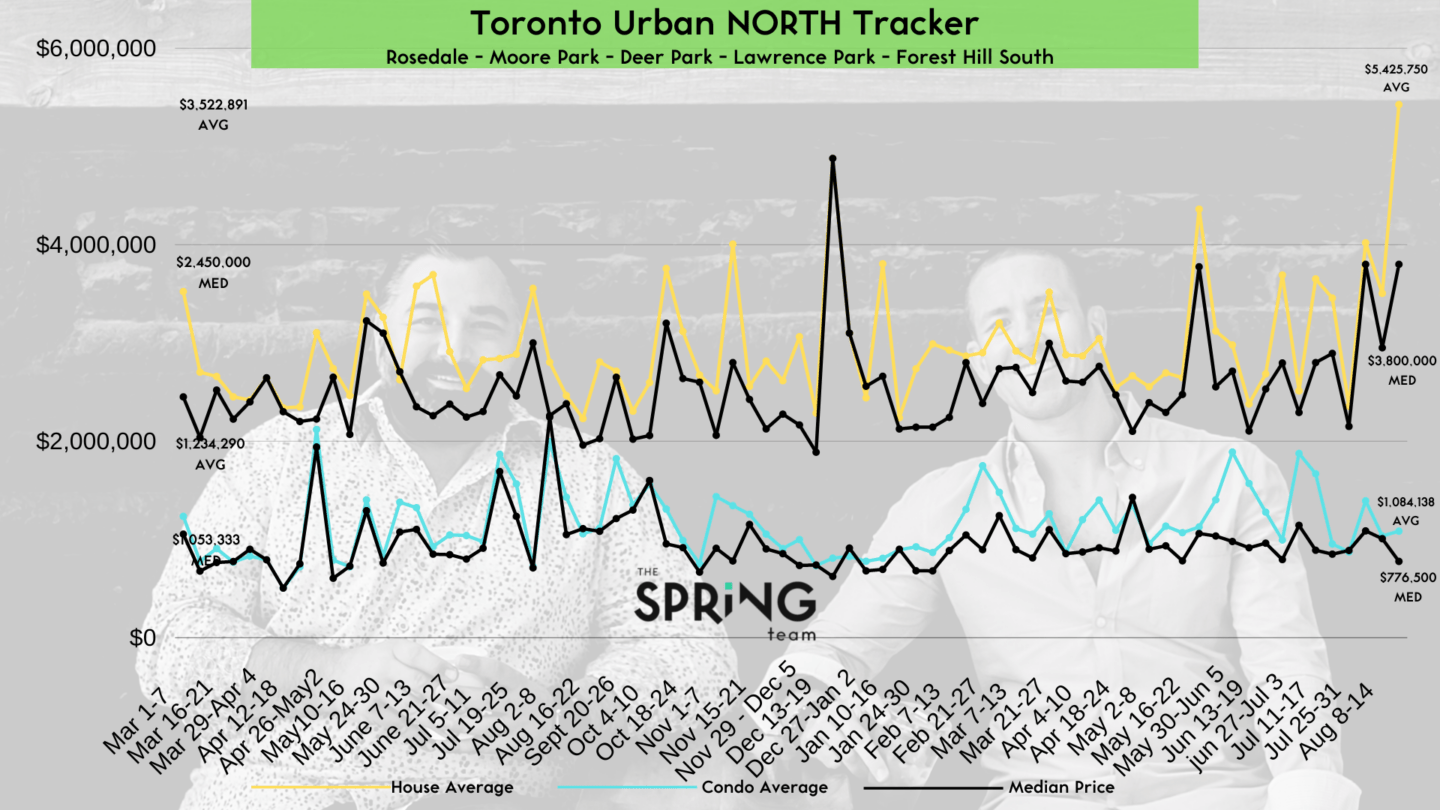 House Average Price: $5,425,750
House Median Price: $3,800,000
91 Active Listings
8 Firm Sales This Week
Months of Inventory (MoI) ~ 1.16
Condo Average Price: $1,084,138
Condo Median Price: $776,500
218 Active Listings
12 Firm Sales This Week
MoI ~ 2.79
Leaside, Davisville, Yonge & Eglinton
Every week is like another kick in the underpants with listings slowly dwindling away. How can there only be 26 houses for sale in this entire area?
Why aren't people selling?
Well…I'm not asking because I don't know, it's more of a rhetorical question…if you read the North Urban section above, we can simply apply the same logic here.
Same story as the North Urban area above…but a step lower on the real estate ladder.
It seems like Buyers in these communities: Leaside, Davisville, Yonge & Eg are making the biggest compromises as simple 15' wide semi-detached homes that haven't been renovated in 15-20yrs are now fetching $1.5mm (see 280 Roselawn as an example).
Buyers in these areas are fed from downtown move-up buyers. People coming from both downtown area houses and condos looking for their long term home to raise a family, be closer to a community they may have grown up in, or just level up into something that makes them feel like "they've made it" – the next stepping stone would be Rosedale and the like. We don't often see people go from downtown condo straight to a Rosedale home. But it happens.
Anyway, homes here, and any other Toronto community are signalling a serious jump in value in the coming months so buyers don't let deals fall through because your ego doesn't want to pay an extra $20K on offer night. Walking away for $20K will cost you $100K plus all the stress of starting your hunt again.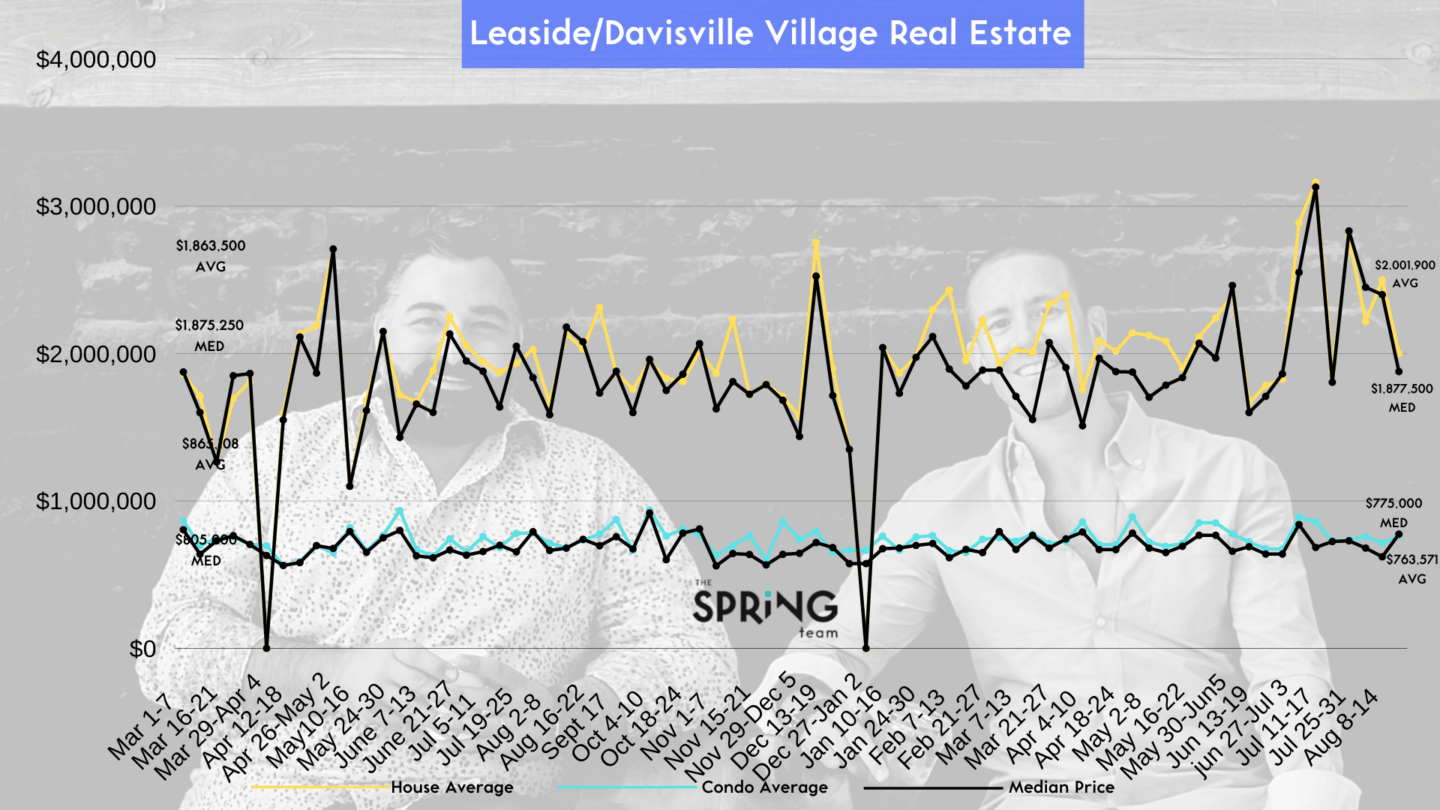 House Average Price: $2,001,900
House Median Price: $1,877,500
26 Active Listings
5 Firm Sales This Week
Months of Inventory (MoI) ~ 0.66
Condo Average Price: $763,571
Condo Median Price: $775,000
119 Active Listings
7 Firm Sales This Week
MoI ~ 1.72
Birch Cliff
Another week, another house sale. Only one. For $867,500. What do you get for that price? A corner lot bungalow that hasn't been renovated in 30 years with knob and tube wiring and asbestos on a less-than-desirable street.
Had this home been on one of the main Birch cliff streets, we're talking a Million at least. That's land value for most bungalows on the hot streets.
Only one condo sale here this week as well but much much further east at the East Haven development just past the Kingston Rd/Danforth merge.
Condo prices are still not at $1000/psf in that building but it's not the greatest. Units further west, in and around Warden, are all $1000/PSF or more right now. But they're not selling! Again, a sign that people buy in Birch Cliff and stay in Birch Cliff.
There's this one condo at Queensbury and Kingston Rd for sale right now. I'm in love with it! $2mm for a huge 2 bedroom with the best view of the Hunt club golf course. Message us and I'll send it over.
Buy all the condos you can in this area and rent them out….your future self will thank you…and so will your retirement portfolio.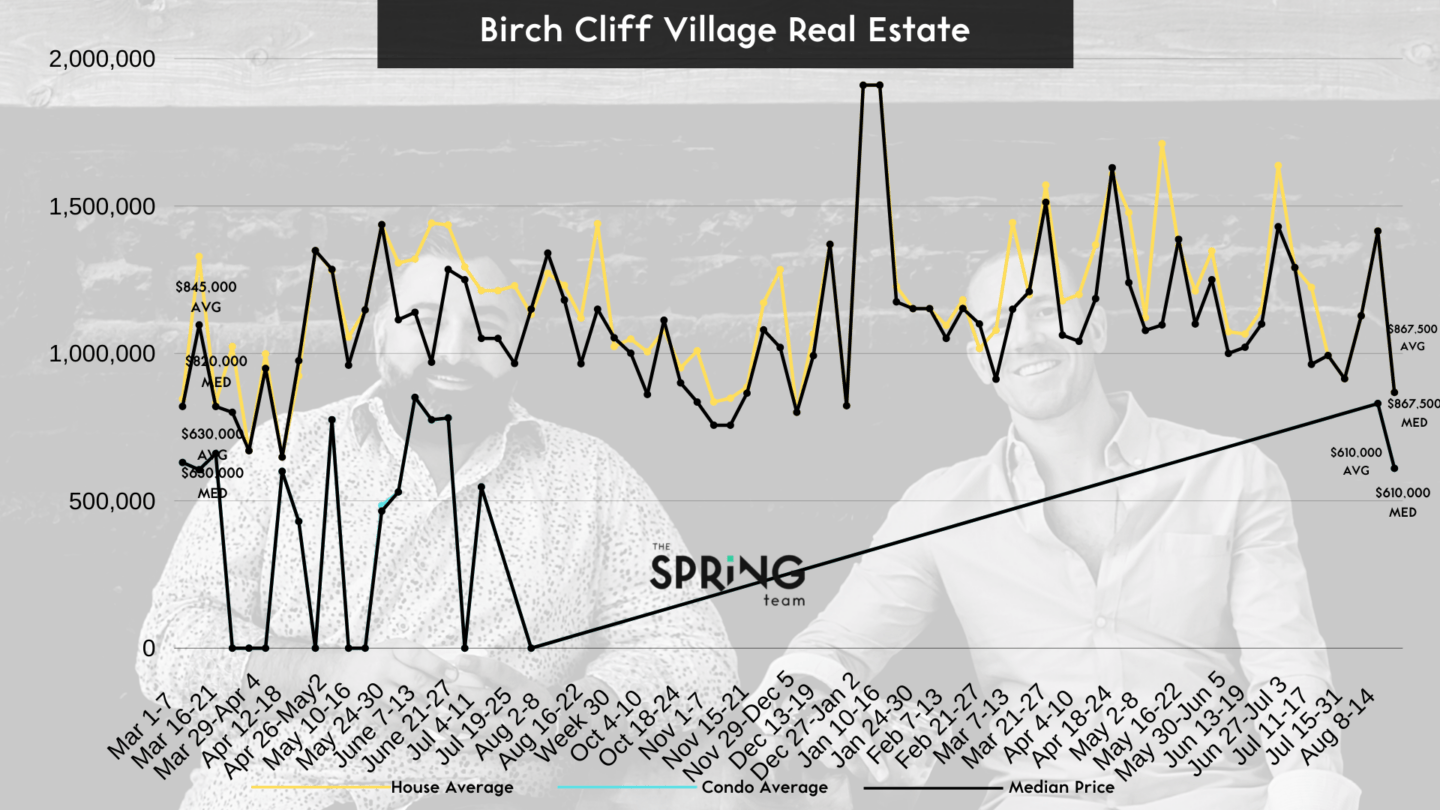 House Average Price: $867,500
House Median Price: $867,500
15 Active Listings
1 Firm Sales This Week
Months of Inventory (MoI) ~ 0.54
Condo Average Price: $610,000
Condo Median Price: $610,000
18 Active Listings
1 Firm Sales This Week
Thanks so much for your energy and attention! If you need clarity on any of this or want to talk about your specific situation, then call/text/email anytime: ara@thespringteam.ca or 416-434-1511