Take a stroll along our favourite block of King Street in Corktown!
This week we're going to try something a bit different. We're going to go for a virtual stroll through a local neighbourhood, talk about fun and interesting developments, businesses and some little pockets you might not be aware of. Follow along on Google Maps!
Let's start at the corner of King and Sumach.
The addition of the 514 Cherry streetcar line has transformed this intersection pretty significantly in the last few years, and it feels like it has connected the Canary real estate district and Distillery District to the rest of the city. But, with forward progress comes literal headaches for some. 
Streetcar Developments really started to transform this community years ago by developing the condos at 549/569, 510 King St East as well as 52 Sumach. To give you an idea of just how much things have changed here let's take a look at Corktown Condo values.
The Corktown District Condos were completed in 2011 and were sold for $535 per square foot. Fast forward 8 years and now they're trading at $900/PSF! That's nearly a 70% gain! Well ahead of the Toronto Condo average over that same time. 
[googlemaps https://www.google.com/maps/embed?pb=!4v1550526130439!6m8!1m7!1sh30BZWJNEpO8fAI-K-0DNQ!2m2!1d43.65560384480199!2d-79.35834234830303!3f236.94870937879995!4f-0.9578459756493629!5f0.7820865974627469&w=600&h=450]
Bright Street
Our next stop of the tour is one of our favourite streets in the area, Bright Street. Packed with Victorian townhouses dating back to the late 1800s, residents of Bright Street most likely worked at nearby Don Brewery until it burned down in 1907.
32 Bright Street stands out, not only because of it's small stature when compared to its neighbouring Victorians, but because it's also crooked! Historians believe that the angle of 32 Bright was more in line with the street's original layout, before it was curved even more severely.
Homes on Bright Street (and surrounding streets like Wascana) are in massive demand! We've created a killer real-time search tool to ensure our Buyer are the first in the City to be notified if any hit the market. Want access? Sign up here. I can make sure you know about any property in the City the nanosecond it gets listed.
[googlemaps https://www.google.com/maps/embed?pb=!4v1550527555571!6m8!1m7!1sy0wjt-2nm_36LYWug8MXVw!2m2!1d43.65595854458363!2d-79.3595120921953!3f216.5050591488533!4f-10.7666007477916!5f0.7820865974627469&w=600&h=450]
501 King St. E.
This looks like a regular old construction site, right? Well, if you look closer, you can see "Gusto 501" on the plywood cladding. Yes, this will be the easternmost outpost of Janet Zuccarini's food empire, known for Gusto 101, Trattoria Nervosa, and Chubby's Jamaican Kitchen. The purpose built three storey Gusto 501 has been talked about since 2014, now with construction well underway, they plan to be open by the summer.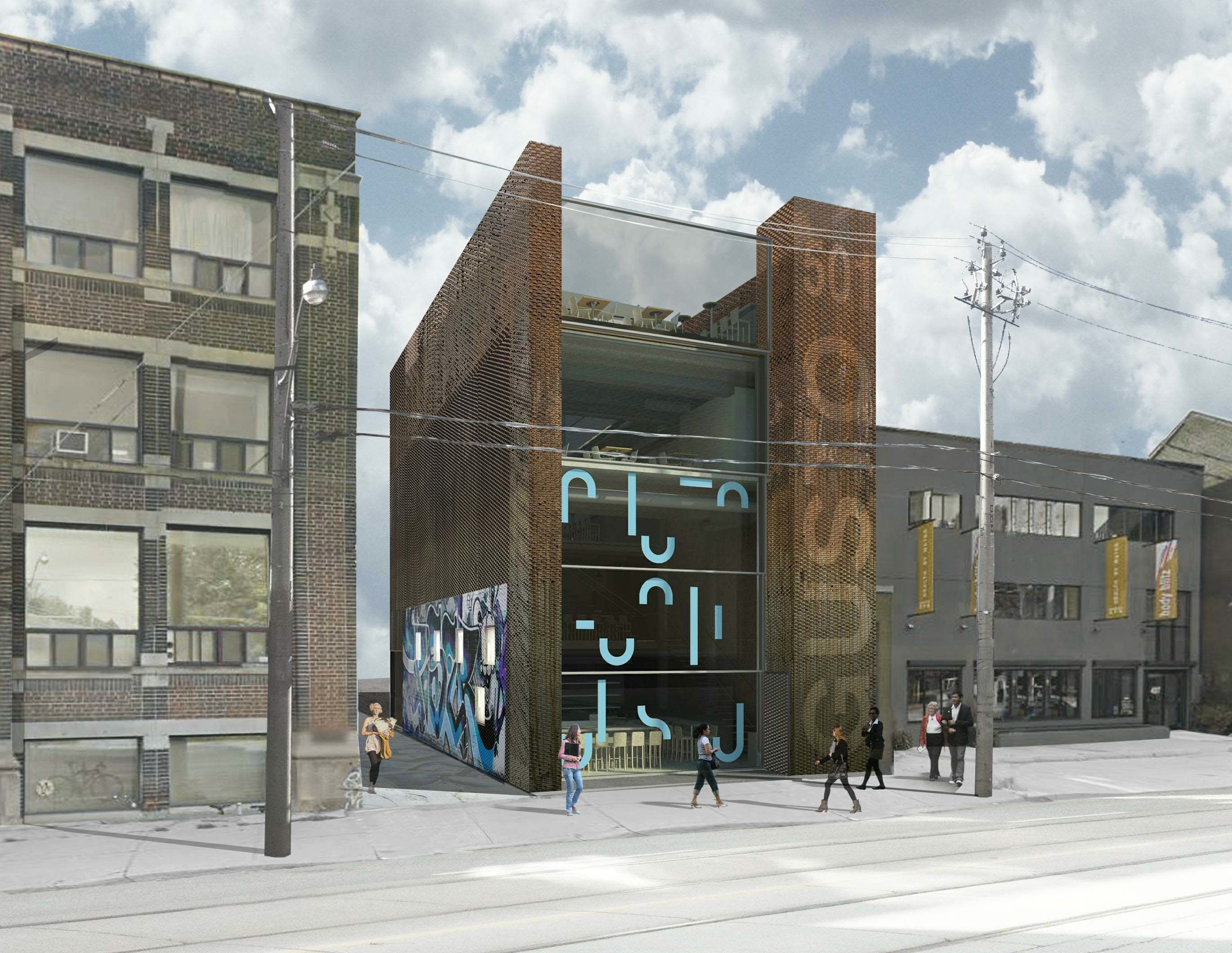 Corktown Common, but it's reimagining was also part of the city's Corktown master plan. Closed for over a year, the once shabby old playground now boasts a splash pad, a two storey play structure, and some additional foliage to mitigate noise from the Adelaide st. overpass that abuts the park to the north.
[googlemaps https://www.google.com/maps/embed?pb=!4v1550528332315!6m8!1m7!1sCTc_I6fgK1YH2dpsbfYlVA!2m2!1d43.65455237577458!2d-79.36014952458757!3f261.15264043484694!4f9.551303362345053!5f0.7820865974627469&w=600&h=450]
Trinity Mews
This exemplifies one of our favourite things about Corktown, the hidden details. This nondescript building appears to follow the contextual design of the original neighbourhood, main floor retail space with two stories of apartments above, however, if you venture back into the alley, you'll see that it is actually a small community of 10 live/work townhomes. Units in this building are rarely come to market, but can be a great investment as separated commercial and residential spaces mean they can be tenanted independently.
[googlemaps https://www.google.com/maps/embed?pb=!4v1550528486422!6m8!1m7!1s5BfzDZ_YGTj4AQS4_ZbpuQ!2m2!1d43.65406980329677!2d-79.36098796479112!3f113.38190046271487!4f0.8397766760384826!5f0.778196306452996&w=600&h=450]
Look both ways on this google map. Parking lots on either side of Trinity Mews mean density is coming!
Enoch Turner Schoolhouse/Little Trinity
The Enoch Turner Schoolhouse was built in 1848, and it is the oldest school in Toronto. The heritage building no longer functions as a school, but is host to weddings, special events and class trips.  The land to build the school was donated by neighbouring Little Trinity Anglican Church, which was constructed in 1844 and has the designation of oldest church in the city of Toronto! Lots on history on this humble little strip!
[googlemaps https://www.google.com/maps/embed?pb=!4v1550529631311!6m8!1m7!1srOtCvxTEAJnVM940QL7h7A!2m2!1d43.65298895502008!2d-79.36129771919344!3f271.6792688406293!4f-3.4186146816543896!5f0.7820865974627469&w=600&h=450]
18 Eastern Ave/Gilead Place
Finally, we move a bit south towards Eastern Ave on Gilead Place. If you're a fan of A Handmaid's Tale, the name Gilead doesn't conjure many positive thoughts, but don't worry! There are no Eyes of God here (Gilead's secret police), this street simply served as naming inspiration for Margaret Atwood. This also used to be the home of the Jamie Kennedy culinary empire.
What makes this our last stop on the tour? It looks like a vacant lot at the end of an alley. Well, Alterra group has acquired the land at 18 Eastern, and will be building something pretty big there in the future. In fact we're going to be helping Alterra launch that condo in Q4 of this year so look out for that.
[googlemaps https://www.google.com/maps/embed?pb=!4v1551202397538!6m8!1m7!1sEshyuKK29j9mXpEXt5yYug!2m2!1d43.65326260308385!2d-79.36040562997773!3f94.10864175342036!4f-4.042428595938361!5f0.7820865974627469&w=600&h=450]
A large number of new residents in this area will definitely help animate these side streets. Corktown used to be an area folks rushed though when they were heading downtown from the East End communities…now folks are starting to take a moment to take in the new Corktown. It's no longer a place to simply 'pass through'. Sit down and stay a while, you'll be amazed at what you discover!
Did you like the virtual stroll? Know a block you think has some cool history? Let me know! 
Thank you so much for your attention! Hopefully you found this content useful. If so, make sure you're subscribed to the industry's "least spammy newsletter!" to be kept in the loop. We've got some great resources for Buyers and Sellers here too, so check that out and keep in touch, will ya?
Don't forget, you can always call, text (416-434-1511) or email (ara@property.ca)  if you have any comments or questions. Also, feel free to comment below!