The East Side is the Best Side Christmas Shopping Part 2 is here! You may or may not have heard of these places but we have and LOVE them all. #eastmode
This week we're going to follow up on last week's post with some more options to get your holiday shopping done locally. Not only will you skip the headache of the mall, but you'll be supporting the little guy, and contributing to keeping your neighbourhood vibrant. You're going to spend it anyway, why not keep it in the community?
Pop Music – (581 Gerrard St. E.) – We often celebrate Tiny Record Shop as a neighbourhood success story, but we also want to shine a light on another local shop trying to make it. Pop music is celebrating one year at Gerrard/Broadview, and as their name says, they're geared more towards the casual listener than the obsessive collector TRS caters to. You won't find many rare Japanese shoegaze imports here, but you will definitely be able to please the music lover in your life.
Home James – (998 Queen St. E.) – Home James is a multi-level decor shop with a wide variety of vintage inspired items for the home. From clocks to lamps, to witty phrases stenciled onto weathered wood planks, which are all the rage these days, the options are limitless!
The Arts Market – (790 and 1114 Queen St. E.) – A perfect one stop shop for all your gifting needs, The Arts Market is made up of kiosks from small local artisans, you can get anything from vintage typewriters, to leather goods, to holiday cards and candles here. We absolutely guarantee you can't find any of this stuff at the Eaton Centre, a gift from the Arts Market is a slam dunk for that annoying person on your list who already buys themselves everything they want, which makes it really hard to get them a killer gift. Another bonus, they've got two locations in the East end.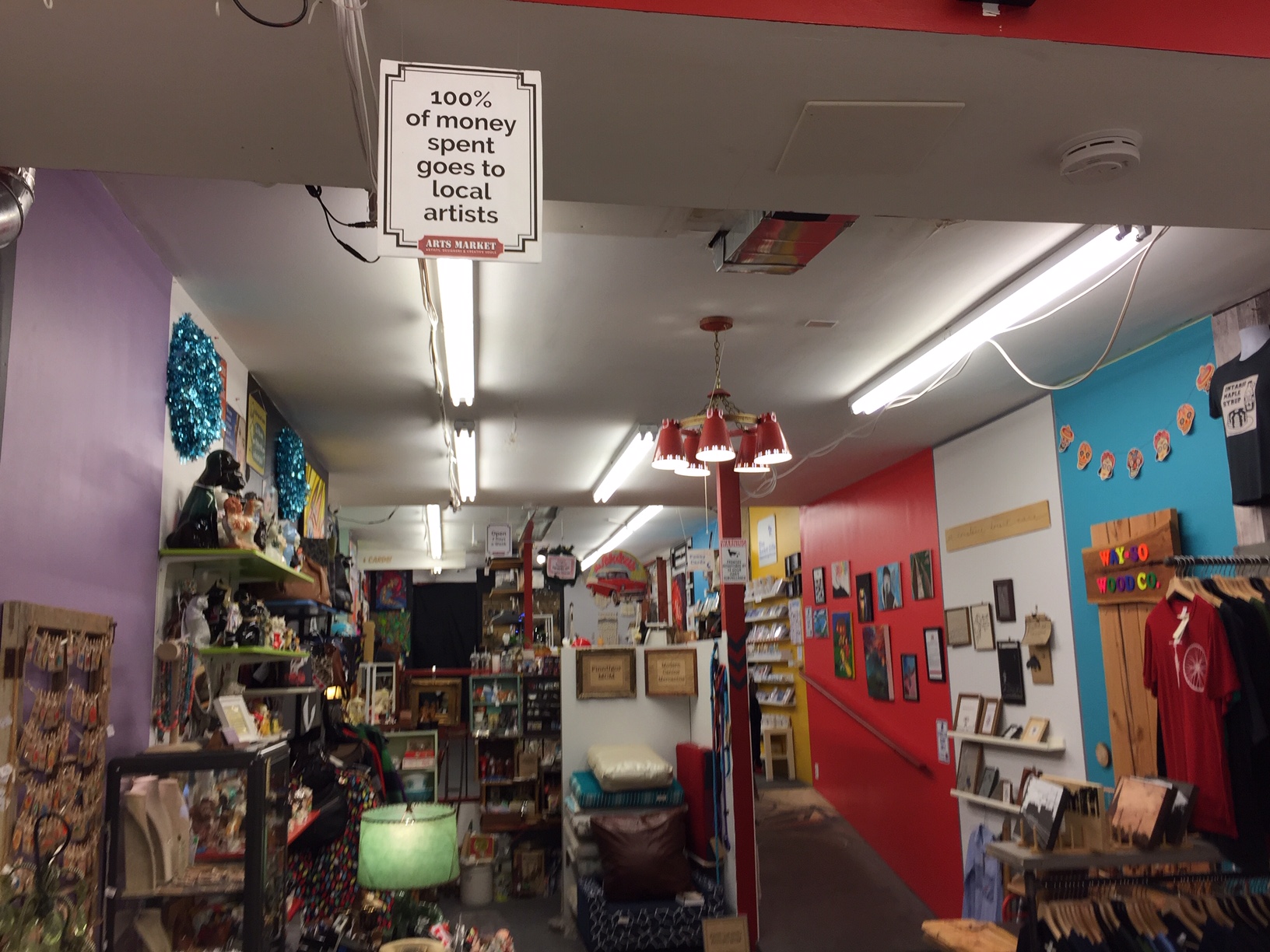 Hamsa Heaven – (1600 Gerrard St. E.) – Sometimes the spirit of the season isn't enough, so a stop into Hamsa Heaven can help ground you with some unique gift giving ideas. Specializing in wellness products such as aromatherapy, crystals, jewelry and the like, you can check your Goop inclined loved one off your list with ease!
Swag Sisters – (1511 Gerrard St. E.) – In our last post, we talked about gifts for babies and new parents, but what about your older children? Well, Swag Sisters has got you covered with lots of analog options for toddler and up. Legos, board games, Playmobil!  Be the cool aunt or uncle who spoils the kids at Christmas, but still feel good about keeping them off the dang iPad.
Notice a theme here? Gerrard is POPPING! Don't you wish you followed my advice from 2014 about Gerrard??? Stay tuned for my year in review post next week for where to invest next. Any questions? My cell is always on 416-434-1511 text is best.
Thank you so much for your attention! Hopefully you found this content useful. If so, make sure you're subscribed to the industry's "least spammy newsletter!" to be kept in the loop. We've got some great resources for Buyers and Sellers here too, so check that out and keep in touch, will ya?
Don't forget, you can always call, text (416-434-1511) or email (ara@property.ca)  if you have any comments or questions. Also, feel free to comment below! Happy Holidays!