[𝗩𝗶𝗱𝗲𝗼 𝗕𝗲𝗹𝗼𝘄] Hello and Happy Victoria Day, everyone! Week 11 is now done and settled so let's dig into the numbers this week and see what's changed.
📈You'll notice a new black line in my Urban Price Tracker below in the first comment. That's Median Price.
Median Price is simply the sale in the middle. Half the homes sold for more, half for less. If there's an even number then you average the two middle numbers. Simple.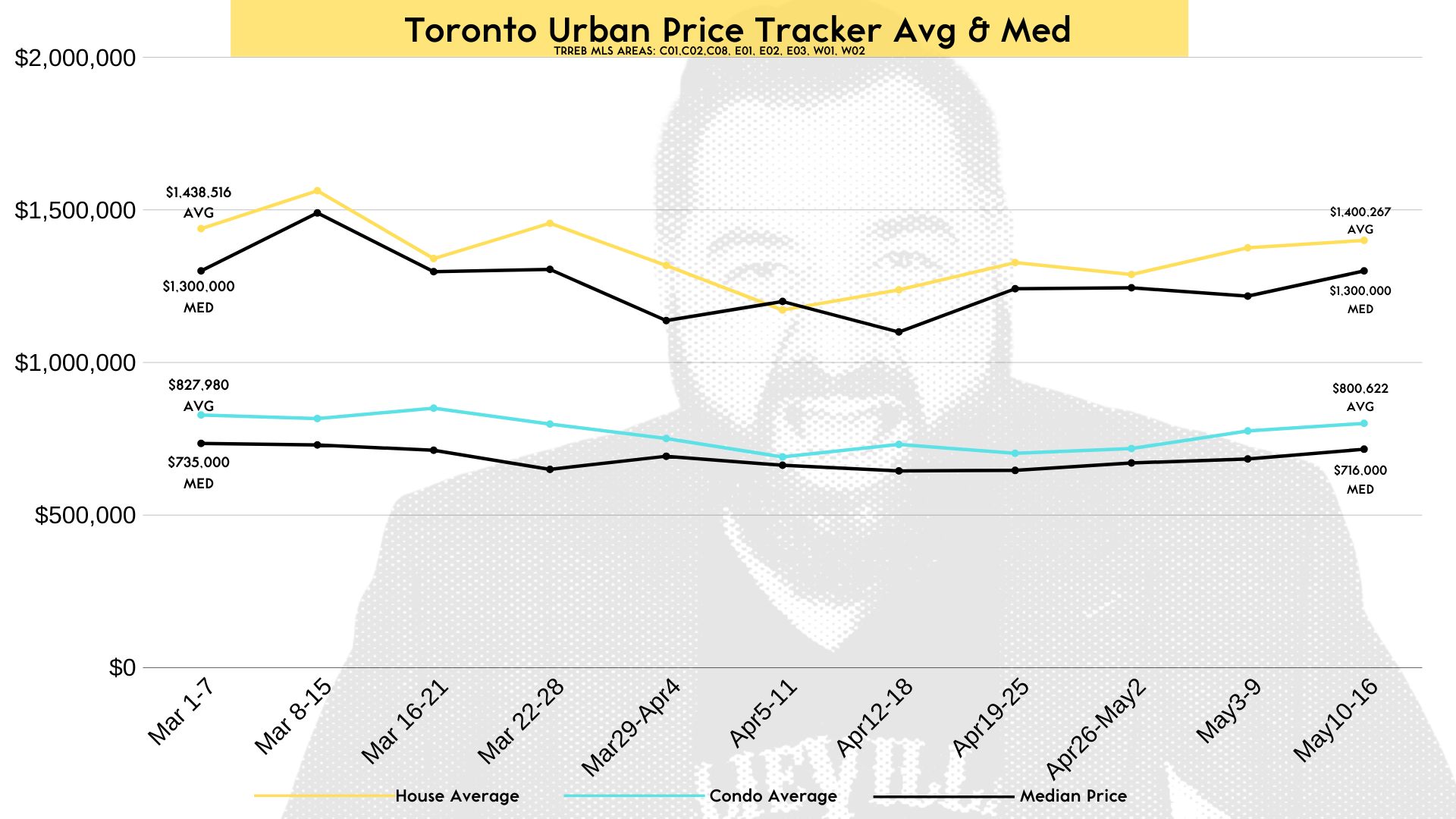 I'll be focussing quite heavily on median prices going forward as I feel it's a better indicator of which way the market is trending (is it a Buyer's or Seller's market). It allows us to focus on the middle of the market, where most of the activity is.
I'll be looking at the spread between Average Price and Median Price as well.
🏠 𝗛𝗼𝘂𝘀𝗲𝘀 this week reported 36 sales (20 𝙤𝙛 𝙬𝙝𝙞𝙘𝙝 𝙨𝙤𝙡𝙙 𝙬𝙞𝙩𝙝 𝙢𝙪𝙡𝙩𝙞𝙥𝙡𝙚 𝙤𝙛𝙛𝙚𝙧𝙨). That's a big jump from last week's 26. Buyer confidence is still very strong and continuing to improve especially in the higher price points as the average price hit a high of $1.4m this week.
𝗧𝗵𝗲 𝗺𝗲𝗱𝗶𝗮𝗻 𝗽𝗿𝗶𝗰𝗲 𝘀𝗮𝘁 𝗮𝘁 𝗮 𝗹𝗼𝘄𝗲𝗿 $𝟭,𝟯𝟬𝟬,𝟬𝟬𝟬 which has remained unchanged when compared to a "normal market" in the first week of March but 𝙪𝙥 18% 𝙨𝙞𝙣𝙘𝙚 𝙩𝙝𝙚 𝙡𝙤𝙬𝙚𝙨𝙩 𝙥𝙤𝙞𝙣𝙩 𝙢𝙞𝙙 𝘼𝙥𝙧𝙞𝙡.
Long story short, the "House Buyer Party" is over in our urban communities for the moment. Sellers are mostly back in the driver's seat and there aren't too many discounts to be found on the market.
🏢𝗖𝗼𝗻𝗱𝗼𝘀 continue to hold steady in most buildings and communities with 43 firm sales (11 𝙤𝙫𝙚𝙧 𝙖𝙨𝙠𝙞𝙣𝙜 𝙬𝙞𝙩𝙝 𝙢𝙪𝙡𝙩𝙞𝙥𝙡𝙚 𝙗𝙞𝙙𝙨).
The average sale price climbed to $800,622. This is a direct result of a ton of great sales in the $2M++ range which we're starting to see more regularly now.
𝗧𝗵𝗲 𝗠𝗲𝗱𝗶𝗮𝗻 𝗽𝗿𝗶𝗰𝗲 𝗰𝗮𝗺𝗲 𝗶𝗻 𝗮𝘁 $𝟳𝟭𝟲,𝟬𝟬𝟬 which is down 2.6% from March 1st but 𝙪𝙥 11% 𝙨𝙞𝙣𝙘𝙚 𝘽𝙪𝙮𝙚𝙧 𝙘𝙤𝙣𝙛𝙞𝙙𝙚𝙣𝙘𝙚 𝙨𝙩𝙚𝙥𝙥𝙚𝙙 𝙪𝙥 𝙢𝙞𝙙 𝘼𝙥𝙧𝙞𝙡.
Condos under $700K are the ones attracting multiple bids in most cases so that market is still quite active while there are some bargain buys in the $700K+ markets especially for one bedrooms. Larger, higher priced one beds aren't moving all that well at the moment.
Months of Inventory
I brought up MoI or Months of Inventory in my update from Week 8. At that time I was able to show a Seller's market for Houses and a more balanced situation (if not more-so a buyer's market) for condos.
What's really interesting here is that Condos and Houses are being absorbed at pretty much the same rate. Condos are selling at 220.5 units per month and Houses at 220.8/mth.

Numbers based on April/May rates of absorption
Condo MOI May 2020
🏢 With 1113 available condos for sale that gives us approximately 5.5 months of inventory.
A healthy balanced market with many options for Buyers. Sellers are getting their properties sold but it's taking at least a few weeks. Some buildings are a full Buyer's market mode whilst others are still fetching multiple offers.
House MOI May 2020
🏠 With only 293 houses available for sale being absorbed at 220.8/mth that only leaves us with an extremely tight 1.33 months of inventory. This combined with the upward movement in both Average and Median prices indicates a full on Seller's market in most urban communities.
That's it for this week, folks! Thanks again for watching sharing, and the messages with your compliments, words of encouragement, and even the haters. Love you all equally 🙂
You can read about the difference in Average vs. Median on the blog here