We've already written about the changes coming to this year's municipal election, but we haven't had a chance to talk about the two front runners for the mayoral race. Incumbent Mayor John Tory, and former chief city planner (under Mayor Ford and Tory) Jennifer Keesmaat.
This is a very interesting race when it comes to urban issues, and it pits a media savvy urbanist against a very well connected businessman. I don't predict an upset this time around, but a strong opposition to the status quo is definitely crucial for local democracy.
Unfortunately, Mayor Tory is dodging 1 on 1 debates with Keesmaat (the CBC had to cancel a planned Oct. 16th debate, as John Tory refused to participate) so, if you haven't made up your mind, here's a quick primer on where the candidates stand on transit, affordable housing, and city building.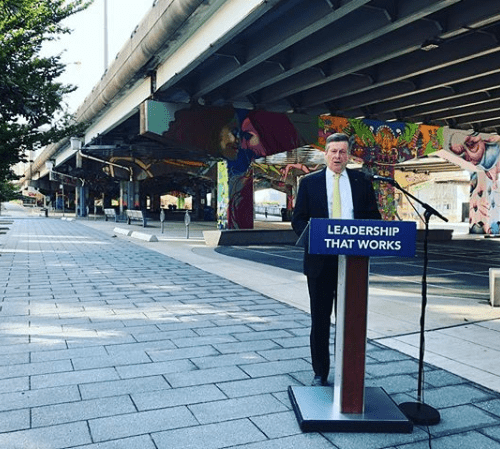 Transit:
Tory – Mayor Tory is campaigning again on SmartTrack, which as an idea 4 years ago, seemed decent, but since then it has shrunk in scope significantly, and even now, details are still fuzzy on if it can actually be done. Tory is committing to build a SmartTrack stop in Liberty Village, which is a transit nightmare, so that should gain him some votes. He's also in favour of the relief line (yay!) and the one stop Scarborough subway extension (boo!) if he is re-elected, and the Scarborough subway happens as planned, I imagine he'll forever be known for that $3+ billion dollar boondoggle.
Keesmaat – Jennifer Keesmaat is also in favour of the relief line, and has committed to accelerate its construction and have shovels in the ground by 2020. She has also committed to make the King St. pilot project permanent. Tory is also campaigning on the delivery of the King St. transit pilot, but is hedging his bets on it's future. Keesmaat is proposing to build a waterfront LRT by 2030. This will connect the hot new projects in the East Bayfront, the Unilever site, Sidewalk Toronto (the Google Portlands project), and the Broadview relief line stop This is a key piece of transit for the east end, and we're very interested in any investment in the waterfront.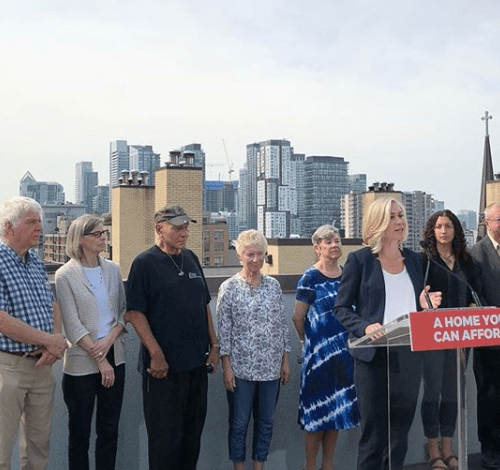 Affordability/Affordable Housing
Tory – Raising property taxes is tantamount to political suicide in Toronto, and Tory is again promising to keep tax increases at or below the rate of inflation, which he promised and delivered on during his mandate.  He has also committed to build 40,000 new affordable housing units over 12 years and to create a housing affordability secretariat to manage related projects.
Keesmaat – Jennifer Keesmaat has not formally announced any plan to raise taxes, but John Tory is using comments she made in a 2013 Toronto Life article to attack her on the tax issue. But, in a more recent Toronto Life piece from 2018, she stated she would not raise taxes, so the jury is out on that one. Like Tory, Keesmaat has also committed to building affordable housing, but instead of Tory's 40k over 12 years, Keesmaat has promised 100,000 over 10 years. She has also pledged to make affordable housing the core mandate of CreateTO (which manages the cities real estate portfolio)
City Building
Tory – This is one of the rare areas where a challenger can score some points against an incumbent. John Tory has spent the last 4 years bogged down in the day to day, and doesn't have any grand plans outside of 'staying the course'. We will admit that the last four years have been pretty good, albeit uneventful (especially compared to the year or so before…) We just wish that John Tory was able to provide a big picture idea for the next four years. We know he can keep things running smoothly, but what's next?
Keesmaat – Jennifer Keesmaat has proposed tearing down the eastern portion of the Gardiner expressway and replacing it with a boulevard which will free up significant city owned land for development. You may remember this plan from a few years ago when city staff recommended it. However, Council ultimately voted for a 'hybrid' option, which would tear down and rebuild the existing structure. Keesmaat says that the boulevard option will save $500 million already allocated to this project, and that money will be redirected to public transit to offset the traffic impact.
We hope this little primer helps, but there are many other key issues in this race, and we recommend researching both candidates, but no matter what, please make sure you vote! 
Thank you so much for your attention! Hopefully you found this content useful. If so, make sure you're subscribed to the industry's "least spammy newsletter!" to be kept in the loop. We've got some great resources for Buyers and Sellers here too, so check that out and keep in touch, will ya?
Don't forget, you can always call, text (416-434-1511) or email (ara@property.ca)  if you have any comments or questions. Also, feel free to comment below!