Week 56: It's all about the 'Bully Offer' for both Condos & Houses.  
Urban Markets: Downtown & Surrounding Areas
Houses continue to defy all odds with buyers gobbling up any new inventory that hits. Prices are maintaining their highs with very few properties not getting what they want on offer day. Bully offers are still very much a thing across the board even though days on market ticked up by a day to 6.
Will we see an average house price in Toronto's urban markets hit $2mm? Obviously yes but when? That is the question. Certainly not anytime soon but who knows…the Feds are talking to economists about the impact of taxing the gain on your principal residence. I'm not sure what backwards World the Feds are living in but all that will further restrict supply and skyrocket prices…assuming there are buyers there who are able to actually move since a huge percentage of their earned equity would be robbed by the federal government. It's criminal really…
Condos aren't seen the needed supply to quench demand in Toronto's urban markets. BIG offers every single day, especially on two bedrooms suites under a million. $1200/PSF will become the average by the end of 2021. The good news here is that the increased supply of houses is finally giving move-up condo sellers some options so we should start to see more condo listings in our urban communities as these Sellers find homes to buy.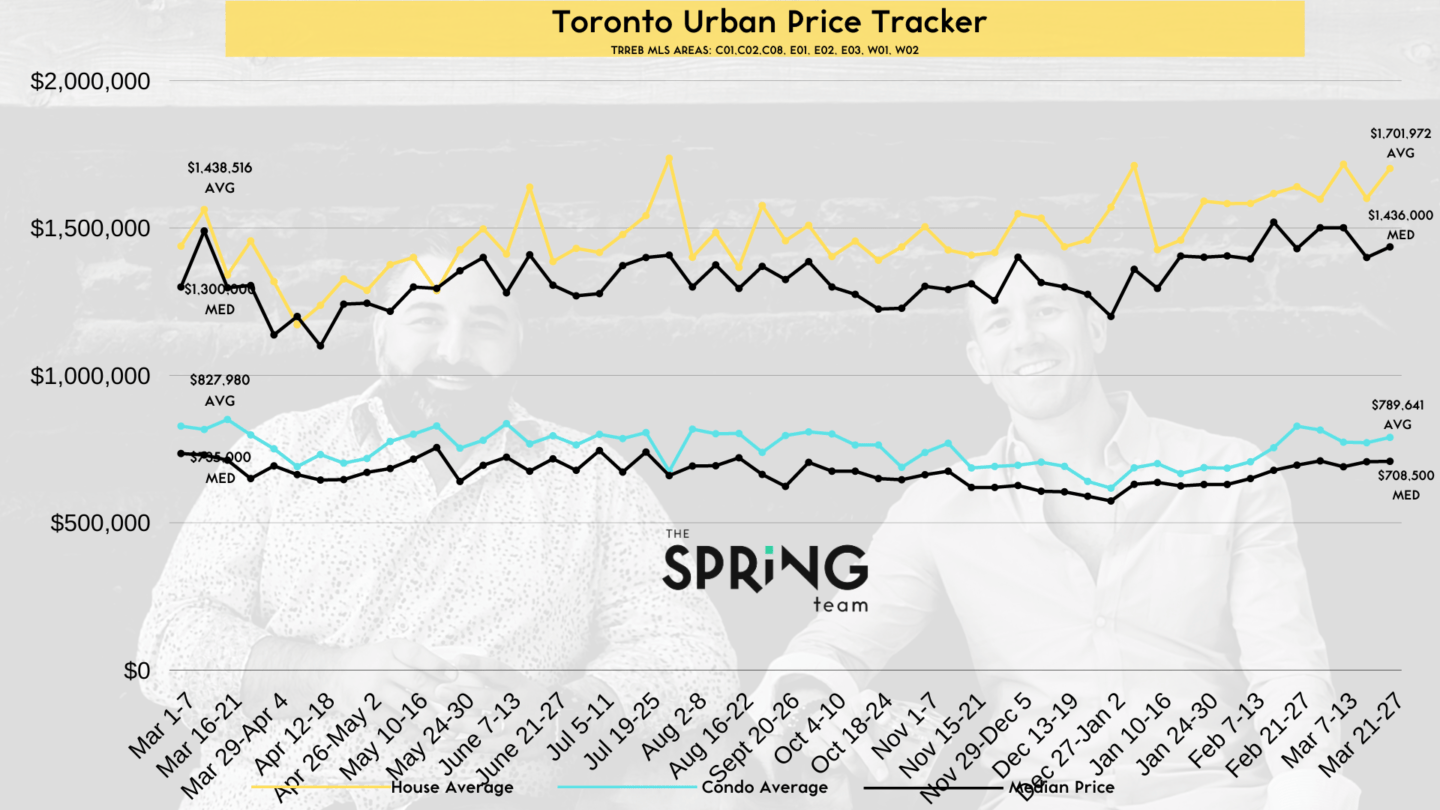 House Average Price: $1,701,972
House Median Price: $1,436,000
391 Active Listings
126 Firm Sales This Week
Months of Inventory (MoI) ~ 0.79
Average Days on Market ~ 6.14 DoM
Condo Average Price: $789,641
Condo Median Price: $708,500
1074 Active Listings
240 Firm Sales This Week
MoI ~ 1.35
Average Days on Market (DOM) ~ 11.27
Urban North: Rosedale, Deer Park, Moore Park, Forest Hill, & Lawrence Park
Average house prices popped this week with 7 sales (of the 32) over $5mm but the lower end of the market had a ton of movement with many of the $2-4mm homes selling extremely quickly. You can still get into the North Urban communities for under $2.5mm but you'd have to be prepared and ready to move quickly. Supply continues to be a problem has as with all other communities we're tracking. Sellers should continue to do extremely well here as we move into Q2 of 2021.
Condo prices here have been creeping up inch by inch to the point where this relatively unaffected community during Covid has now reached new all-time highs. Buyers are all loaded up and ready to move a little further North realizing that walkable, urban vibes exist north of Bloor. Condo Sellers now's the time to get to market here. You're not leaving any money on the table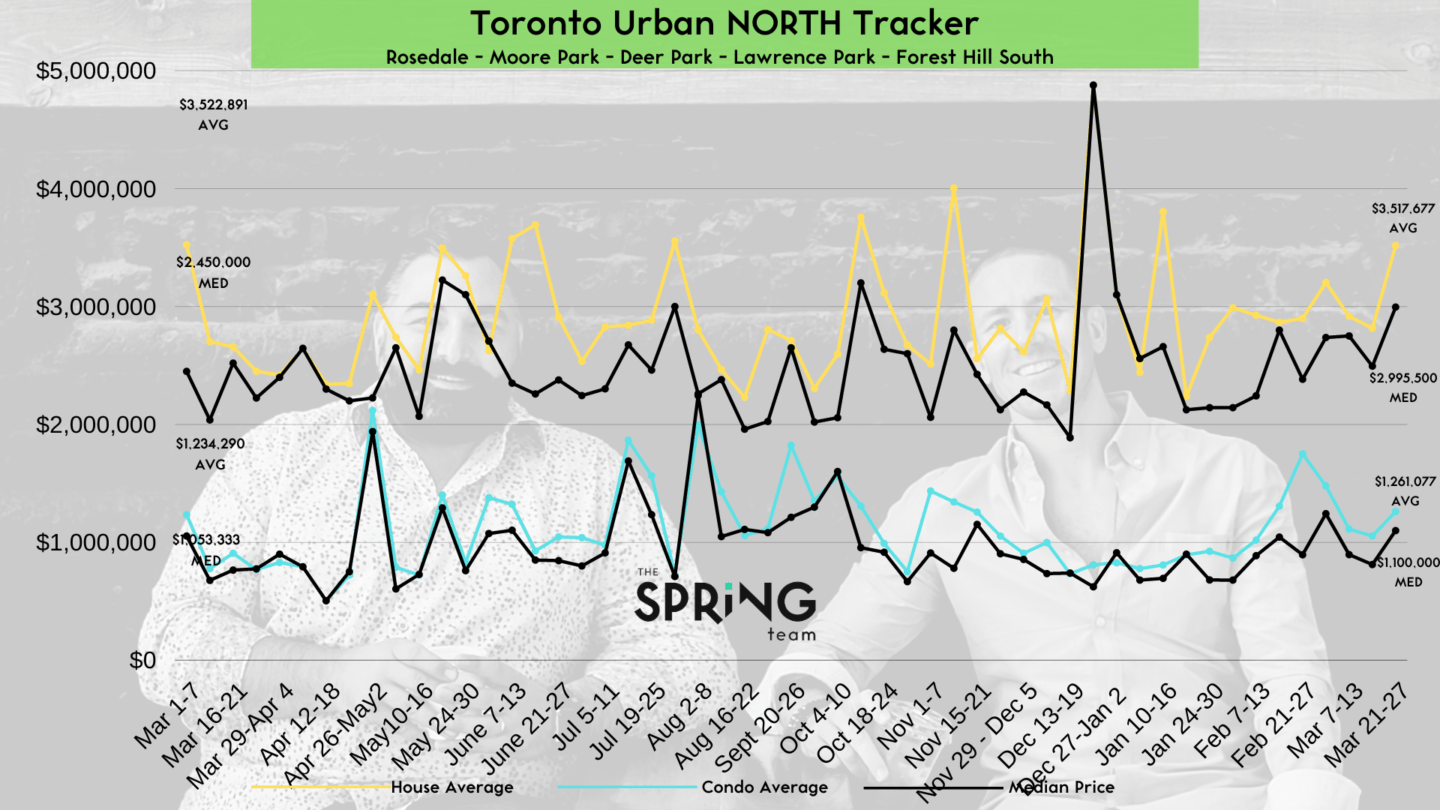 House Average Price: $3,517,677
House Median Price: $2,995,500
129 Active Listings
32 Firm Sales This Week
Months of Inventory (MoI) ~ 1.42
Condo Average Price: $1,261,077
Condo Median Price: $1,100,000
185 Active Listings
17 Firm Sales This Week
MoI ~ 2.85
Leaside & Davisville
This is such a HUGE community to only have 8 sales in a week. Supply continues to be a massive problem. Homeowners either don't need to move or can't afford to move up. The Leaside community tends to be much less transient anyway but we're used to seeing a ton more activity in Davisville Village as the homes tend to be smaller and have homeowners looking to move-up…usually into the larger Leaside homes.
Condo supply jumped bigtime here while total sales dropped. Not at all an indicator of a declining condo market. Just an off week with a ton of lower-end sales that dragged the average down. When you have such a small sample these things happen week/week.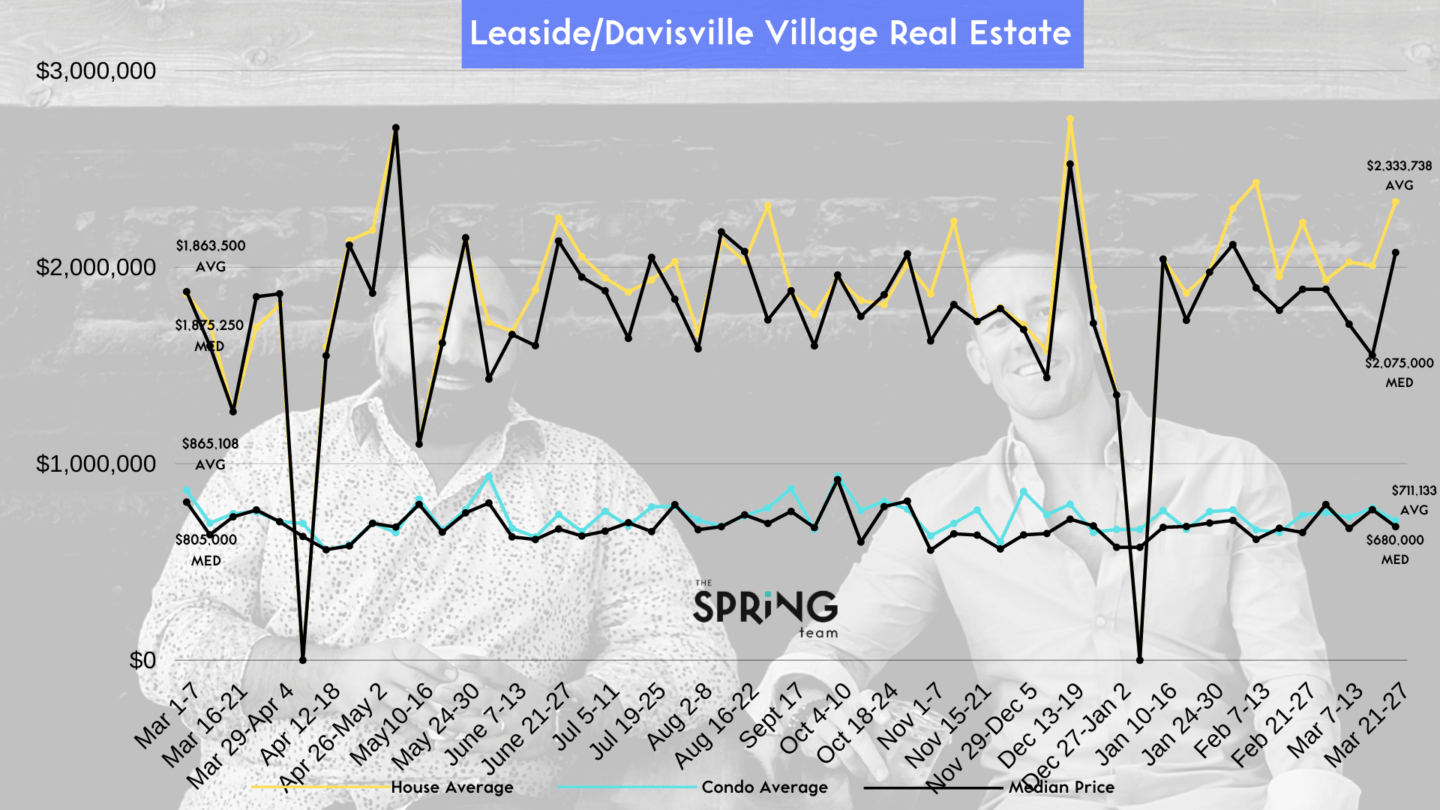 House Average Price: $2,333,738
House Median Price: $2,075,000
47 Active Listings
8 Firm Sales This Week
Months of Inventory (MoI) ~ 0.93
Condo Average Price: $711,133
Condo Median Price: $680,000
86 Active Listings
15 Firm Sales This Week
MoI ~ 1.27
Birch Cliff
The renovated homes are finally coming to market. All those homes that I've been referencing over the past months are ready for Buyers. And with 14 sales this week, buyers are gobbling them up at BIG prices. Supply is still a problem here and Buyers aren't going anywhere. Those that don't want to hit up the Urban North communit4is are going to the Lawrence park of the East…Birchcliff!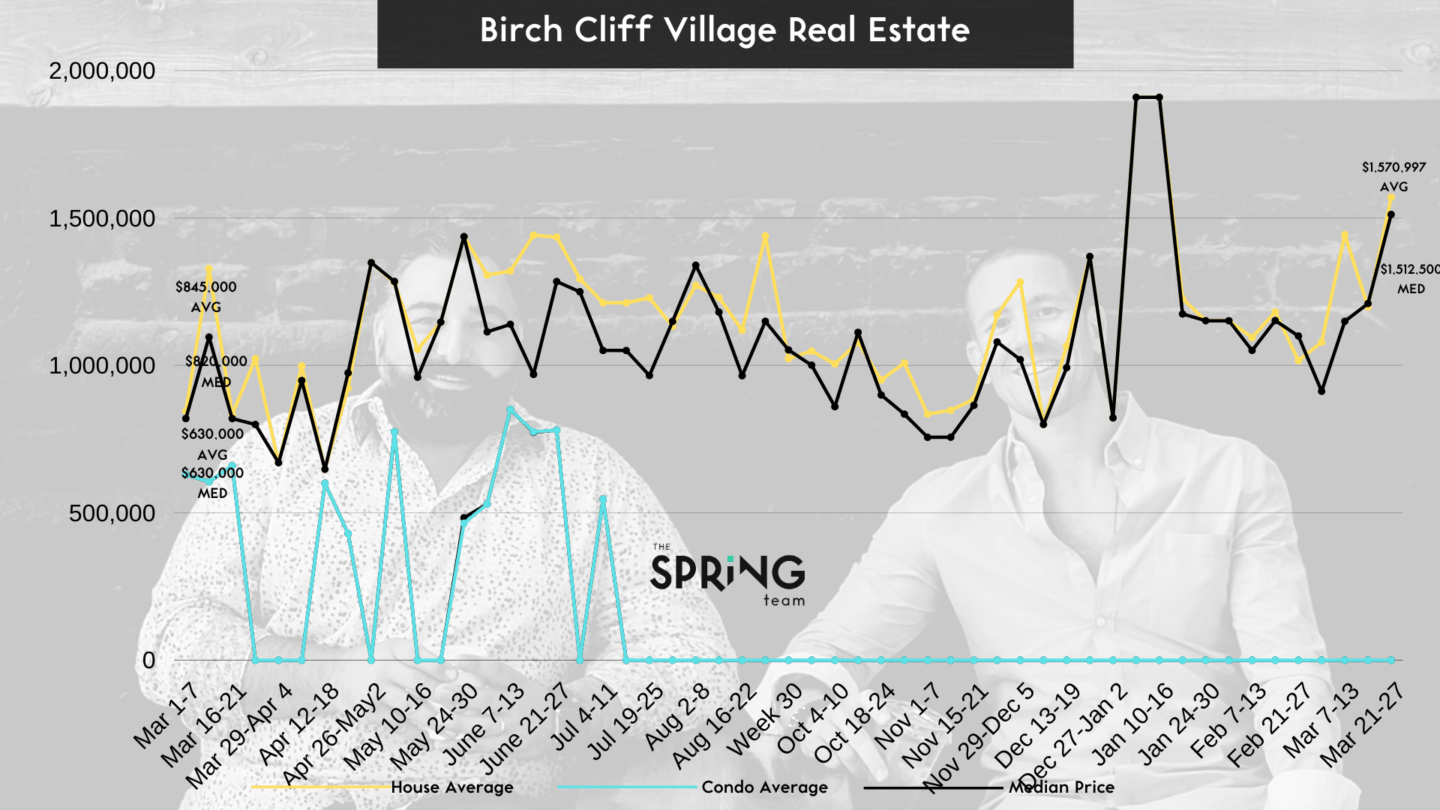 House Average Price: $1,570,997
House Median Price: $1,512,500
23 Active Listings
14 Firm Sales This Week
Months of Inventory (MoI) ~ 0.28
Thanks so much for your energy and attention! If you need clarity on any of this or want to talk about your specific situation then call/text/email anytime: ara@thespringteam.ca or 416-434-1511