Week 52: Toronto Condo Prices Break Pre-Covid Records As Supply Hits an All-Time Low. 
Urban Markets: Downtown & Surrounding Areas
Condos have not only achieved pre-covid pricing in most in-demand buildings, have surpassed it…by a mile in some cases. Are there still some deals out there? Maybe a few but they're in buildings that aren't all that desirable, to begin with. What's most important is the Months of Inventory. At only 1.35 months most Sellers should be seeing bigger offers week by week. Buyers have to focus beyond comparables when making offers to be successful.
I'll be honest, I expected a bit of a lull in Houses by now but that hasn't happened. Inventory did creep up a little bit but sales also skyrocketed. Please remember one thing though. Markets don't crash because prices are too high. ignore the pessimists, real estate bears that are trying to scare you into believing an increase in historically low-interest rates will "burst a bubble". That's not how it works. Let's see what if anything the Feds to do take the heat off of the market.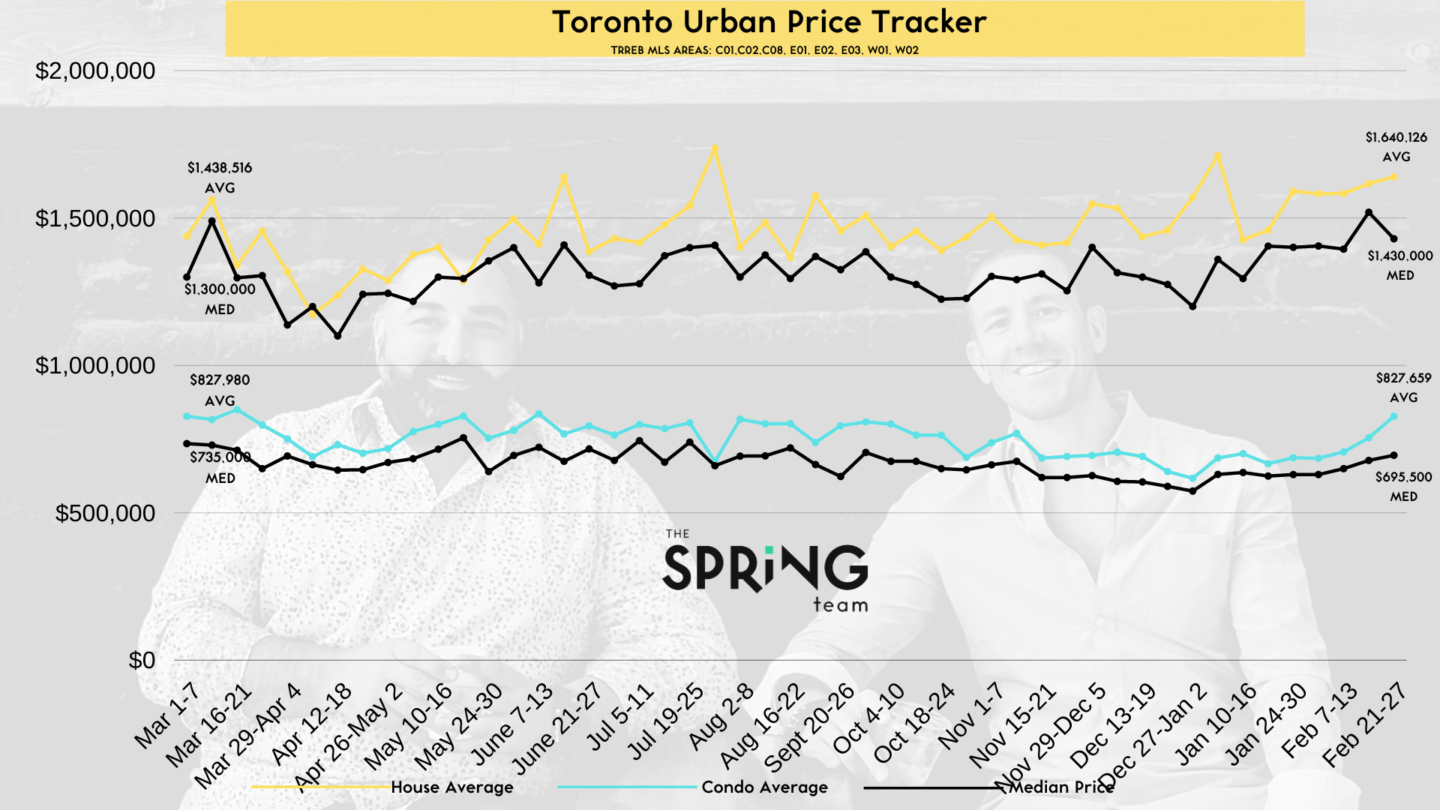 House Average Price: $1,640,126
House Median Price: $1,430,000
275 Active Listings
101 Firm Sales This Week
Months of Inventory (MoI) ~ 0.79
Average Days on Market ~ 10 DoM
Condo Average Price: $827,659
Condo Median Price: $695,500
964 Active Listings
254 Firm Sales This Week
MoI ~ 1.35
Average Days on Market (DOM) ~ 18.15
Urban North: Rosedale, Deer Park, Moore Park, Forest Hill, & Lawrence Park
House sales dipped this week and Months of Inventory ticked up a little but still at seriously low levels keeping Sellers in the driver's seat in most cases. You can still get into a relatively recent renovation for under $2mm here in the Lawrence Park area so that price point hasn't been fully breached yet but it'll happen. Buyers who want to be in these communities and have a budget of under $2mm should be pulling the trigger within the next couple of quarters as
Condo supply continues to slowly drop here as prices creep up. People are realizing that they can get a little bit of a break from all the urban buyer activity, but the sun is also setting on that as we're seeing very quick sales at record prices on the regular here too. Definitely ignore the average price here as there have been some HUGE $7m,++ condo sales this week that moved the needle up.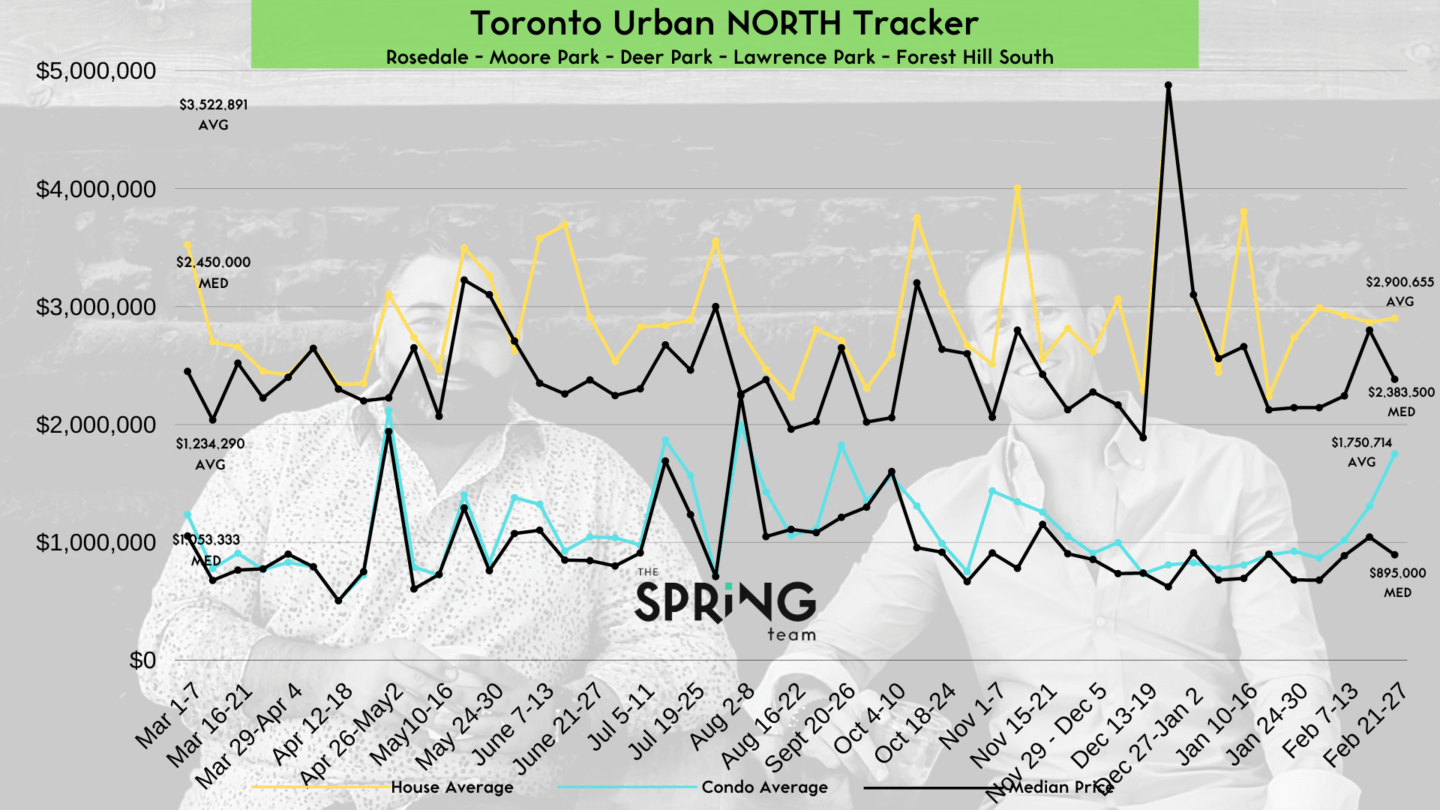 House Average Price: $2,900,655
House Median Price: $2,383,500
91 Active Listings
14 Firm Sales This Week
Months of Inventory (MoI) ~ 1.42
Condo Average Price: $1,750,714
Condo Median Price: $895,000
165 Active Listings
21 Firm Sales This Week
MoI ~ 2.85
Leaside & Davisville
Houses are still under one month of inventory and buyers are out in full force as they're getting priced out of the Urban North Communities. You'll need a min of $1.5 to get into a finished move-in-ready home here and you can get amazing 40' lot newly renovated gems in the Bessborough PS district for up to $5mm. I went to Bessborough… a great school! Obviously 🙂
Condo months of inventory are at an all-time low here and we can see that in real-time with more offers than we've ever seen in this area. If you're buying a condo under a million you're 100% going to be in competition here (and it all other communities)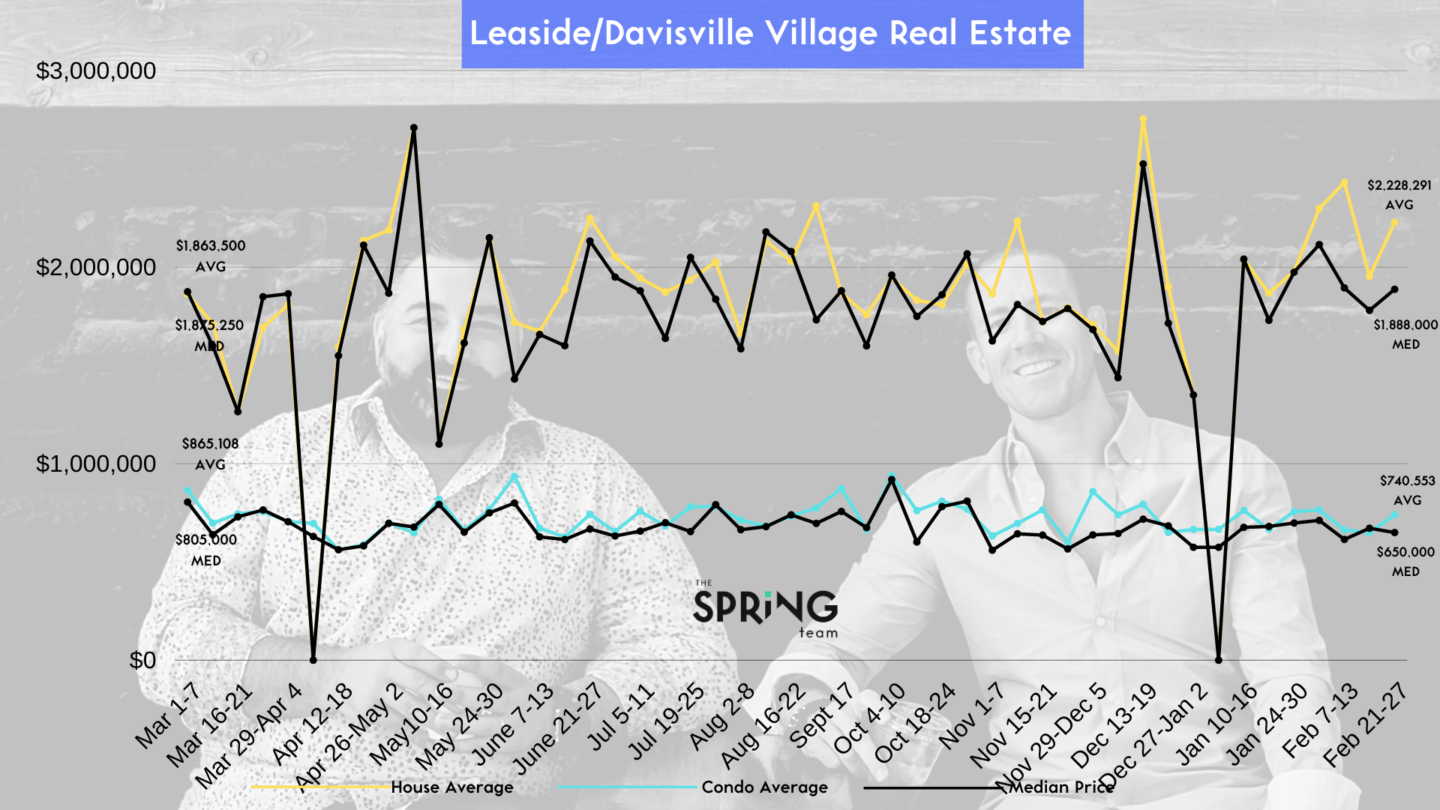 House Average Price: $2,228,291
House Median Price: $1,888,000
33 Active Listings
11 Firm Sales This Week
Months of Inventory (MoI) ~ 0.93
Condo Average Price: $740,553
Condo Median Price: $650,000
72 Active Listings
19 Firm Sales This Week
MoI ~ 1.27
Birch Cliff
Pay no attention to the average price here…simply focus on Months of Inventory and you'll see a problem! The lowest of all the communities we're tracking. About a week's worth of inventory here. There should be a ton more sales activity in the coming weeks/months as developers list their finished projects. Expect average pricing here to POP towards Q4 of 2021.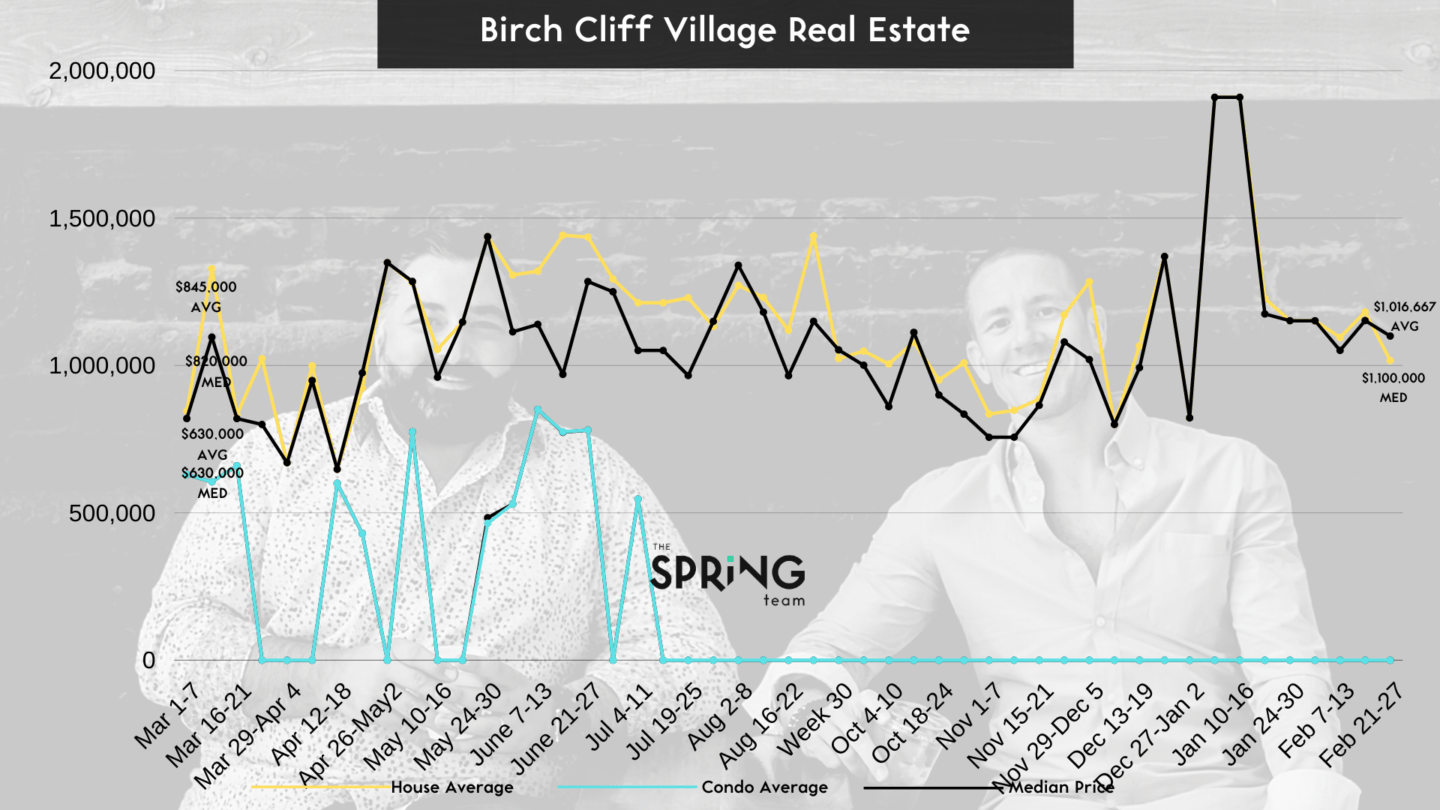 House Average Price: $1,016,667
House Median Price: $1,100,000
13 Active Listings
3 Firm Sales This Week
Months of Inventory (MoI) ~ 0.28
Thanks so much for your energy and attention! If you need clarity on any of this or want to talk about your specific situation then call/text/email anytime: ara@thespringteam.ca or 416-434-1511