What's keeping people from coming to market? If they have kids, well, I'd imagine dealing with homeschooling etc.. is putting some serious strain on any staging/showing efforts so folks are opting to push their selling plans down the road a little. Normally we'd have loads of new listings hit the market the first business week of the new year. That's clearly not happening with historically low levels of inventory almost across the board.
Condos are the biggest surprise coming back way faster than expected. Nearly 2000 units have been absorbed in the downtown and urban markets within a matter of weeks. So when I say that the window of opportunity for deals is closing, I'm not just saying that to get you to put more money in my pocket.
𝗗𝗼𝘄𝗻𝘁𝗼𝘄𝗻 & 𝗦𝘂𝗿𝗿𝗼𝘂𝗻𝗱𝗶𝗻𝗴 𝗨𝗿𝗯𝗮𝗻 𝗖𝗼𝗺𝗺𝘂𝗻𝗶𝘁𝗶𝗲𝘀
Um…just over a half month of inventory available for houses right now in the core and surrounding areas. Pardon my french but HOLY SHIT. I have never in nearly 13 years of selling real estate seen inventory this low. I know we just came out of the Holiday down season but there's nothing normal about this and Sellers are about to have all the buyers throwing money at them.
Buyers: The good news is that condo prices are still well below March 2020 levels. The bad news is that they are all selling now and inventory has been absorbed in a rate I've never seen before. With only 2.2 months of inventory (down from a high of nearly 7mths early sept), this isn't just a seasonal slowdown.
It's Jan 5th and nothing new is being listed so expect a little more activity and even some competition when making offers out there. Houses? Did you see the MoI below? Buyers you'd better be working with a local pro because it's no joke out there. Competition is fierce and you need a rock-solid pro in your corner.
You're not going to be able to "outsave" this market so if you're waiting to bank another few thousand before pulling the trigger, you're doing more harm than good. Best to jump in now while you can or wait for the lull..whenever that is.
Sellers: now is the time to get your house on the market if you're ready to make a move. Seriously, this isn't some "tactic" for us to get more business. If you have an agent call them to get your home evaluated. If you are able to go to market in the next week or so you will be rewarded with a massive sale price. Download our Seller's guide to see what we do 🙂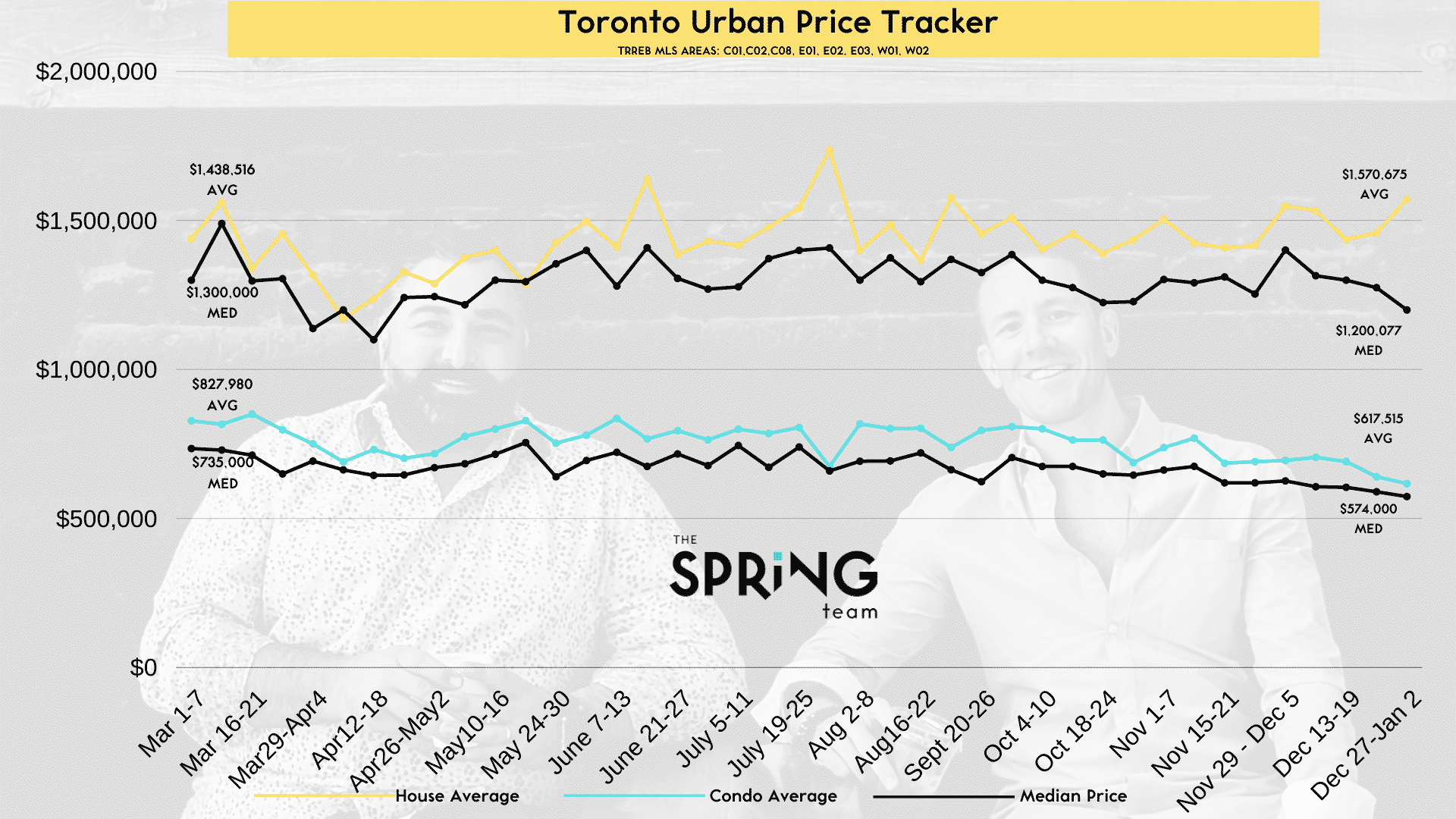 🏠 𝗛𝗼𝘂𝘀𝗲𝘀
📈House Average Price: $1,570,675
📈House Median Price: $1,200,077
📈212 Active Listings
📈9 Firm Sales This Week
📈Months of Inventory (MoI) ~ 0.59 (WOW…extreme seller's market alert)
📈Average Days on Market ~ 12 DoM
🏢𝗖𝗼𝗻𝗱𝗼𝘀
📈Condo Average Price: $617,515
📈Condo Median Price: $574,000
📈1449 Active Listings
📈55 Firm Sales This Week
📈MoI ~ 2.23
📈Average Days on Market (DOM) ~ 32
𝗨𝗿𝗯𝗮𝗻 𝗡𝗼𝗿𝘁𝗵: 𝗥𝗼𝘀𝗲𝗱𝗮𝗹𝗲, 𝗗𝗲𝗲𝗿 𝗣𝗮𝗿𝗸, 𝗠𝗼𝗼𝗿𝗲 𝗣𝗮𝗿𝗸, 𝗙𝗼𝗿𝗲𝘀𝘁 𝗛𝗶𝗹𝗹, & 𝗟𝗮𝘄𝗿𝗲𝗻𝗰𝗲 𝗣𝗮𝗿𝗸
Again, forget about average prices here as there were only a couple of house sales during this traditionally slow week HOWEVER months of inventory is extraordinarily low here at just one month while condos have also dipped below historical lows to 3.45 months.
Houses should see some more inventory here as the weeks pass. Many parents having to deal with their kids at home are likely keeping that from happening. But expect fierce competition here as there aren't many listings for Buyers to consider so existing inventory will have a LOT of attention. Especially with only one month of inventory available.
Condos' low inventory levels aren't too much of a surprise here as the more mature demographic of these condo communities is more likely to wait until vaccines take hold and safety can be assured. Decent buying opportunities do exist here but not as many as there were. Sellers seem to be patient and are ignoring low ballers regularly. There was a time for "giving it a shot with a lowball" but sadly, that's not the market we're in any longer.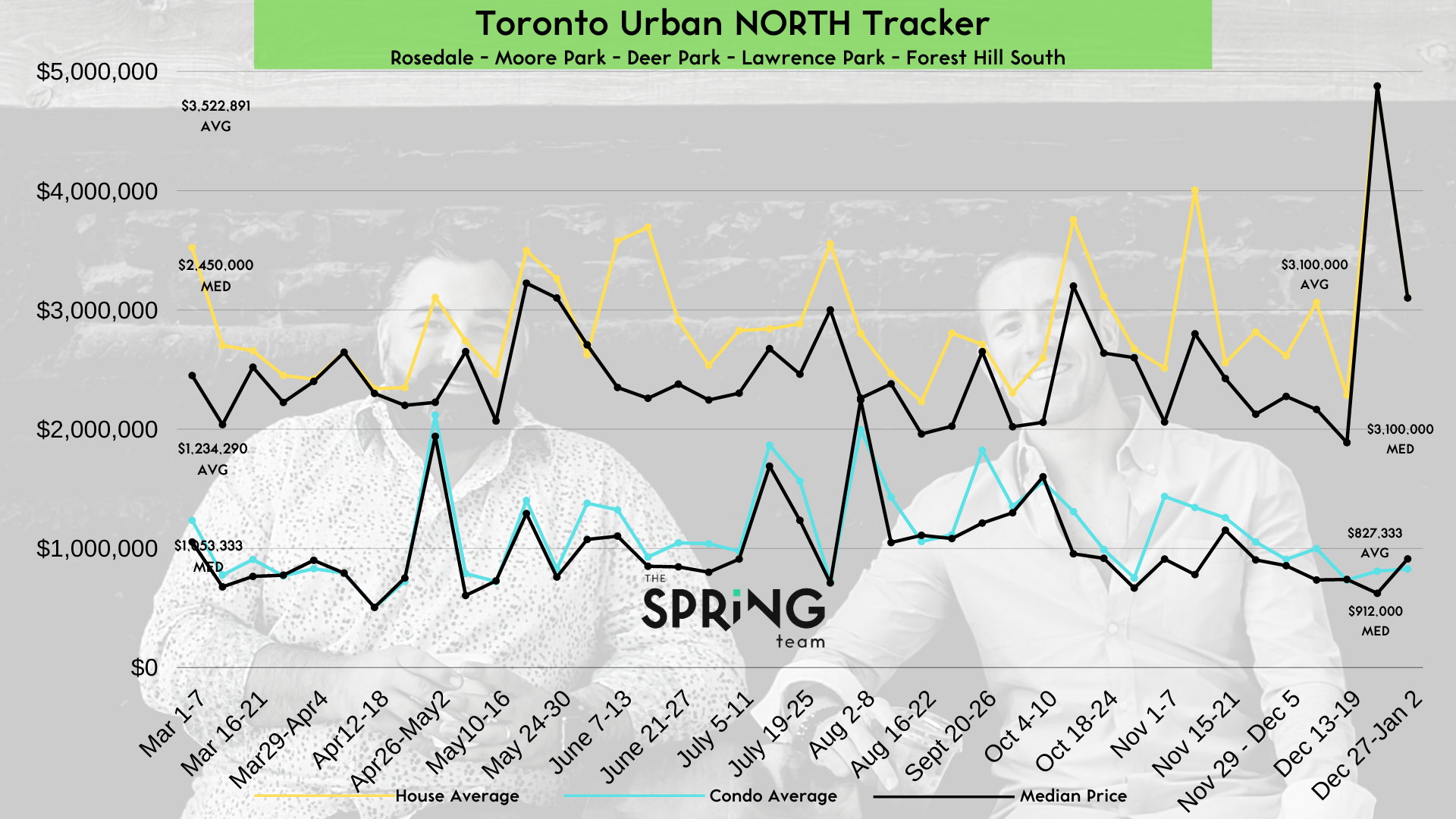 🏠 𝗛𝗼𝘂𝘀𝗲𝘀
📈House Average Price: $3,100,000
📈House Median Price: $3,100,000
📈65 Active Listings
📈2 Firm Sales This Week
📈Months of Inventory (MoI) ~ 1.00
🏢𝗖𝗼𝗻𝗱𝗼𝘀
📉Condo Average Price: $827,333
📉Condo Median Price: $912,000
📉186 Active Listings
📉3 Firm Sales This Week
📉MoI ~ 3.45
𝗟𝗲𝗮𝘀𝗶𝗱𝗲 & 𝗗𝗮𝘃𝗶𝘀𝘃𝗶𝗹𝗹𝗲
Please pay zero attention to the average pricing this week as there were only one house sale and 5 condo sales. But what's important to look at is the months of inventory here as well. Only a half month of inventory for houses in Leaside/Davisville areas. 2021 is going to be an interesting year for this area as many downtown sellers are looking to make moves here for more space.
Condos also saw a massive decrease in MoI and as demand for this area continues to grow (as Yonge and Eg gets more expensive). Prices remain relatively stable here with Sellers sticking to their asking prices.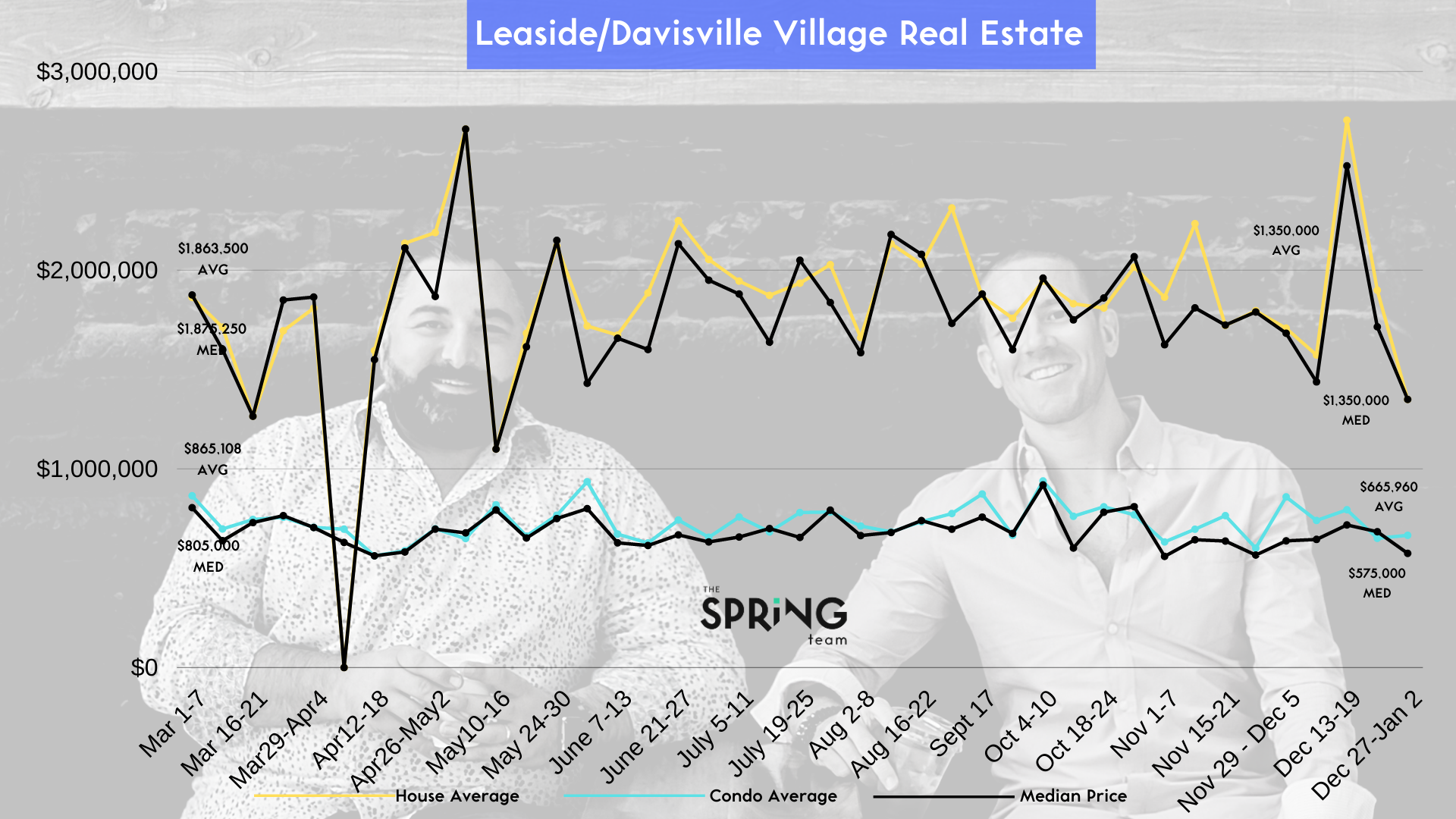 🏠 𝗛𝗼𝘂𝘀𝗲𝘀
📈House Average Price: $1,350,000
📈House Median Price: $1,350,000
📈21 Active Listings
📈1 Firm Sales This Week
📈Months of Inventory (MoI) ~ 0.57 (WHAT?)
🏢𝗖𝗼𝗻𝗱𝗼𝘀
📉Condo Average Price: $665,960
📉Condo Median Price: $575,000
📉137 Active Listings
📉5 Firm Sales This Week
📉MoI ~ 2.67
𝗕𝗶𝗿𝗰𝗵 𝗖𝗹𝗶𝗳𝗳
Again only two sales so ignore the average pricing here but months of inventory is getting close to ZERO. That's not a good thing at all especially if you're a buyer but obviously, sellers will be taking that MoI all the way to the bank!
Houses here are in great demand and I don't see that changing as we start off 2021.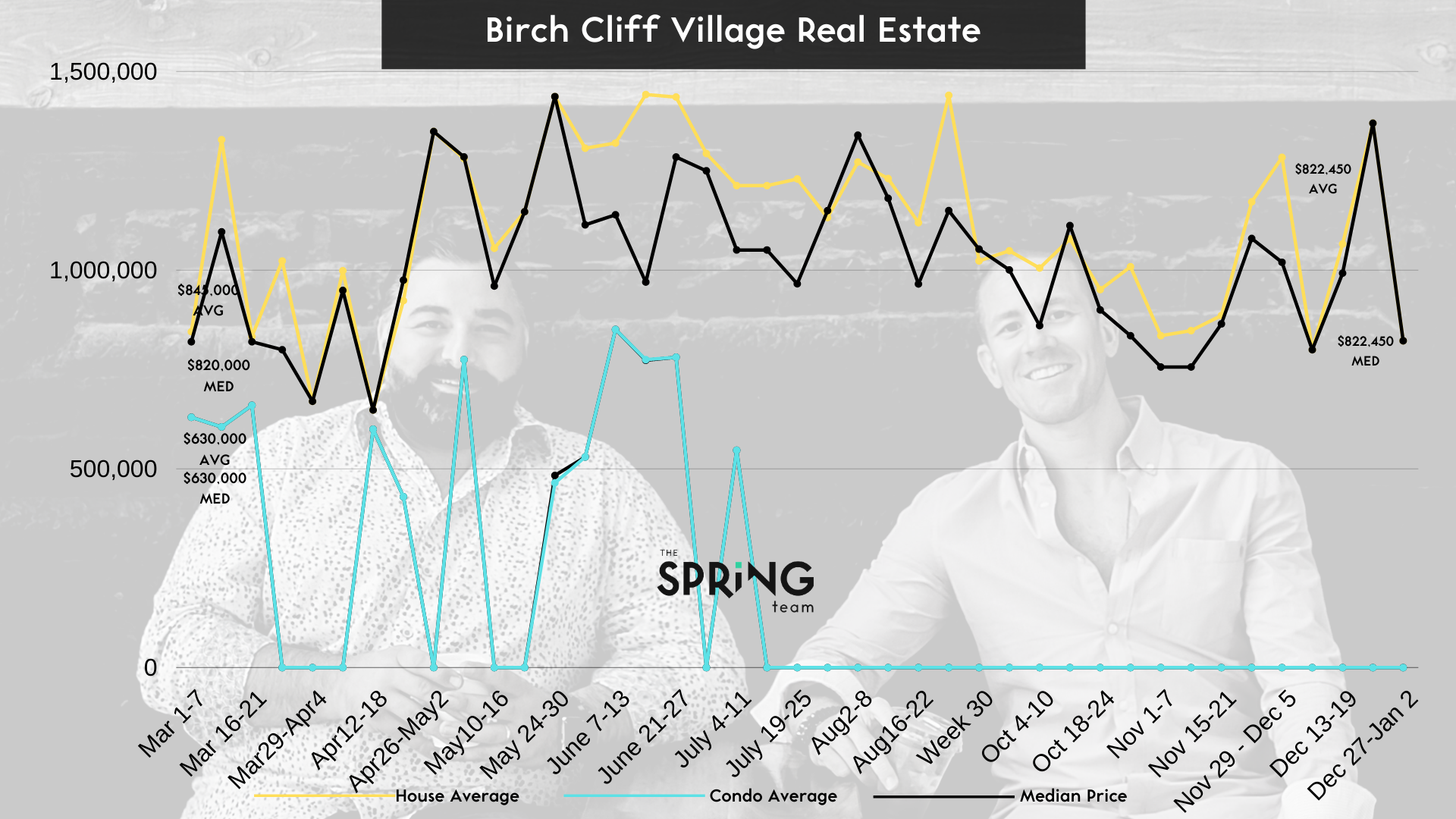 📈House Average Price: $822,450
📈House Median Price: $822,450
📈8 Active Listings
📈2 Firm Sales This Week
📈Months of Inventory (MoI) ~ 0.33
Thank you so much for your attention as we start off in 2021! If you need clarity on any of this or want to talk about your specific situation then call/text/email anytime: ara@thespringteam.ca or 416-434-1511