[𝙑𝙞𝙙𝙚𝙤 𝘽𝙚𝙡𝙤𝙬] 𝙒𝙚𝙚𝙠 15'𝙨 𝙩𝙝𝙚𝙢𝙚 𝙞𝙨: 𝙒𝙝𝙖𝙩 𝙋𝙖𝙣𝙙𝙚𝙢𝙞𝙘?
🏠 𝗛𝗼𝘂𝘀𝗲𝘀 are absolutely on fire in Toronto's Urban Communities and the Core. 74 Firm sales (only a dozen short of pre-covid highs) and multiple offers on 43 of them speak to the sheer resilience of Toronto regardless of what's happening in the World.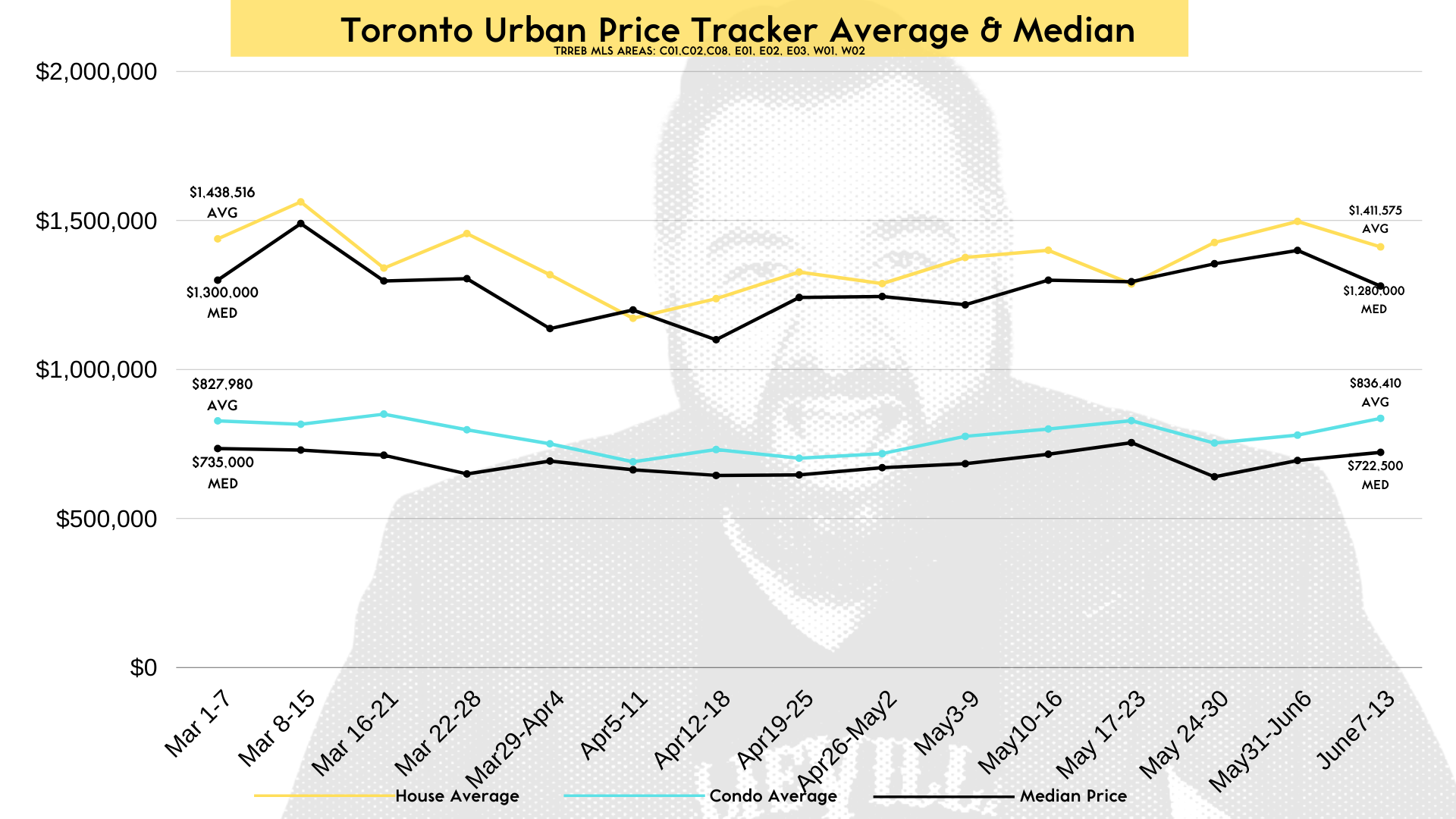 𝘿𝙤𝙣'𝙩 𝙜𝙚𝙩 𝙞𝙩 𝙩𝙬𝙞𝙨𝙩𝙚𝙙, 𝙩𝙝𝙚𝙨𝙚 𝙖𝙧𝙚𝙣'𝙩 𝙨𝙥𝙚𝙘𝙪𝙡𝙖𝙩𝙤𝙧𝙨. 𝙏𝙝𝙚𝙨𝙚 𝙖𝙧𝙚 𝙧𝙚𝙖𝙡 𝙥𝙚𝙤𝙥𝙡𝙚 𝙗𝙪𝙮𝙞𝙣𝙜 𝙝𝙤𝙢𝙚𝙨 𝙛𝙤𝙧 𝙩𝙝𝙚𝙢𝙨𝙚𝙡𝙫𝙚𝙨.
📈House Average Price: $1,411,575
📈House Median Price: $1,280,000
📈394 Active Listings
📈Months of Inventory (MoI) ~ 2.07 months (extremely low)
📈Average Days on Market – 11 DoM (median 6 DoM)
𝙈𝙤𝙨𝙩 𝙐𝙧𝙗𝙖𝙣 𝙃𝙤𝙢𝙚𝙨 𝙖𝙧𝙚 𝙨𝙚𝙡𝙡𝙞𝙣𝙜 𝙚𝙭𝙩𝙧𝙚𝙢𝙚𝙡𝙮 𝙦𝙪𝙞𝙘𝙠𝙡𝙮 𝙬𝙞𝙩𝙝 𝙤𝙣𝙡𝙮 𝙖 𝙛𝙚𝙬 𝙖𝙘𝙩𝙪𝙖𝙡𝙡𝙮 𝙢𝙖𝙠𝙞𝙣𝙜 𝙞𝙩 𝙩𝙤 𝙤𝙛𝙛𝙚𝙧 𝙙𝙖𝙮. 𝙄𝙛 𝙮𝙤𝙪'𝙧𝙚 𝙖 𝘽𝙪𝙮𝙚𝙧 𝙮𝙤𝙪 𝙨𝙝𝙤𝙪𝙡𝙙 𝙗𝙚 𝙢𝙖𝙠𝙞𝙣𝙜 𝙥𝙧𝙚-𝙚𝙢𝙥𝙩𝙞𝙫𝙚 𝙗𝙞𝙙𝙨 𝙖𝙨 𝙤𝙛𝙩𝙚𝙣 𝙖𝙨 𝙥𝙤𝙨𝙨𝙞𝙗𝙡𝙚.
I've canvassed many clients and most are very secure and comfortable in their high paying jobs. Many Buyers that were riding out the storm are now back and fully funded.
𝗧𝗼𝗿𝗼𝗻𝘁𝗼'𝘀 𝘂𝗻𝗲𝗺𝗽𝗹𝗼𝘆𝗺𝗲𝗻𝘁 𝗿𝗮𝘁𝗲 𝗱𝗶𝗽𝗽𝗲𝗱 𝘀𝗹𝗶𝗴𝗵𝘁𝗹𝘆 𝗳𝗿𝗼𝗺 𝗹𝗮𝘀𝘁 𝘄𝗲𝗲𝗸 𝘁𝗼 𝟭𝟭.𝟮% (𝗳𝗿𝗼𝗺 𝟭𝟭.𝟱%) 𝗮𝗻𝗱 𝗜 𝘀𝗲𝗲 𝘁𝗵𝗮𝘁 𝗶𝗺𝗽𝗿𝗼𝘃𝗶𝗻𝗴 𝗶𝗻𝘁𝗼 𝘁𝗵𝗲 𝗰𝗼𝗺𝗶𝗻𝗴 𝘄𝗲𝗲𝗸𝘀.
🏢𝗖𝗼𝗻𝗱𝗼𝘀 had the best week of sales since before Covid with 104 sales. First time over 100 sales since the first week of March. 34 of those sales went over asking with multiple bids. The majority of those over asking sales were under $800K.
📈Condo Average Price: $836,410
📈Condo Median Price: $722,500
📈1550 Active Listings
📈MoI ~ 4.86 months of inventory
📈Average Days on Market (DOM) – 20.6 DoM (Median 13)
𝙏𝙝𝙚𝙧𝙚 𝙖𝙧𝙚 𝙘𝙪𝙧𝙧𝙚𝙣𝙩𝙡𝙮 115 𝘾𝙤𝙣𝙙𝙤𝙨 𝙨𝙤𝙡𝙙 𝙘𝙤𝙣𝙙𝙞𝙩𝙞𝙤𝙣𝙖𝙡𝙡𝙮 𝙣𝙤𝙩 𝙞𝙣𝙘𝙡𝙪𝙙𝙚𝙙 𝙞𝙣 𝙩𝙝𝙚 𝙖𝙗𝙤𝙫𝙚 𝙣𝙪𝙢𝙗𝙚𝙧𝙨 𝙨𝙤 𝙬𝙚 𝙖𝙡𝙧𝙚𝙖𝙙𝙮 𝙠𝙣𝙤𝙬 𝙩𝙝𝙖𝙩 𝙣𝙚𝙭𝙩 𝙬𝙚𝙚𝙠'𝙨 𝙨𝙖𝙡𝙚𝙨 𝙬𝙞𝙡𝙡 𝙗𝙚 𝙬𝙖𝙮 𝙪𝙥 𝙩𝙤 𝙥𝙧𝙚-𝙘𝙤𝙫𝙞𝙙 𝙡𝙚𝙫𝙚𝙡𝙨 𝙞𝙛 𝙣𝙤𝙩 𝙝𝙞𝙜𝙝𝙚𝙧.
𝗪𝗵𝗮𝘁 𝗱𝗼𝗲𝘀 𝗮𝗹𝗹 𝘁𝗵𝗶𝘀 𝗺𝗲𝗮𝗻 𝘁𝗼 𝘆𝗼𝘂? It means that the demand for Toronto is at an all time high. We have attention from all over the World and we're seen as a safe place for money. Our real estate market has proven its strength time and time again and the people of the World finally know en masse what we locals have known for ever.
𝗧𝗼𝗿𝗼𝗻𝘁𝗼 𝗶𝘀 𝘁𝗵𝗲 𝗴𝗿𝗲𝗮𝘁𝗲𝘀𝘁 𝗖𝗶𝘁𝘆 𝗶𝗻 𝘁𝗵𝗲 𝗪𝗼𝗿𝗹𝗱 𝗮𝗻𝗱 𝘄𝗲'𝗿𝗲 𝗯𝗼𝘂𝗻𝗰𝗶𝗻𝗴 𝗯𝗮𝗰𝗸 𝗳𝗿𝗼𝗺 𝘁𝗵𝗶𝘀 𝗣𝗮𝗻𝗱𝗲𝗺𝗶𝗰 𝗾𝘂𝗶𝗰𝗸𝗲𝗿 𝗮𝗻𝗱 𝘀𝘁𝗿𝗼𝗻𝗴𝗲𝗿 𝘁𝗵𝗮𝗻 𝗲𝘃𝗲𝗿. 𝗧𝗵𝗲𝗿𝗲 𝗺𝗮𝘆 𝘃𝗲𝗿𝘆 𝘄𝗲𝗹𝗹 𝗯𝗲 𝗮 𝟮𝗻𝗱 𝘄𝗮𝘃𝗲 𝗼𝗳 𝗶𝗻𝗳𝗲𝗰𝘁𝗶𝗼𝗻𝘀 𝗮𝗻𝗱 𝗼𝘂𝗿 𝗲𝗰𝗼𝗻𝗼𝗺𝘆 𝗺𝗮𝘆 𝗵𝗮𝘃𝗲 to 𝘀𝗹𝗼𝘄/𝘀𝘁𝗼𝗽 𝗮𝗴𝗮𝗶𝗻. 𝗕𝘂𝘁 𝗶𝗳 𝗵𝗶𝘀𝘁𝗼𝗿𝘆 𝗶𝘀 𝗮𝗻𝘆 𝗶𝗻𝗱𝗶𝗰𝗮𝘁𝗼𝗿..𝘄𝗲'𝗿𝗲 𝗿𝗲𝗮𝗱𝘆 𝗳𝗼𝗿 𝗶𝘁 𝗮𝗻𝗱 𝗰𝗮𝗻 𝗵𝗮𝗻𝗱𝗹𝗲 𝗶𝘁.
There are still some opportunities in the condo assignment market but nobody is dropping their pants on prices anymore. We had a small window of deals end of March but those days are long gone.
𝗣𝗿𝗲-𝗰𝗼𝗻𝘀𝘁𝗿𝘂𝗰𝘁𝗶𝗼𝗻 𝗶𝘀 𝘀𝘁𝗶𝗹𝗹 𝗮𝗻 𝘂𝗻𝗸𝗻𝗼𝘄𝗻 as there haven't been any launches during Covid in Toronto's urban markets. The first launch and an excellent litmus test is going to be 28 Eastern Ave by Alterra Developments. We're helping launch that June 30th so make sure you're signed up here –> www.CorktownCondos.co
𝙒𝙖𝙩𝙘𝙝 𝙢𝙤𝙧𝙚 𝙞𝙣 𝙩𝙝𝙚 𝙫𝙞𝙙𝙚𝙤 𝙗𝙚𝙡𝙤𝙬 𝙖𝙣𝙙 𝙫𝙞𝙨𝙞𝙩 𝙏𝙝𝙚𝙎𝙥𝙧𝙞𝙣𝙜𝙏𝙚𝙖𝙢.𝙘𝙖/𝙗𝙡𝙤𝙜
As always, please comment below, DM, or call/text 416-434-1511 if any questions. cc: The Spring Team Real Estate