Desperate times call for desperate measures, right?
If you're in the tech industry and the thought of Trump in the White House has you seriously considering a move to Canada, I've got some good news for you: it's easier than you think, especially if you're in tech (more on that below).
Sure, the whole "I'm moving to Canada" thing was understandably funny when it seemed impossible for Hillary to lose but the game has changed.
That sweet California weather is tough to beat but moving to Canada will look more like a win than a consolation prize when you weigh all of the pros and cons.
To name a few:
The cost of living in Toronto is 32% less than San Francisco (and 35% less than Palo Alto)
A true universal healthcare system (Yes, even mental health, Donald!)
Canada's tech industry has exploded, even when the rest of the economy dipped
It's about to get easier than ever to get into the country for the tech industry
$1 US = $1.34 CAD. Need I say more?
The Toronto Tech Scene Is HUGE
It isn't just huge, it's YUGE.
Toronto's tech scene has been exploding the last few years and has entered what some are calling a "blossom stage" right now.
"We have really great talent, low cost to build [part of that is thanks to the tax credits; part of it is the currency, and] we find and serve our customers from all over the world." – Mark MacLeod, former CFO for Shopify
Some of the biggest players in the tech world already have their HQ setup in Ontario, (Canada's largest province) including Uber, Kik, and Shopify.
Bay Street, aka Canada's Wall Street, has played a significant role in helping Toronto compete for FinTech capital of the world with over 100 Fintech startups in the area including the popular cloud-based accounting software Freshbooks.
In fact, Canada's tech scene is getting so big that the government has seen the need to decrease friction for companies that want to hire foreign workers because the demand outweighs current supply…
Canada Loosens Rules For Foreign Tech Workers
Despite a booming tech scene, Canada is starved for skilled talent with an estimated shortage of 200,000 workers by the year 2020. To combat this, the government has announced new measures rolling out that will give Canadian companies easier access to foreign tech talent.
Companies that qualify will be able to shorten down the visa and work permit approval process from several months to a two-week standard. Shorter stints will be accommodated with 30-days-a-year permits focused on temporary needs.
Check to see if you qualify for Express Entry.
Cost of Living Comparison
How do costs in Toronto compare to San Francisco? On average, Toronto's costs are:
Food: 25% less
Housing: 54% less
Entertainment: 12% less
Healthcare: FREE after you receive landed immigrant status
(Data provided by Expatisan)
Income Tax & Business Tax Rates In Canada
What about taxes? Here's a quick calculator to help determine what your effective tax rate will be depending on your income.
Housing Costs In Toronto Vs Silicon Valley
How does #the6ix stack up to Silicon Valley when it comes to real estate costs?
The average sale price for homes in Toronto have gone up over 20% in the last year but are still quite humble in comparison to the cost of California living. If you have the cash, growth for Toronto real estate leaves a big investment opportunity for Americans.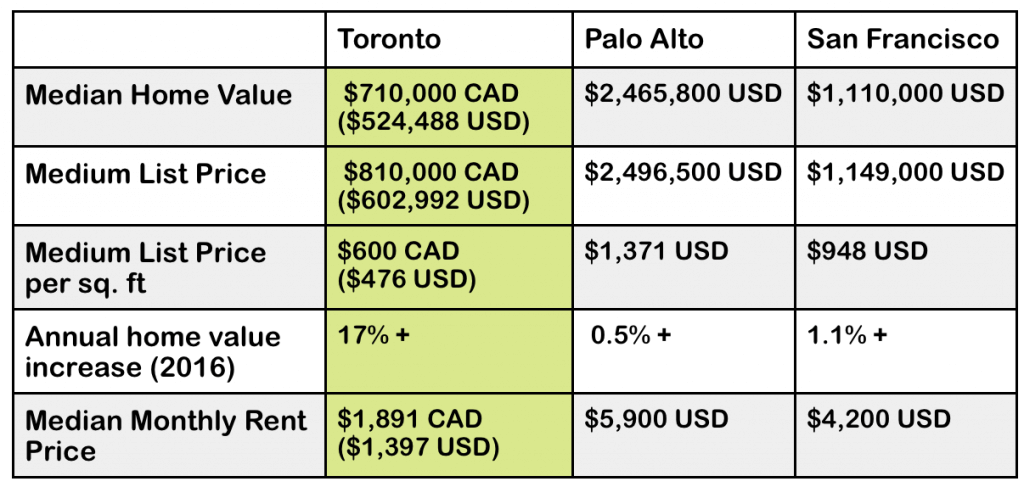 Toronto's eclectic mix of modern condos and historic reclaimed buildings are as plentiful as the streets of townhouses. You get major bang for your buck with a buy in Toronto versus SF or the valley with more space, more swag, property upgrades, chic neighbourhoods (and neighbours that didn't vote for Trump).
Toronto's Hot Neighbourhoods
Liberty Village (similar to Dog Patch)
Liberty Village has a great startup scene that's full of abandoned warehouses that were converted into tech offices in recent years. It's half industrial, half residential with lots of warehouse-style lofts and offices. It used to be a gritty working class neighbourhood but now it has more of a young professional vibe.
Queen Street West is a foodie and artistic haven. The scene has an underground feel and is laced with great vintage stores, unique shops and those hole-in-the-wall restaurants that always have the best food.
Corktown (similar to Mid-Market)
Corktown is close to the downtown business epicentre but with a lot more character than Toronto's concrete jungle neighbourhoods. You'll find higher end restaurants and an overall more polished feel than the West end.
Two of the biggest draws to Corktown is how close you'll be the popular Distillery District, a hotspot for arts and culture, and the St. Lawrence Market, once named the world's best food market by National Geographic.
Leslieville (similar to Hayes Valley)
Leslieville is a family friendly neighbourhood that feels like a small town right in the middle of the city. One of the biggest draws to this area is you are steps away from Toronto's beautiful beaches – yes, we have beaches!
If you like the perfect balance of healthy food options and classic gastropubs, Leslieville could be right for you.
Your Next Steps
If you're still here then the idea of moving to Toronto hasn't scared you off yet. Use the form below to book a meeting with our team (phone or Skype works great) and we can help you take the first steps to making Toronto your new home.