Leslieville Beer Fest!!! August 27th 2016 1-8pm
Dundas Street East Closed Logan to Carlaw for Leslieville Beer Fest!
August 24th Update: As of TODAY children (of any age) are allowed at the Beerfest aka block party! As long as they're accompanied by an adult, it's all good! So bring your strollers and head on down for a kick a** time!
Whomp Whomp!!! In partnership with the fine fine folks at Dundas & Carlaw (Leslieville's finest patio and bar) we're pleased to present the East Side's first ever Beer Festival! The Leslieville Beerfest is set to take over Dundas Street East between Logan Ave and Carlaw (yup that's right, we're closing down the street!)
(promo code below)
What & When?
Saturday August 27th from 1 – 8pm for 7 hours of epic block party action with over 50 new local beers for you to try, loads of local restauranteurs will be preparing their foods and of course legendary local DJ Matt C is on the ones and twos to keep the energy of the event up. Our boy Dan Cohen owner of the massively successful Arts Market (they've got 3 locations now!) will be curating a collection of local artisans to offer their goods.
Spring Realty (that's us) will have a photobooth set up with fun costumes for you to get crazy with (and we may have a massage station to relax those boozy muscles of yours too). Why should you visit our sponsor booth? Like the Raptors? We'll be giving away platinums to a 2017 game!
Oh and and as a thank you to our readers and local supporters we're going to give you $5 off your ticket click here and make sure to enter promo code: getSPRING. This code will expire very soon so there's no time like the present to buy. We're going to sell out.
How it works
With your $20 ticket you get entry plus 3 tokens. Each token gets your 4oz of beer (nice sample size). EAch token has a value of $1.25 and translates into $5 bones a pint so that's pretty damn good for the highest quality craft beer..amiright? The $40 ticket gets your a custom Leslieville Beerfest T-shirt ($20 value) plus 5 tokens so that's obviously the best deal!
We're so proud to be the title sponsor of the amazing event that's going to put Dundas and Carlaw on the Leslieville map for good. This intersection and the building surrounding it are full of hundreds of small businesses and amazing folks that make our neighbourhood amazing and it's so awesome to see them in the spotlight for once!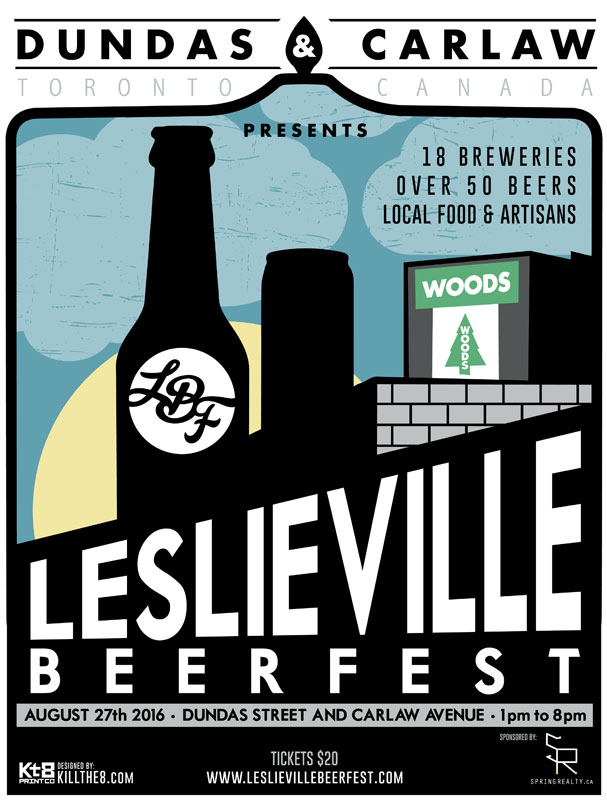 Here are the fine brewers participating: