[Video Below] 𝗪𝗲𝗲𝗸 𝟭𝟰 𝗻𝗼𝘄 𝗶𝗻 𝘁𝗵𝗲 𝗯𝗼𝗼𝗸𝘀.
𝗔 𝗾𝘂𝗶𝗰𝗸 𝗻𝗼𝘁𝗲 𝘁𝗼 𝗮𝗰𝗸𝗻𝗼𝘄𝗹𝗲𝗱𝗴𝗲 𝘁𝗵𝗮𝘁 𝗷𝘂𝘀𝘁 𝗯𝗲𝗰𝗮𝘂𝘀𝗲 𝘀𝗼𝗺𝗲 𝘁𝗶𝗺𝗲 𝗵𝗮𝘀 𝗽𝗮𝘀𝘀𝗲𝗱 𝗱𝗼𝗲𝘀𝗻'𝘁 𝗺𝗲𝗮𝗻 𝗶𝘁'𝘀 𝗯𝘂𝘀𝗶𝗻𝗲𝘀𝘀 𝗮𝘀 𝘂𝘀𝘂𝗮𝗹 𝗮𝗻𝗱 𝘄𝗲 𝗰𝗮𝗻 𝗴𝗼 𝗯𝗮𝗰𝗸 𝘁𝗼 𝗼𝘂𝗿 𝗿𝗲𝗴𝘂𝗹𝗮𝗿𝗹𝘆 𝘀𝗰𝗵𝗲𝗱𝘂𝗹𝗲 𝗽𝗿𝗼𝗴𝗿𝗮𝗺𝘀. 𝗔𝗻𝘁𝗶-𝗯𝗹𝗮𝗰𝗸 𝗿𝗮𝗰𝗶𝘀𝗺 𝗶𝘀 𝗮 𝗯𝗶𝗴 𝗳𝘂𝗰𝗸𝗶𝗻𝗴 𝗽𝗿𝗼𝗯𝗹𝗲𝗺. 𝗦𝗼 𝗯𝘂𝘀𝗶𝗻𝗲𝘀𝘀 𝗺𝗶𝗴𝗵𝘁 𝗻𝗲𝗲𝗱 𝘁𝗼 𝗰𝗼𝗻𝘁𝗶𝗻𝘂𝗲 𝗯𝘂𝘁 𝘁𝗵𝗲 𝘄𝗼𝗿𝗸, 𝘀𝘂𝗽𝗽𝗼𝗿𝘁, 𝗮𝗻𝗱 𝗰𝗵𝗮𝗻𝗴𝗲 𝗺𝘂𝘀𝘁 𝗽𝗿𝗼𝗴𝗿𝗲𝘀𝘀 𝗹𝗼𝘂𝗱𝗹𝘆 𝗿𝗲𝗴𝗮𝗿𝗱𝗹𝗲𝘀𝘀 𝗼𝗳 𝘄𝗵𝗮𝘁 𝘁𝗵𝗲 𝗻𝗲𝘅𝘁 𝗻𝗲𝘄𝘀 𝗰𝘆𝗰𝗹𝗲 𝗵𝗼𝗹𝗱𝘀.
So let's get into it…shall we?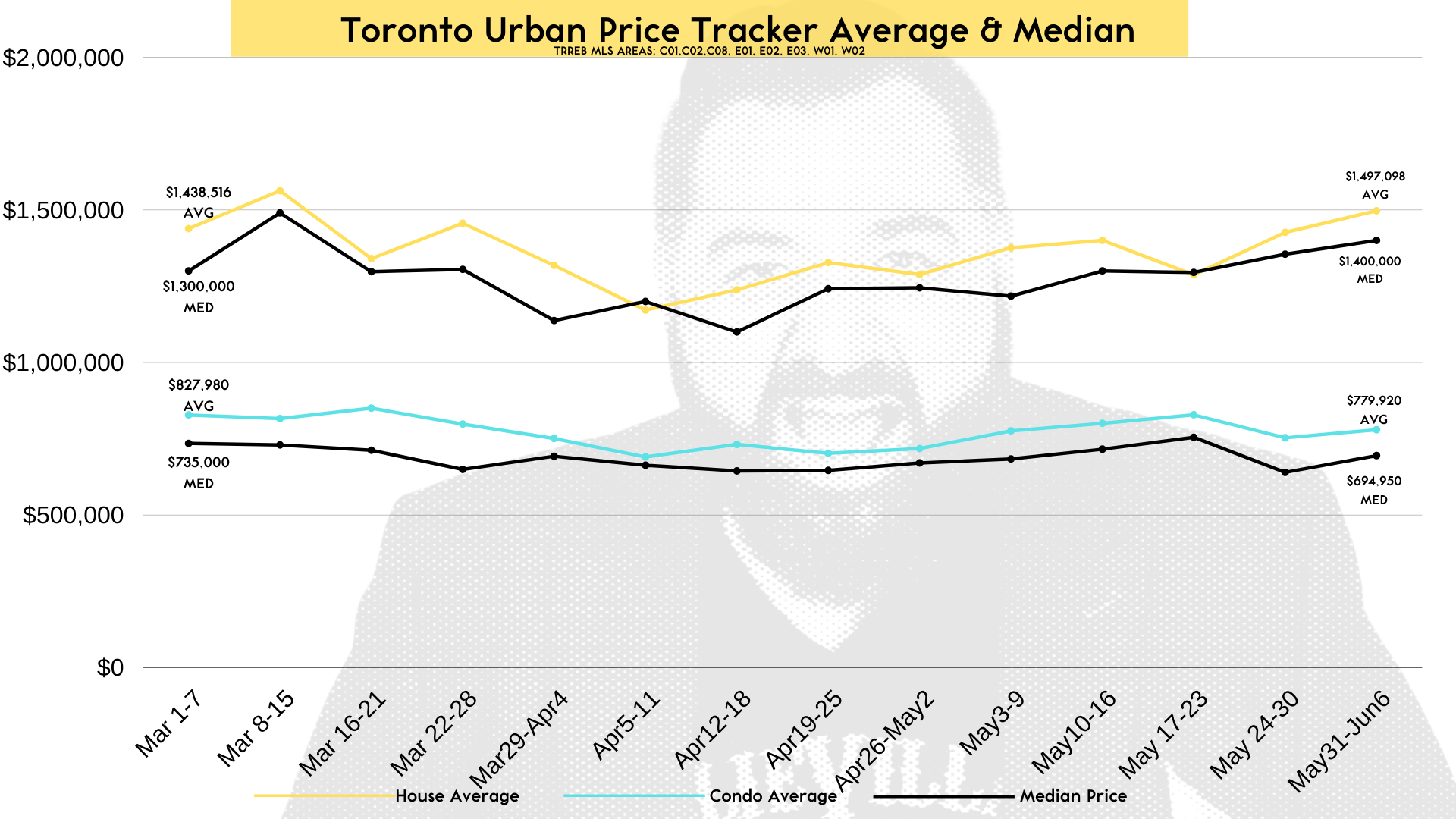 🏠 𝗛𝗼𝘂𝘀𝗲𝘀 have picked up some serious steam over the past couple of weeks almost doubling sales volume with 55 firm sales May 31-Jun6. 41 of them sold in multiple offers over the asking price. Needless to say, the Seller is firmly back in the driver's seat in most urban communities with little to no "deals" available on or off market.
📈House Average Price: $1,497,098
📈House Median Price: $1,400,000
📈366 Active Listings
📈Months of Inventory (MoI) ~ 1.95 months (extremely low)
If you want a finished home that doesn't require much work then you're going to be north of a million with a few very dated but livable options under $950K. Venture out to communities like St. Clair and O'Connor and you'll find a bit more value there.
𝗪𝗵𝗮𝘁 𝗶𝘀 𝗶𝗻𝘁𝗲𝗿𝗲𝘀𝘁𝗶𝗻𝗴 𝘁𝗼 𝘀𝗲𝗲 𝗮𝗿𝗲 𝗯𝗶𝗴 𝘁𝗶𝗰𝗸𝗲𝘁 𝗵𝗼𝗺𝗲𝘀 𝗻𝗼𝗿𝘁𝗵 𝗼𝗳 $𝟮𝗠 𝗰𝗼𝗻𝘀𝗶𝘀𝘁𝗲𝗻𝘁𝗹𝘆 𝗮𝘁𝘁𝗿𝗮𝗰𝘁𝗶𝗻𝗴 𝗺𝘂𝗹𝘁𝗶𝗽𝗹𝗲 𝗯𝗶𝗱𝘀 𝘄𝗶𝘁𝗵 𝗲𝘃𝗲𝗻 𝗮 $𝟮.𝟯𝗠 𝗵𝗼𝗺𝗲 𝗶𝗻 𝗱𝗼𝘄𝗻𝘁𝗼𝘄𝗻 𝘁𝗼𝗿𝗼𝗻𝘁𝗼 𝘀𝗲𝗹𝗹𝗶𝗻𝗴 𝗳𝗼𝗿 𝗷𝘂𝘀𝘁 𝗼𝘃𝗲𝗿 $𝟯𝗠 𝗶𝗻 𝟳 𝗱𝗮𝘆𝘀.
Toronto's unemployment rate is currently 11.5% which is the highest I've ever seen it but that still hasn't affected the typical home buyer/seller. The rental market has been trashed though but freehold rentals seem to still be performing better than condos.
🏢𝗖𝗼𝗻𝗱𝗼𝘀 are coming back super strong right now. Posting 83 firm sales with a whopping 104 additional conditional sales that will firm up over the next week. At this rate we could be back at pre-covid sales volume in a month.
📈Condo Average Price: $779,920
📈Condo Median Price: $694,950
📈1341 Active Listings
📈MoI ~ 4.29 months of inventory
𝙍𝙞𝙜𝙝𝙩 𝙣𝙤𝙬 𝙩𝙝𝙚𝙧𝙚 𝙞𝙨 𝙫𝙚𝙧𝙮 𝙡𝙞𝙩𝙩𝙡𝙚 𝙙𝙞𝙛𝙛𝙚𝙧𝙚𝙣𝙘𝙚 𝙞𝙣 𝙢𝙖𝙧𝙠𝙚𝙩 𝙥𝙧𝙞𝙘𝙚 𝙖𝙣𝙙 𝙖𝙘𝙩𝙞𝙫𝙞𝙩𝙮 𝙞𝙣 𝙤𝙪𝙧 𝙪𝙧𝙗𝙖𝙣 𝙘𝙤𝙢𝙢𝙪𝙣𝙞𝙩𝙞𝙚𝙨 𝙬𝙝𝙚𝙣 𝙘𝙤𝙢𝙥𝙖𝙧𝙚𝙙 𝙩𝙤 𝙥𝙧𝙚-𝙘𝙤𝙫𝙞𝙙.
Some condo prices immediately in the core have suffered sitting longer on the market and selling for 5-8% less than pre-covid but they're mainly airbnb friendly buildings with investors just cashing out.
Now that airbnb is back and Ford about to announce phase 2 of the re-opening, we should see a pull back on some of those panic sellers further swinging the condo market back into the Seller's favour.
House and Condo owners. If you've been worried about the value of your home…please don't. Seller's who take the plunge and list are being rewarded with great offers right now and that should continue into the Summer.
Watch more in the video below and visit TheSpringTeam.ca/blog
As always, please comment below, DM, or call/text 416-434-1511 if any questions.