Estate Sale? Selling Your Home? Renovate First.
I bet you know someone who's currently working on a house to flip or actively looking for a house to flip. Everyday, the phone rings with the same call: "Hey there, looking for a house to renovate or some land to build" to which we respond: "You and everyone else, mister". If anyone's going to find something to work on, it'll be us and we find one every other day for our clients.
Then I had a thought….an "aha" moment if you will
Don't sell your house to an investor….flip your own damn house! (especially if you're managing an Estate Sale)
You've already got what everyone is looking for. You've got the property and the opportunity to profit the most from the project. You don't have to worry about acquisition cost and uncertainty around margins. If you're already planning on selling and your estate needs some work, you're literally leaving tens of thousands of dollars of profit on the table if you don't do the work yourself.
Look, you may be in a position where time isn't on your side and you need to sell. If that's the case, call us or use the live chat below and we'll find that buyer who'll pay you the most for your asset. Maybe there's some quick work that can be done to improve your position in the market with your estate sale.
Estate Sales
Sellers of Estates are leaving so much money on the table it's ridiculous. Why should an investor profit off of your childhood home? Or the home your parents spent so much time caring for over the years. Organize the beneficiaries of the estate and let me present some renovation options.
That home you grew up in that you're about to put on the market can do a much better job of providing for your future. Just take the time to plan it out. 
If you do have some time on your side then let me come in and give you some renovation advice. It's a 45 minute meeting that will actually put more money in your pocket. That's not just "sales speak" to get in your house. The Toronto real estate market is too good to not take advantage yourself. Use the live chat below or contact me now to start the conversation.
Here are some examples of renovations where massive profit were realized by the investor. One of these was an estate sale where the beneficiaries were selling the asset. They didn't want to bother with a renovation.  If there is a good standing relationship with all living members of the estate, taking some time to invest and renovate can literally put hundreds of thousands more in your pocket. Remember, there's likely enough equity in the home to draw from to complete the work. You don't have to put down any of your own cash to do this.
Estate Sale Examples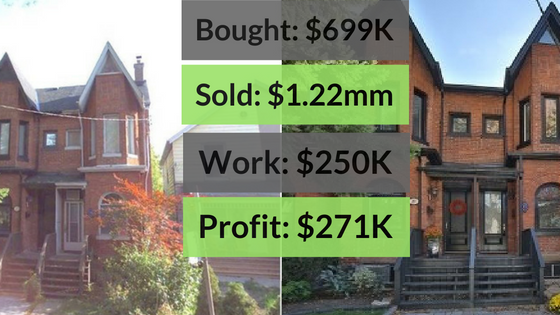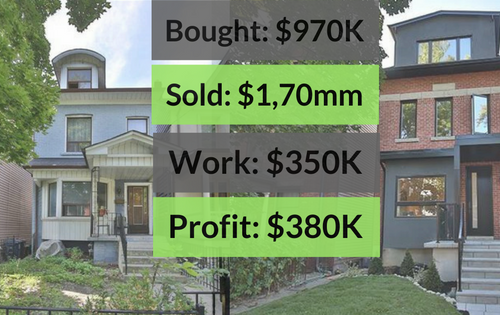 These two are not that uncommon. I mean, you're not going to see this return on every single investment but they're a good example of the gems that exist in this market. There are opportunities that exist that require much less of an investment and others that require much more. Interested? Get in touch and I'll walk you through it. You can decide then if you'd rather sell as-is or put in some work.