Episode 90: Supply at lowest since Q1 2021 as Toronto real estate heats up ahead of winter
Condo supply has officially dropped to below 1,300 units and will continue to drop as we head into the holiday season.
Sales of condos and houses remain stable, and even increased in some areas.
All new listings are being absorbed when they're listed at prices that comparables can't always justify. If a home sells for $1.5mm today, that same home will sell for up to $1.6mm next week.
A reality many buyers aren't grasping, resulting in repeated unsuccessful offers.
A pattern repeated by some under-represented buyers over and over again. Buyers in this market need to understand that they need to go over and above recent comparables to be successful against their competition. Otherwise, it's best to sit this out until inventory increases and prices become more predictable.
But please remember, sitting it out and waiting will cost you money. It always has. There may be more listings for you to choose from when supply improves, but prices will be set at their new high.
The only thing you may avoid is extra competition. It's not worth it. If you're in the market, it's time to listen to the market and do what you have to do to lock up a property—knowing that variable rates are still at all-time lows and all the noise about rates doubling or tripling over the next year is not realistic.
Rates will increase in 2022… that's a guarantee, but it'll be at a much less dramatic 0.5% overall and then again the following year.
From the core to the suburbs (especially North York, Markham, Pickering, Ajax and Oshawa), properties are selling for prices that are putting huge smiles on the faces of sellers.
The bottom line here is, if you are considering selling, NOW IS THE TIME!
There's only been one better time to sell, and that was Q1 of this year.
Oh, one more thing, if you're a client of The Spring Team, make sure you check your email for our Christmas Tree Drive. We've got a ton of trees for our clients, this year but need your RSVP!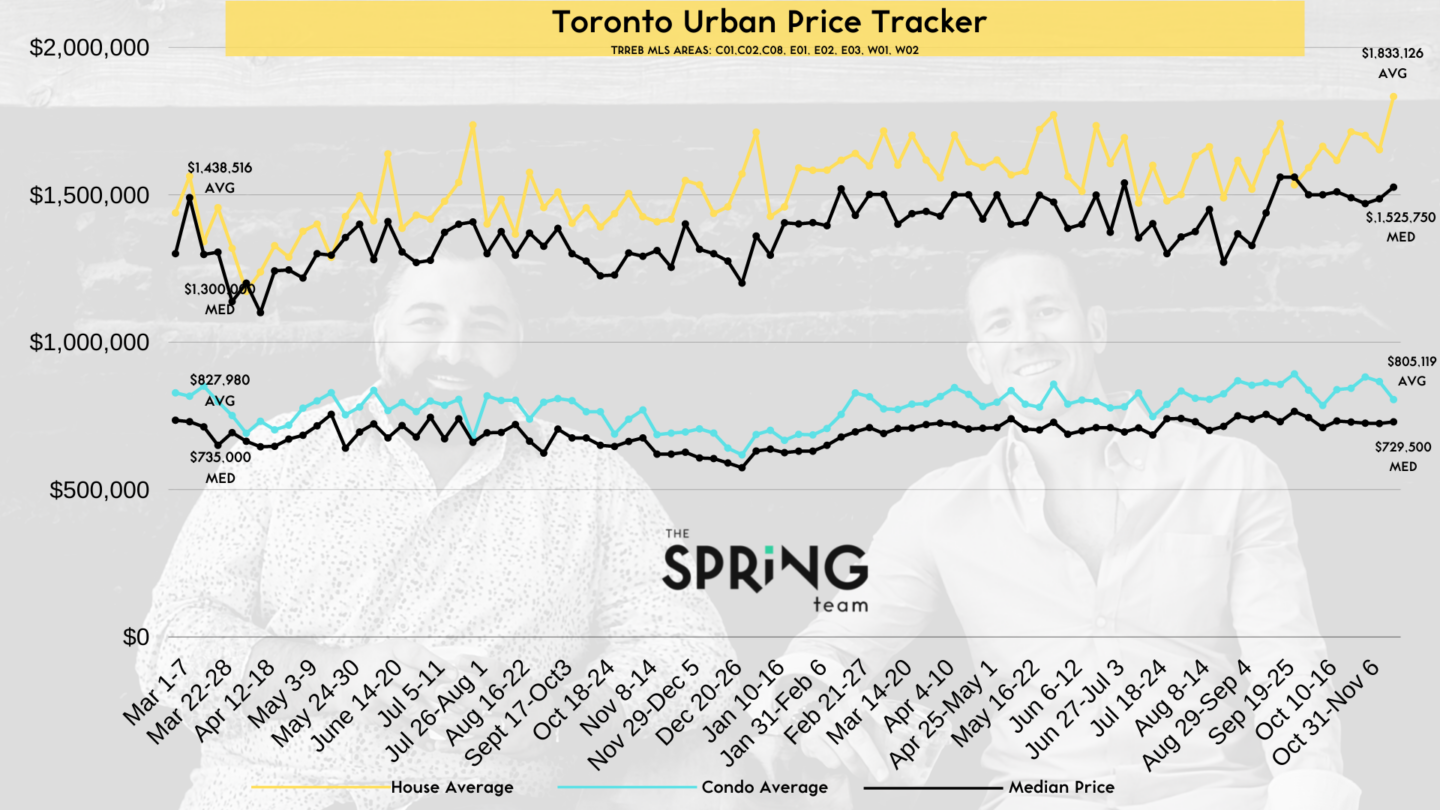 Urban Markets: Downtown & Surrounding Areas
House Average Price: $1,833,126
House Median Price: $1,525,750
355 Active Listings
88 Firm Sales This Week
Months of Inventory (MoI) ~ 1.010
Average Days on Market ~ 14.909 DoM
Condo Average Price: $805,119
Condo Median Price: $729,500
1241 Active Listings
161 Firm Sales This Week
MoI ~ 1.25
Average Days on Market (DOM) ~ 17.23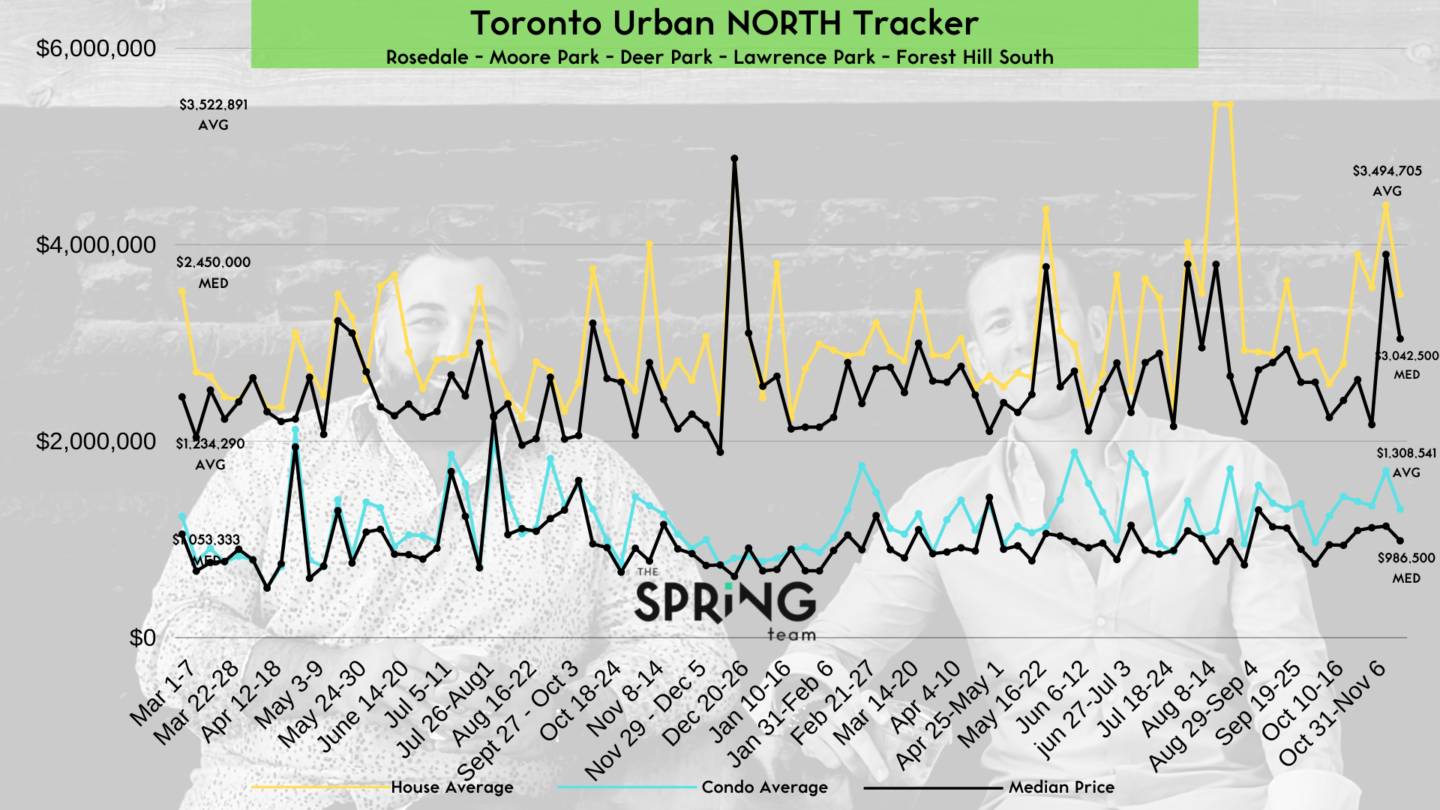 Urban North: Rosedale, Deer Park, Moore Park, Forest Hill, & Lawrence Park
House Average Price: $3,494,705
House Median Price: $3,042,500
95 Active Listings
20 Firm Sales This Week
Months of Inventory (MoI) ~ 1.68
Average Days on Market ~ 27.50 DoM
Condo Average Price: $1,308,541
Condo Median Price: $986,500
213 Active Listings
18 Firm Sales This Week
MoI ~ 2.62
Average Days on Market ~ 25.27 DoM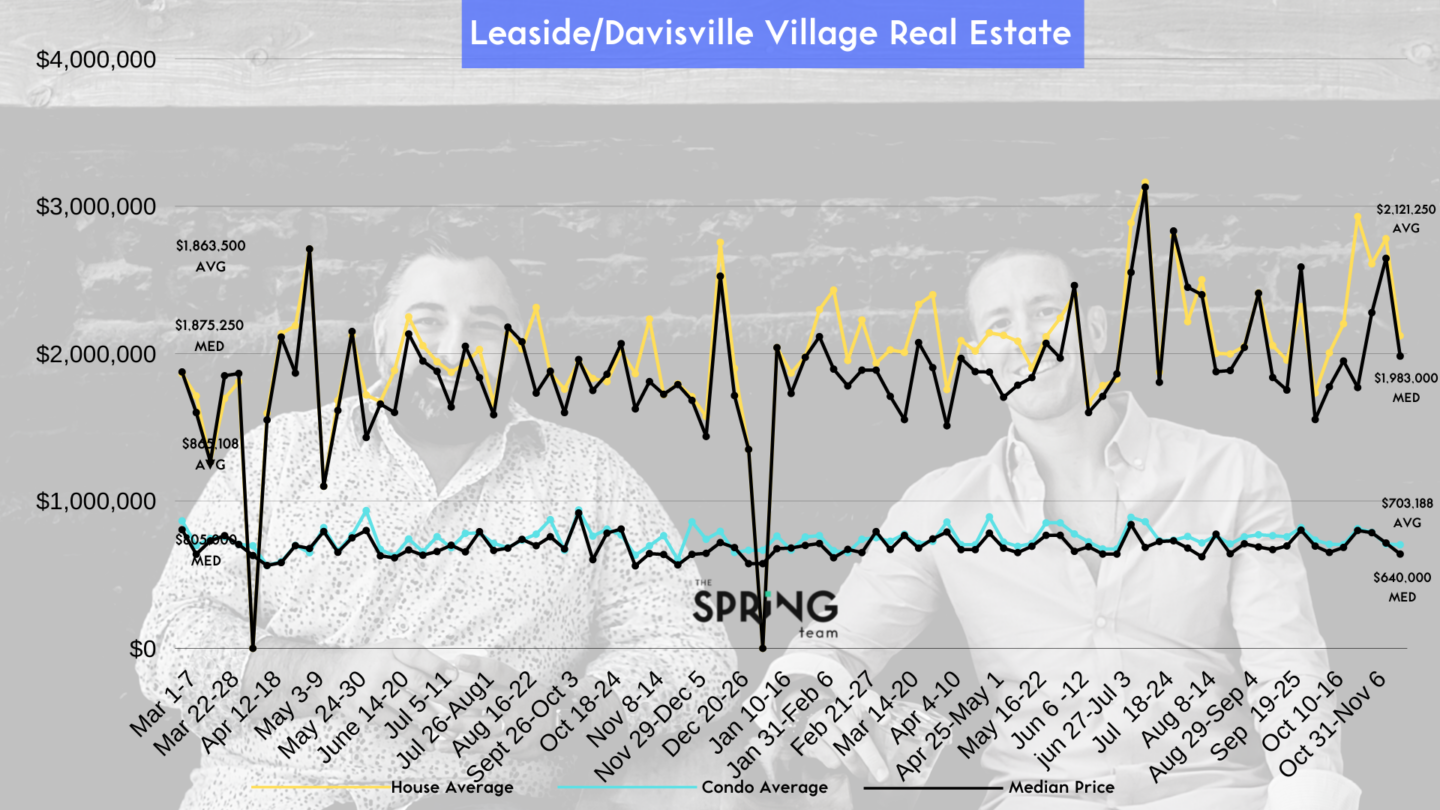 Leaside, Davisville, Yonge & Eglinton
House Average Price: $2,121,250
House Median Price: $1,983,000
39 Active Listings
8 Firm Sales This Week
Months of Inventory (MoI) ~ 0.83
Average Days on Market ~ 4.875 DoM
Condo Average Price: $703,188
Condo Median Price: $640,000
98 Active Listings
16 Firm Sales This Week
MoI ~ 1.24
Average Days on Market ~ 18 DoM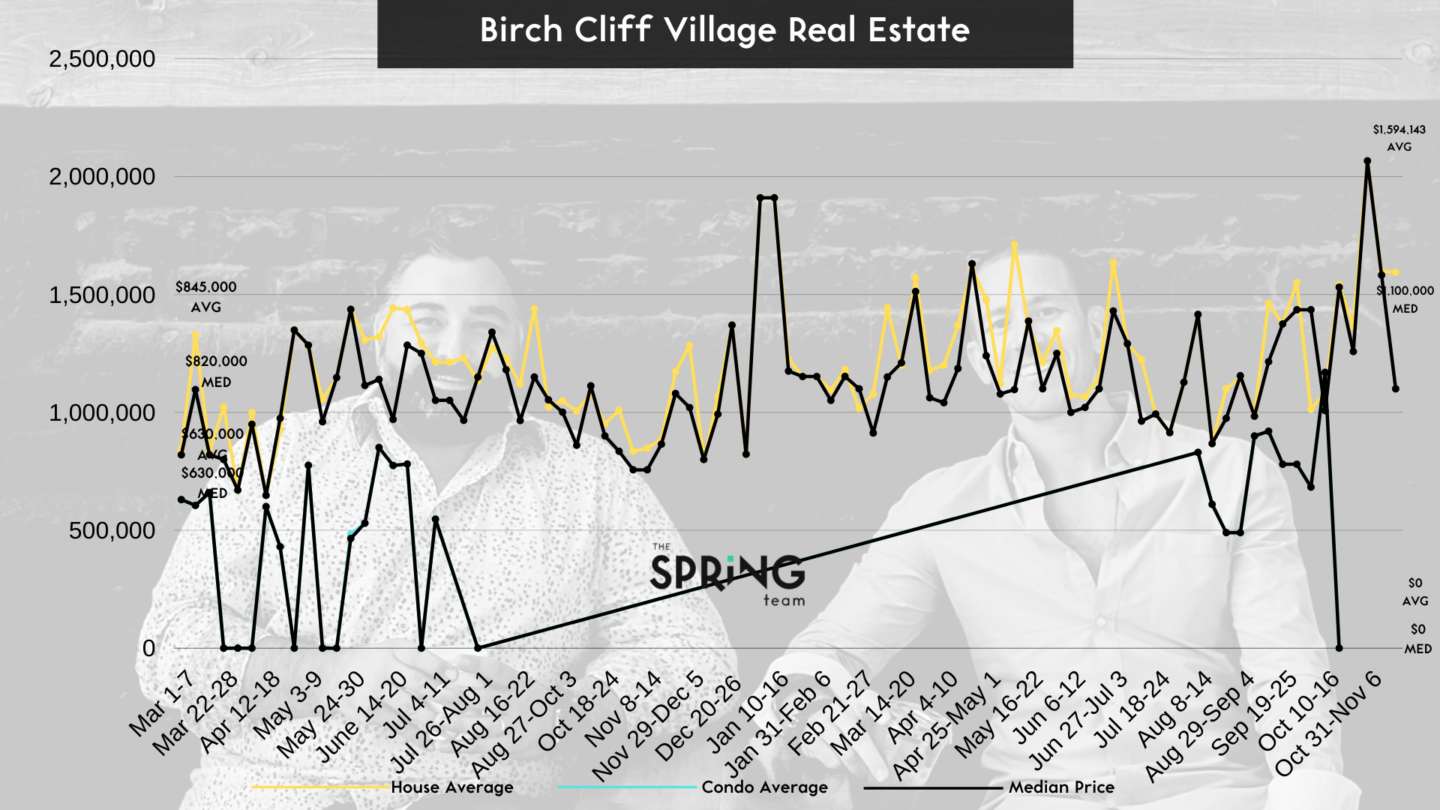 Birch Cliff
House Average Price: $1,594,143
House Median Price: $1,100,000
15 Active Listings
7 Firm Sales This Week
Months of Inventory (MoI) ~ 0.57
Average Days on Market ~ 8 DoM
Thanks so much for your energy and attention! If you need clarity on any of this or want to talk about your specific situation, then call/text/email anytime: ara@thespringteam.ca or 416-434-1511