Episode 72: Investor friendly condos take off as rental market enters full recovery mode
Urban Markets: Downtown & Surrounding Areas
Last week seems to have been an anomaly with only 37 house sales in communities that normally see ~100+. This week we're back to normal(ish) with 90 sales. There seems to be minimal inventory in the $1.3+ market up to $3mm, so we see a lower than the normal average.
We should see that average urban numbers tick up as we head into the fall market, but the rest of the summer will be all about the condo.
Condos started off the year super strong with a post lockdown 180, then hibernated for a few months. Now, as the rental market picks up and many rental units start to see competition from multiple tenants, we're seeing heavy competition on smaller condos that investors love.
Expect to see big price gains in both rental and sale prices in condo land in Q4 of 2021. Were you paying attention to last week's post? I said the condo average should crack $800K and then up from there. Well, look down. See?
Houses should be relatively flat for the remainder of the summer with another big pop to close out the year.
If you have a house or even if you have a condo…wait. Don't list yet if you don't need to. Inventory is dropping weekly but the top of the market is right around the corner.
House Average Price: $1,471,846
House Median Price: $1,353,500
481 Active Listings
90 Firm Sales This Week
Months of Inventory (MoI) ~ 1.21
Average Days on Market ~ 13 DoM
Condo Average Price: $827,744
Condo Median Price: $709,000
1538 Active Listings
201 Firm Sales This Week
MoI ~ 1.65
Average Days on Market (DOM) ~ 14.72
Urban North: Rosedale, Deer Park, Moore Park, Forest Hill, & Lawrence Park
More bad news for Buyers as inventory slumps and sales remain relatively consistent.
Many properties that remained unsold have been removed from the market so that they may come back in the Fall once. I feel like many will be taking a lot of time to relax this summer ahead of a hectic Fall/Winter real estate season.
Buyers you need to buy whatever you can now and Sellers…wait to list if you can. Same story in all communities. Not that you won't do well if you sell now but waiting will put a bit more money in your pocket.
You'll see that the condo average and medial were pulled down a little this week. That's mainly due to the strength in the bottom half of the condo market as more investors show confidence and are buying.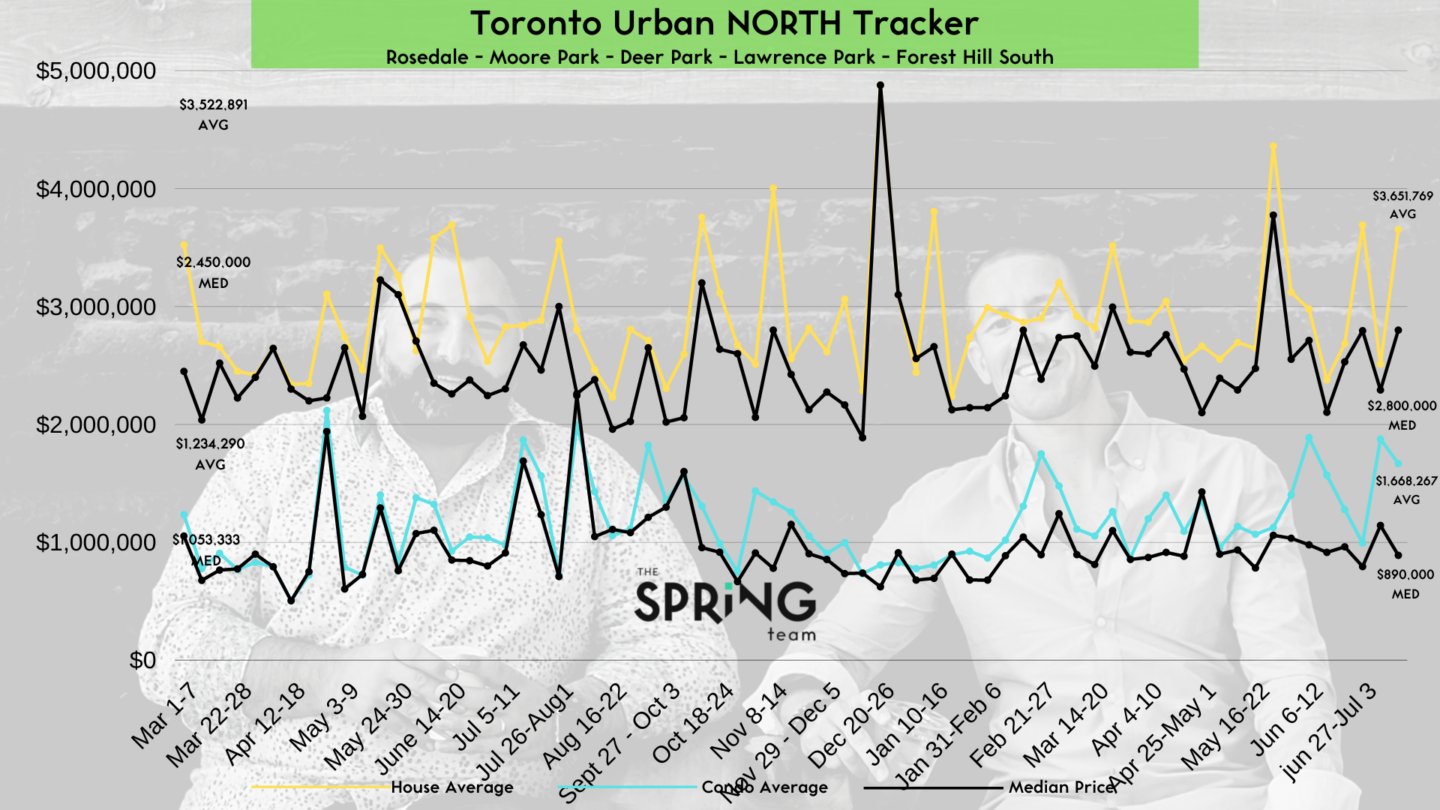 House Average Price: $3,651,769
House Median Price: $2,800,000
112 Active Listings
13 Firm Sales This Week
Months of Inventory (MoI) ~ 1.77
Condo Average Price: $1,668,267
Condo Median Price: $890,000
250 Active Listings
15 Firm Sales This Week
MoI ~ 2.93
Leaside & Davisville (including Yonge and Eg)
Zero new listings added to the mix, but that's expected. Most of the luxury market is pretty quiet at the moment…with a few exceptions, of course.
There are only five house sales and 11 condo sales, so take the numbers below with a grain of salt.
The fall market should see some supply added here, but with insanely increased demand, the upward pressure on prices should remain until the end of the year.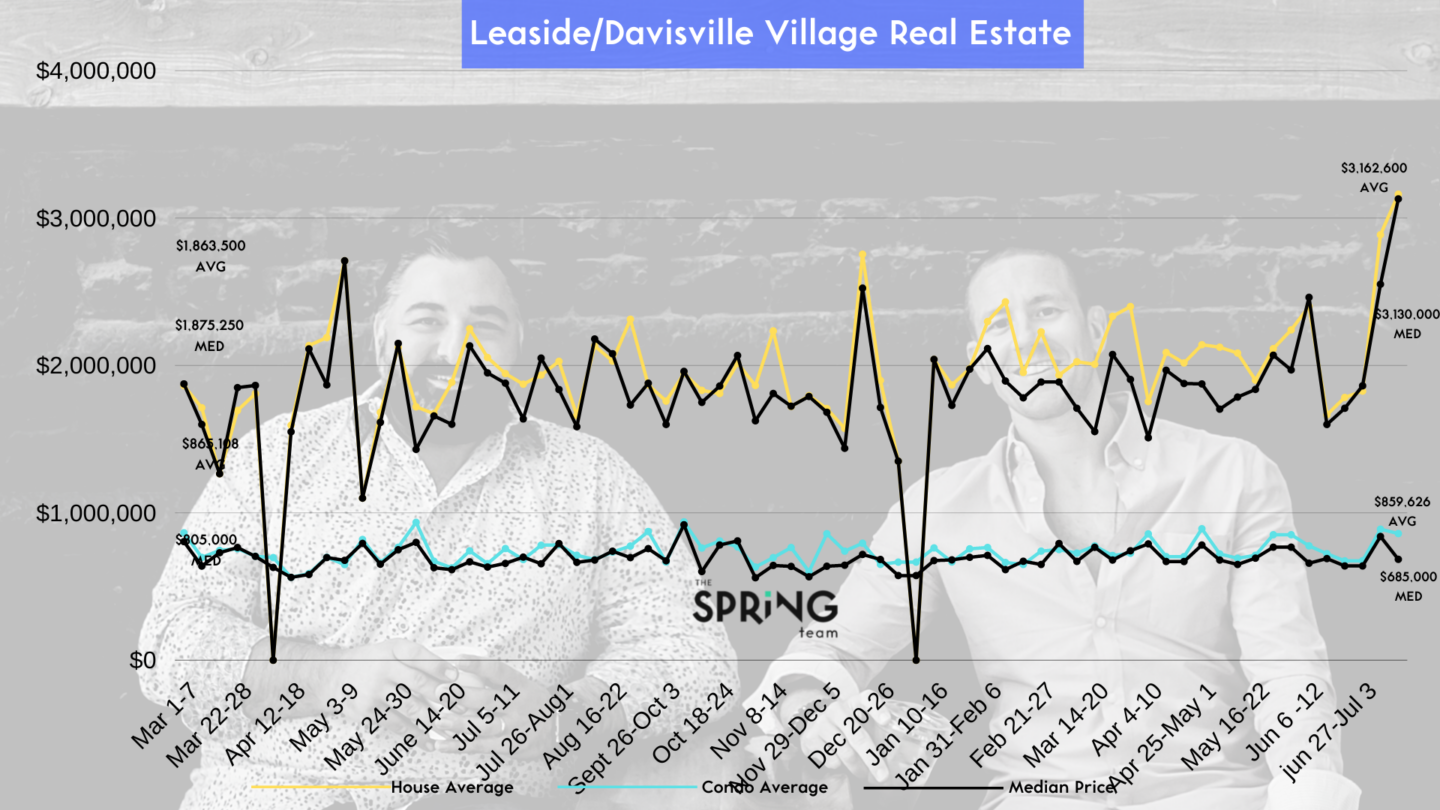 House Average Price: $3,162,600
House Median Price: $3,130,000
34 Active Listings
5 Firm Sales This Week
Months of Inventory (MoI) ~ 1.50
Condo Average Price: $859,626
Condo Median Price: $685,000
157 Active Listings
11 Firm Sales This Week
MoI ~ 1.47
Birch Cliff
Ok…who's got a house to sell in Brichcliff? Seriously…asking for a friend…asking for a client…asking for myself…asking for the many buyers who've been waiting for that perfect palace to hit the market but can't seem to find any luck.
Big numbers continue to be supported sale after sale, and as we head into Q3 and then into Q4…things will not get any more affordable here. So buy now or forever hold your peace.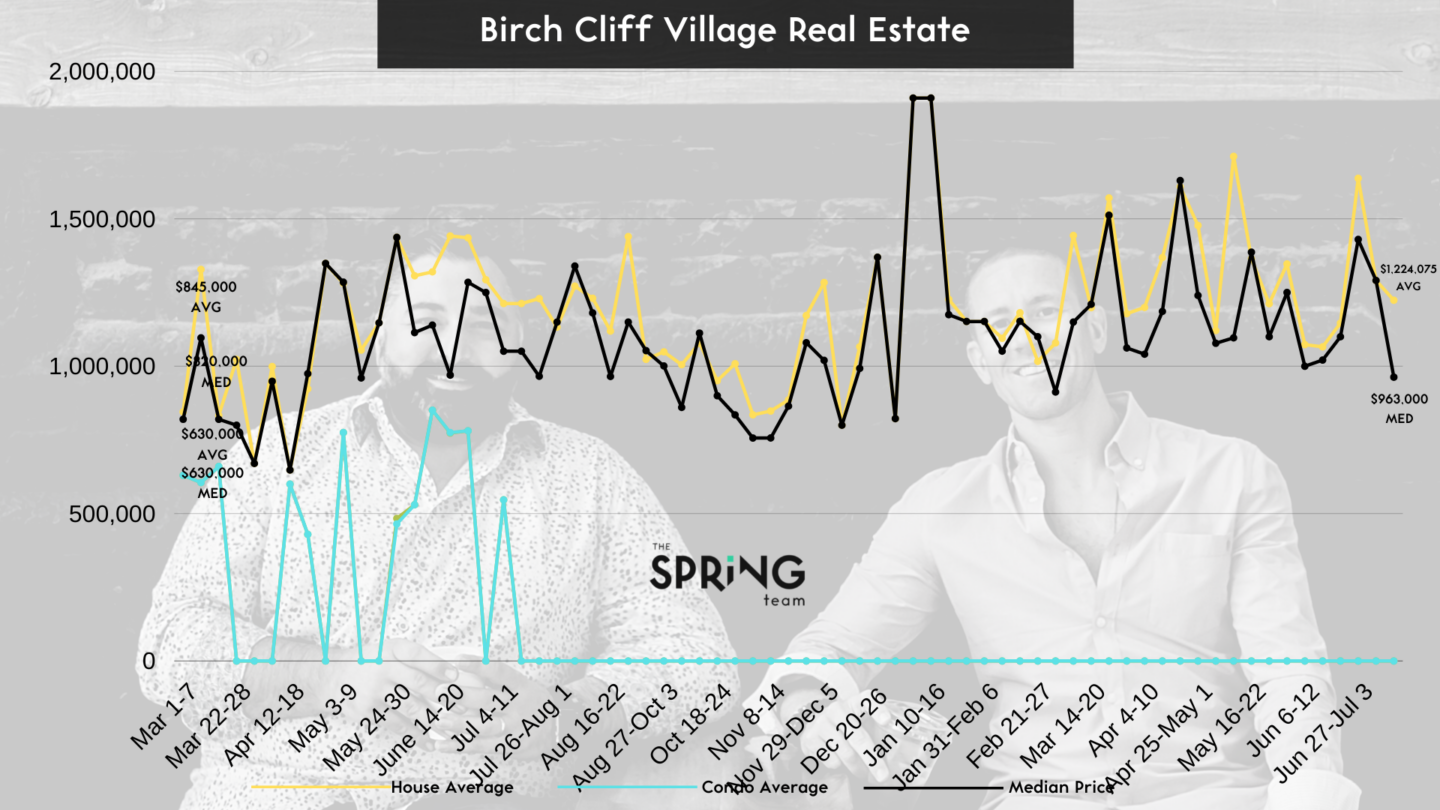 House Average Price: $1,224,075
House Median Price: $963,000
13 Active Listings
5 Firm Sales This Week
Months of Inventory (MoI) ~ 0.87
Thanks so much for your energy and attention! If you need clarity on any of this or want to talk about your specific situation, then call/text/email anytime: ara@thespringteam.ca or 416-434-1511