It's tough to know what's normal anymore but for me, Real Estate is normal. A safe place for me to dig in and add as much value as I possibly can. Hopefully you've noticed that in my weekly market updates that dig into the urban markets of Toronto including Leslieville, Riverside, Corktown, and Canary District areas.
With that said, let's dig into some Toronto's upcoming 2020 pre-construction condo projects in Leslieville, Riverside, Corktown and Canary District that the team is excited about (and has first platinum access to)
Pre-construction in Corktown: Condo 28 Eastern Ave @ Sackville St
The first upcoming 2020 pre-construction project I'm excited about is 28 Eastern by Alterra Developments. a 12 storey 379 unit project in Corktown that's just about ready to launch.
Location: This Corktown pre-construction condo is directly on Eastern Ave (just North of Canary and Distillery) between Sackville and Gilead Place in Toronto.
The existing building in Corktown will be demolished completely to make way for Corktown's newest residence. I've been pushing clients to bet big on Corktown for a long time and it's been paying off.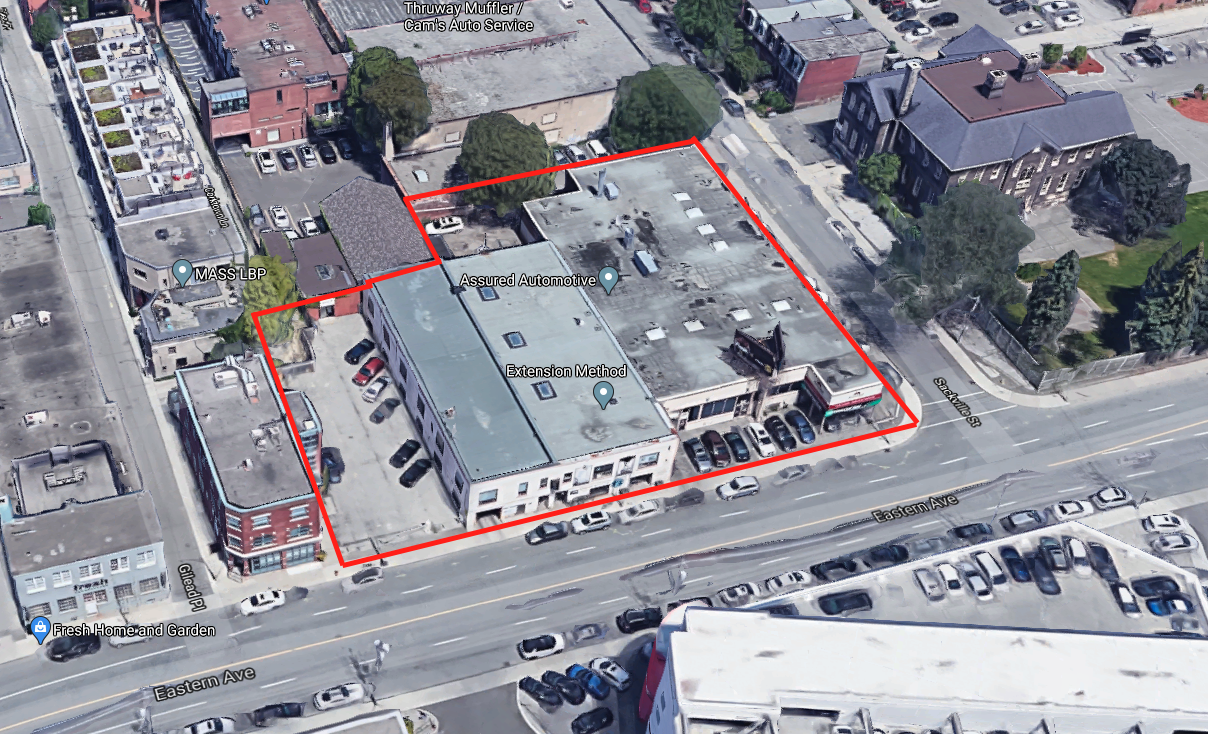 Current site is home to Enterprise Car Rental, a print shop and various other small businesses. Of course we're sad to see them relocated but not at all sad to lose that parking lot
It's going to pay off even more for those that hold longer as we know a prominent Toronto developer has acquired many properties along King St East in Corktown as well as Queen St East in Corktown right into Riverside.
We have an excellent relationship with the Developer and the awesome sales team at Baker Real Estate and they've agreed to give us an allocated first access position on this 2020 Toronto's Corktown pre-construction project so if you want a unit, you'll get a unit!
Pre-construction Condo in Canary District: Cherry & Front St
This pre-construction condo is the 2nd to last project by Dream & Kilmer and is located on the iconic Canary Restaurant Site.
The condo portion of the development will be 11 storeys and consist of 205 units. Prices for this canary district pre-construction condo and exact launch day are yet to be confirmed but will be either this summer or fall.
Location: This Canary district pre-construction condo site known as Block 10 won't just be condos. The development team's proposal includes an Indigenous health centre for Anishnawbe Health Toronto, a training centre for Miziwe Biik (an Aboriginal Training and Employment facility currently on Gerrard East), and of course a mixed use 11 and 13 storey condo/rental buildings.
Pre-construction condo in Corktown: 31 Parliament by Lanterra
31 Parliament at the Distillery District in Corktown launched a few months ago but seemed to get lost in the mix as many other high profile launches stole the spotlight.
Location: 31 Parliament St at mouth of the Distillery District just South of Corktown.
31 Parliament will be 41 storeys with 428 expertly crafted suites ranging in size from 529 to 1079sqft
With prices starting at under $1300/PSF for this Corktown pre-construction condo, they're one of the more affordable options in such a great community.
Preconstruction Condo inRiverside: Square in Riverside
Riverside is the East End's largest project to date with 4 buildings and a massive commercial component on the DVP side. I first wrote about it just before it became big news.
This Riverside pre-construction condo project has launched in many phases over the past 5 years however there are a number of units available on assignment at prices much lower than typical new-launch pre-construction projects. Please get in touch privately by clicking any of the yellow buttons above or below for a list of available assignments.
If you're a value buyer then this project is a solid urban option for you.
Location: Riverside Square at Queen and Broadview sits right on two streetcar lines and is walking distance to the financial core. All the convenience of urban living in a much less dense community.
If you have any questions about these 2020 Toronto pre-construction condo projects or would like to dig deep into an ROI sheet on a specific unit we should talk and get connected with Leslieville and Riverside Realtors. Condos in Corktown, Canary, Riverside, and Leslieville are always in demand by renters and buyers alike.