Buying Pre-Construction Condos in Toronto 101: What is a Worksheet?
What is a Worksheet?
If you've ever been interested in buying a pre construction condo in Toronto you've probably heard the term: Worksheet.
A Worksheet is a document that acts as the first step in the suite reservation process.
Often when I'm promoting a pre construction condo in Toronto my access is so early that I won't have actual plans and prices to share with you.
In order to start the discovery process (remember I didn't say buying..just discovery) we'll need to complete a worksheet and submit it to the developer.
The Worksheet is NOT a contract nor is it a Commitment
Not even close. It's a document that details your specific requirements like preferred unit size, price, and whether you require parking or a locker. Along with some basic personal information to help us fulfil the Federal Government's reporting requirements. That's it. If you don't end up buying then the document is destroyed safely and privately.
People that submit a worksheet in advance of viewing plans and prices will always be given priority by the Developer and a much better chance of getting what you want. It gives the Developer an idea of which units to allocate to which Launching Broker Partner.
At the end of the day if you want to buy a pre construction condo in Toronto then you'll have to start with a worksheet. There's no getting around that.
Can I access Floor Plans & Prices without filling out a worksheet?
Yes you can. Simple answer. But by the time all the floor plans and full prices come out, the Developer has likely decided who's getting what.
Meaning, if we sent in a worksheet with your broad requirements then you will see the appropriate plans before others who haven't filled out a worksheet and decide if you'd like to make a purchase or not.
After I've submitted the Worksheet on your behalf, the developer will review then send us the floor plan package to review. Once we review the plans and pricing, you can select your favourite apartment and schedule a time to sign the purchase documents. Or you can decide that this project is not the right one for you and walk away with no worries or bad feelings.
If you decide to buy, we can make that happen without the stress of having to compete for the unit you love and potentially losing it to someone who took the one simple step of completing a worksheet.
However, I do encourage you to only fill out the worksheet and go through the initial discovery phase if you are seriously considering a purchase. There's no need to complete a worksheet if you're just curious to see plans and prices. You'll get to see them very soon after the Worksheet buyers make their choices.
What does a Worksheet look like?
That's an easy question. See below 🙂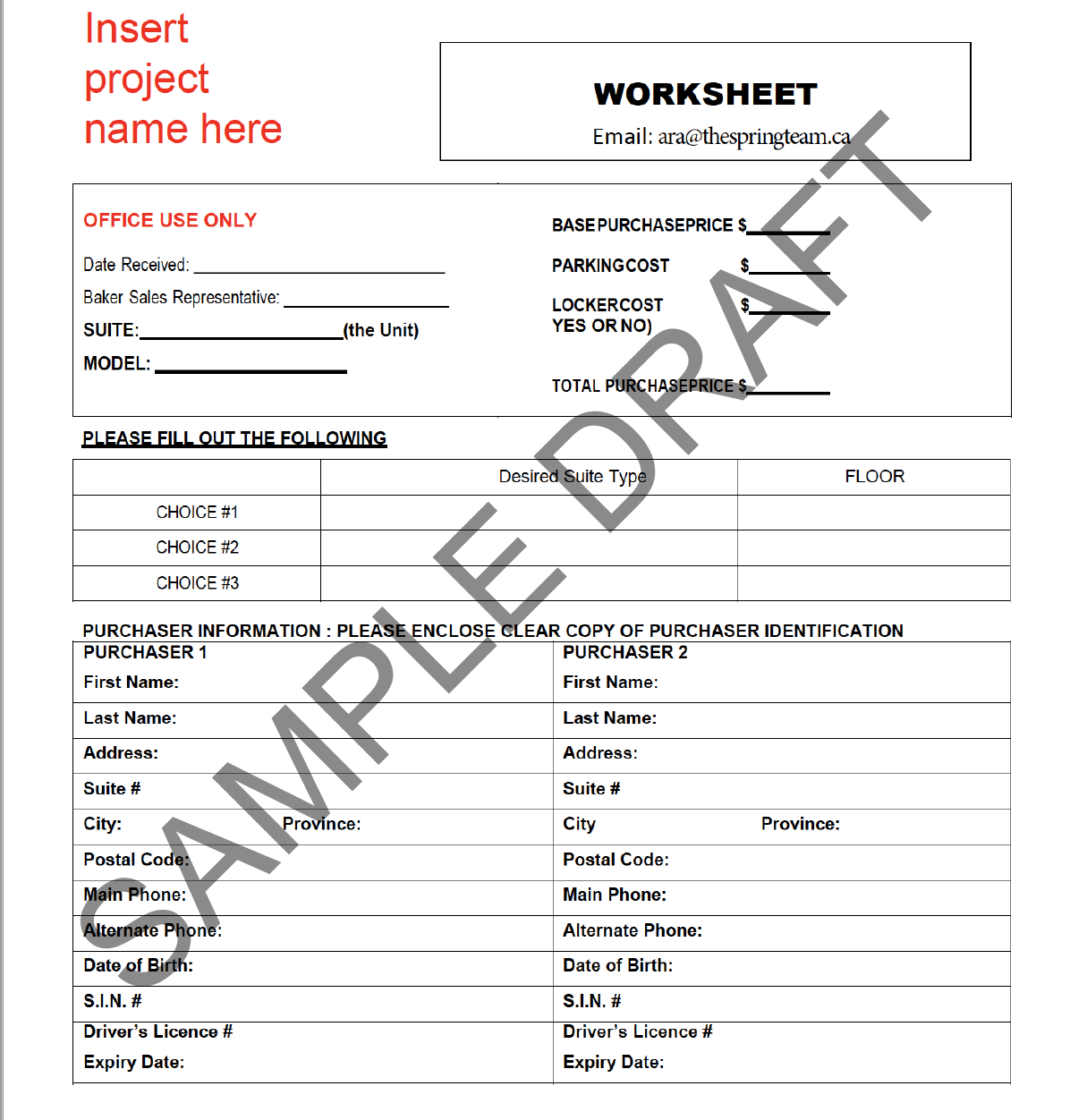 Hopefully this all makes sense to you. I'd be happy to answer your questions. Please call/text/email anytime 416-434-1511 or ara@thespringteam.ca or use the contact form above.