Here's what the four Federal Parties have to say about Housing in Canada
Housing policy hasn't traditionally been on the radar of federal politicians, other than lengthening/shortening mortgages and the implementation of the stress test. Most have just let cities and provinces deal with it.
But, with housing affordability such a concern across large parts of the country (especially in Toronto and Vancouver) every major party has something to say (and something to offer voters) about housing this election.
Let's start with the two parties most likely to form government. Sorry, we don't predict a 'green wave', at least not this election. The Trudeau Liberals and the Conservatives are neck and neck in the most recent poll. Either has a good shot to form a minority government. We think the Libs will repeat, but without as strong a mandate as last time around.
Let's focus on what they have to say…
The Liberal Party
In March, the Liberals unveiled a $1.25-billion program for first-time home buyers. These funds will be used to provide an interest-free shared equity mortgage of up to 10 per cent of the down payment on a house to be paid back when the house is sold (including any applicable appreciation). The value of a qualifying home will go from around $500,000 to nearly $800,000 in Canada's hottest markets. This is great news for first time buyers in Toronto, as the government's previous cap wasn't enough to get you much in Toronto.

They are also promising a nation-wide hybrid foreign buyer/vacancy tax of 1 per cent annually on foreign property owners who do not live in Canada and do not rent out their homes. This was an initiative the BC provincial government introduced, and it has helped cool the market, and created some interesting living situations…

The government will continue with their last election promise to build 100,000 affordable homes over the next 10 years.

Finally, a bone for existing homeowners. The Liberals have pledged to help retrofit 1.5 million homes for energy efficiency and offer interest free loans up to $40,000 for things like new high efficiency doors and windows, solar panels and other home improvements. There's nothing sexy about new windows, but in Toronto's East End, it's one of the most common (and expensive) improvements homeowners take on. It also has the added benefit of drastically reducing monthly heating expenses.
The Conservative Party
Despite being half-American, dull as a door-nail, and weighed down by Doug Ford in Ontario, Andrew Scheer still has a shot of winning this thing. He's campaigning hard in the GTA, and his housing policies reflect what Toronto and other major market voters want to hear.
Mr. Scheer has said he will change the amortization rules to allow first time home buyers to extend their insured mortgages for 30 years, up from the current limit of 25. The Cons believe that this will make housing more affordable for first time buyers, but in our opinion, that's like trying to put out a fire with gasoline. If Scheer enacts this policy, hold onto your butts, because we're going to be in for a wild ride.

One thing we do agree with is the Conservative pledge to review the mortgage stress test, and remove it entirely when mortgages are renewed with a new lender. This just makes sense! Homeowners should be allowed to shop around for the best mortgage and save themselves money without having to worry if they'll be able to qualify again.

Scheer has also pledged to launch an inquiry into money laundering in relation to our real-estate sector. In 2018, a Global news investigation claimed that near $1 BILLION dollars was laundered through Vancouver real-estate.

Similar to the Liberals, the Conservatives are offering a 20% refundable credit on your income tax for green improvements to your home up to $20,000. With a max savings of $3800, it'll be interesting to gauge the popularity of cash in your pocket, vs. the large tax free loan offered by the Liberals.
The New Democratic Party
We love the style and swagger of Jagmeet Singh, but even an endorsement from Rihanna hasn't translated into the numbers the NDP want, however, they have made recent gains and we think they'll hold the balance of power in a minority or coalition government. So, don't expect these policies to happen, but they can at least put some pressure on the new PM to make some concessions.
The NDP are promising $500-million to create more affordable housing, and are pledging support for renters and builders of rental units. They've also pledged to waive the federal portion of the GST/HST on new affordable rental units.

They have also committed to a national 15-per-cent tax on home purchases by foreign buyers or non-permanent residents. This tax would apply on top of existing foreign-buyers taxes in B.C. and Ontario.
The Green Party
Elizabeth May and the Green Party will appoint a Minister of Housing. We think this is a GREAT idea! Having a federal housing minister will help create a significant dent in the supply side of affordable housing. No city can come up with enough cash or people power to create housing as quickly as we need it.

The Greens will eliminate the first-time home-buyer grant. They say "Individual home ownership should not be the preoccupation of a public service housing agency (the CMHC) and a national housing strategy." This is a bit of a departure from the other parties, and truthfully, we don't think abandoning potential home buyers is a good idea, considering home ownership is still a huge part of our cultural fabric. This is a more European philosophy, where lifelong renters are more common, and home ownership is less valued.
They are committing more resources for housing co-ops, and will build 25,000 new affordable units and renovate 15,000 others every year for the next 10 years, which is right in the middle of the Liberal and NDP promises.
No matter who wins, or what the government looks like going forward, it's nice to know that housing and housing affordability are priorities for all the candidates. That's refreshing, as it has traditionally been pawned off on provinces and municipalities, often to the detriment of the people.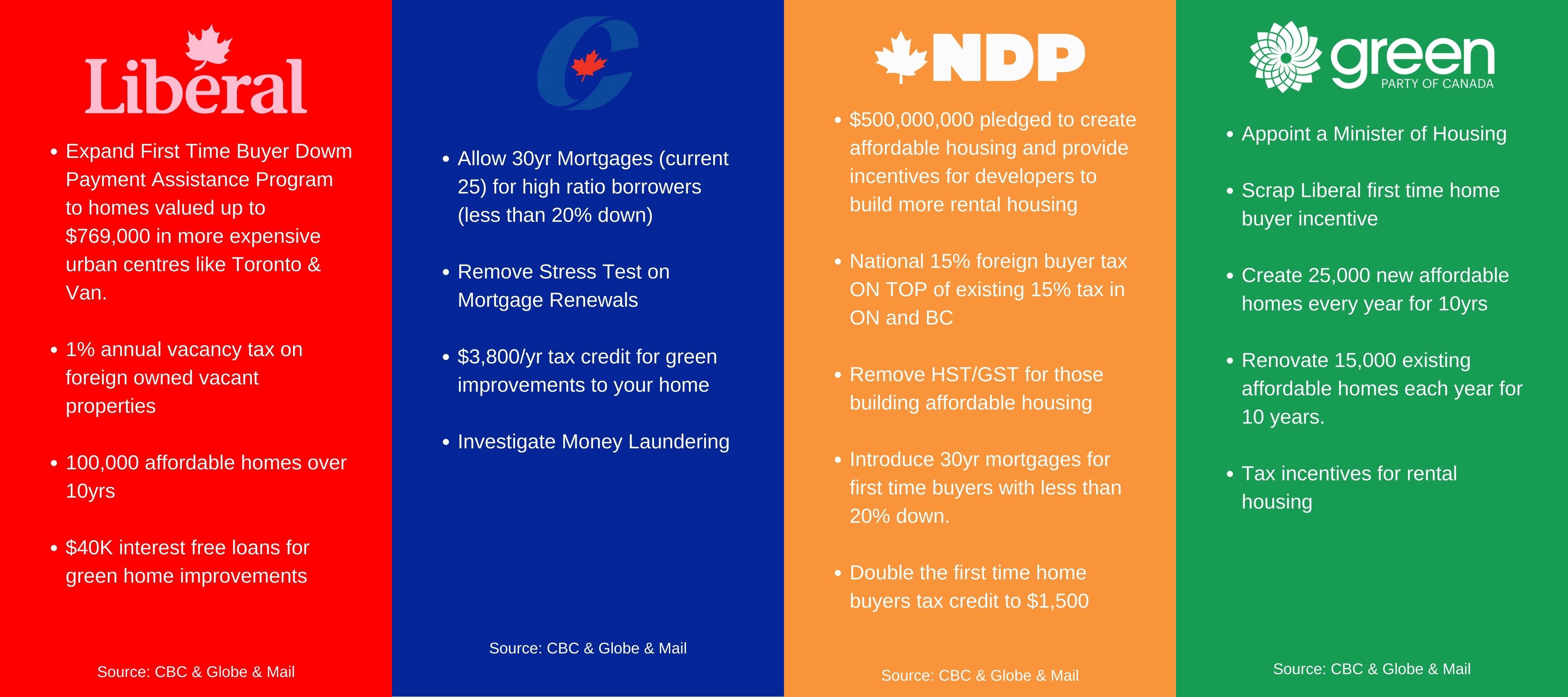 That's all for today, folks. There's a lot to unpack here so please make sure you reach out if any questions. My team and I are always ready discuss buying and selling with you. 416-434-1511 or ara@thespringteam.ca
One last thing: don't forget to join my digital family here. Don't worry, I don't blast my tribe with hard sells.